Measuring cable length using nominal velocity of propagation
Length is one of the four primary test parameters specified in the American National Standards Institute/Telecommunications Industry Association/Electronic Industries Association PN-3287 draft standard and should be recorded as part of any copper-cable administration system. Handheld testers rely on the nominal velocity of propagation of the cable type to determine length measurements. Each type of cable insulating material--polyvinyl chloride, fluorinated ethylene propylene or polyethylene--has
Sep 1st, 1995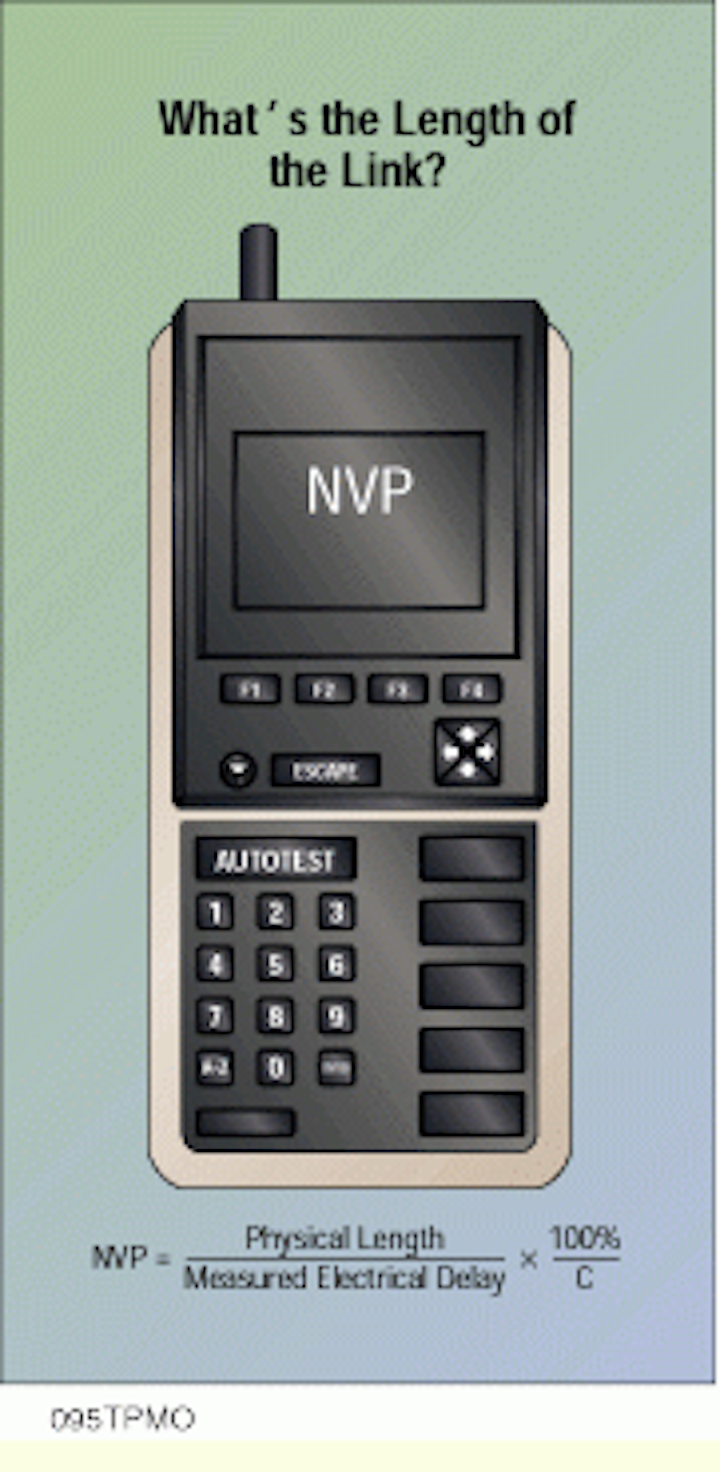 Greg Niemiera
Mohawk/CDT
Problem
Length is one of the four primary test parameters specified in the American National Standards Institute/Telecommunications Industry Association/Electronic Industries Association PN-3287 draft standard and should be recorded as part of any copper-cable administration system. Handheld testers rely on the nominal velocity of propagation of the cable type to determine length measurements. Each type of cable insulating material--polyvinyl chloride, fluorinated ethylene propylene or polyethylene--has its own NVP, which means that the test set user must select and match the correct NVP to the cable under test. If NVP is not set accurately, you will get an incorrect length measurement.
It is difficult to get accurate cable length measurements. Manufacturers list different NVP values for the same category of cable because of differences in cable design, insulating materials and manufacturing methods. In addition, test sets calibrate NVP to the pair with the longest twist length--the pair with the shortest electrical delay. Within the same cable sheath, a variation of 5% in NVP between different pairs is common. This, coupled with varying twist ratios between pairs, explains why different pairs in the same sheath can have different lengths.
Solution
Always use the pair with the shortest length for measurement and documentation purposes. To determine the NVP of the cable, establish the length of the cable.
Procedure
1) Measure a cable sample of 50 feet (minimum). (If sequential footage markers are provided, use them to determine the cable length.) Lengths greater than 50 feet will result in greater NVP accuracy. Shorter lengths can result in measurement errors because of cable length versus wavelength limitations.
2) If you are using patch cords to connect the test set to the cable under test, include the length of the patch cord as part of the overall cable length.
3) Set the tester to "determine NVP" and enter the measured cable length into the test instrument.
4) Determine the lengths of several representative cable runs. You can then adjust the NVP to correspond to the known cable lengths.
5) If the tester readout for the cable length is longer than the known length, you should decrease the NVP accordingly. Conversely, if the readout for the cable length is shorter than the known length, you should increase the NVP.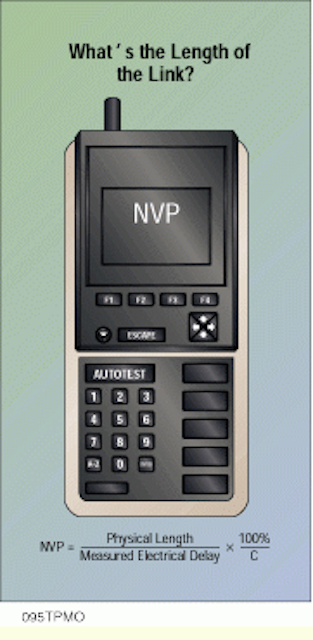 Click here to enlarge image
Handheld testers determine the nominal velocity of propagation as a percentage of the speed of light (c).
Greg Niemiera is technical support manager at Mohawk/CDT, Leominster, MA.