Fluke Networks takes Silver recognition in CI&M's 2015 Innovators Awards
Fluke's LinkWare Live Certification Management Service and Versiv Certification System were recognized among the best test products in the industry by the award program's judges.
Sep 29th, 2015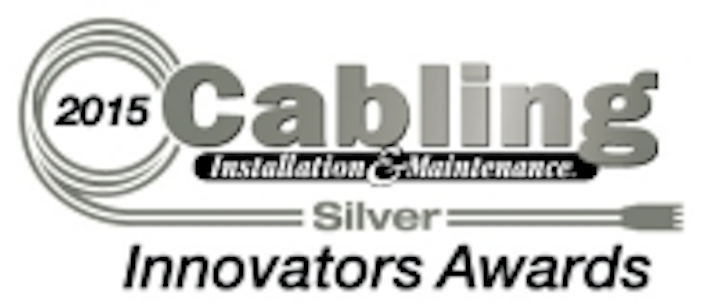 Everett, WA, Sept. 23, 2015 – Fluke Networks announced today that its LinkWare Live Certification Management Service and Versiv Certification System were recognized among the best in the industry by the judges of the Cabling Installation & Maintenance 2015 Innovators Awards program. The judging panel consisted of cabling and communications system specifiers, designers, integrators and managers with vast professional experience.

Fluke Networks was recognized as a Silver honoree for the two products.

Fluke Networks' LinkWare Live Certification Management Service received a Cabling Innovators Award for its ability to resolve test-results-management hassles that, according to survey data, challenge 83% of cabling installers. LinkWare Live is a cloud-based service that manages the certification process, results, and reporting. The service provides a connection between testers in the field and the project manager, allowing the manager to collect test results, control settings, and manage projects remotely. Chris Tracy, a project manager with Skyline Properties and a LinkWare Live user, commented that one of its biggest benefits is the ability to upload test results FROM the field so that he can keep his testers IN the field and generating revenue.

Fluke Networks' Versiv Certification System is a Cabling Innovators Award recipient, recognized for not just cutting down copper and fiber test time, but also, and significantly, for addressing head-on the real-world complexities that cabling contractors face every day—multiple simultaneous jobs, multiple teams on different sites, and testers changing hands frequently. The Versiv system incorporates an intuitive smartphone-like interface called Taptive, built-in project management software, and features like SmartLoop that allows OTDR tests on two fibers without having to move the tester. Dave Lawes, an RCDD with System Tech Inc., says Versiv allows his technicians to spend more of their time getting projects done and less of it setting up test parameters, configuring label sets, and troubleshooting. Maurice Hayes, operations manager for Foundation Cabling Corporation adds that his company's use of Versiv has resulted in a huge decline in test errors.
The awards were presented on the floor of the BICSI Fall 2015 conference and exhibition (Sep. 21-23) in Las Vegas.
"On behalf of the Cabling Installation & Maintenance Innovator Awards, I would like to congratulate Fluke Networks on their Silver–level honoree status," said Cabling Installation & Maintenance Group Publisher Alan Bergstein. "This competitive, unbiased program celebrates the most innovative projects in the structured cabling industry. We are pleased to celebrate Fluke Networks' Silver status and recognize their contribution to the structured cabling industry."

About Cabling Installation & Maintenance
Published since 1993, Cabling Installation & Maintenance has provided practical information to professionals responsible for the specification, design, installation and management of structured cabling systems in enterprises, data centers and campuses. Cabling Installation & Maintenance's magazine, website (www.CablingInstall.com), email newsletters and webcasts help cabling professionals improve day-to-day operations and enable strategic planning for their networks' optimum long-term performance

About the Cabling Installation & Maintenance 2015 Innovators Awards program
The Cabling Installation & Maintenance 2015 Innovators Awards program reviews and recognizes the most-innovative applications of cabling and communications technology products and systems within the structured cabling industry. Platinum, Gold and Silver Honorees were announced at BICSI's 2015 Fall Conference in Las Vegas on Monday, September 21, 2015. Criteria used in the Innovators Awards ranking included: innovation, value, sustainability, collaboration, and impact.

About Fluke Networks
Fluke Networks is the world-leading provider of network performance monitoring and diagnostics solutions designed to streamline issue resolution and ensure an optimal end-user experience—even in today's borderless enterprise. Leading organizations worldwide trust Fluke Networks to help solve their toughest issues and emerging challenges in WLAN security, SaaS, mobility, unified communications and data centers. Based in Everett, Wash., the company distributes products in more than 50 countries. For more information, visit www.FlukeNetworks.com.

For additional information and updates, follow Fluke Networks on social media.
Twitter: https://twitter.com/flukenetdci
Facebook: http://www.facebook.com/flukenetworks
LinkedIn: http://www.linkedin.com/company/fluke-networks