Ventoux offering 3-day in-person RCDD review course
Ventoux will conduct the three-day course in Las Vegas September 16-18, immediately before the RCDD exam is administered.
Jul 17th, 2015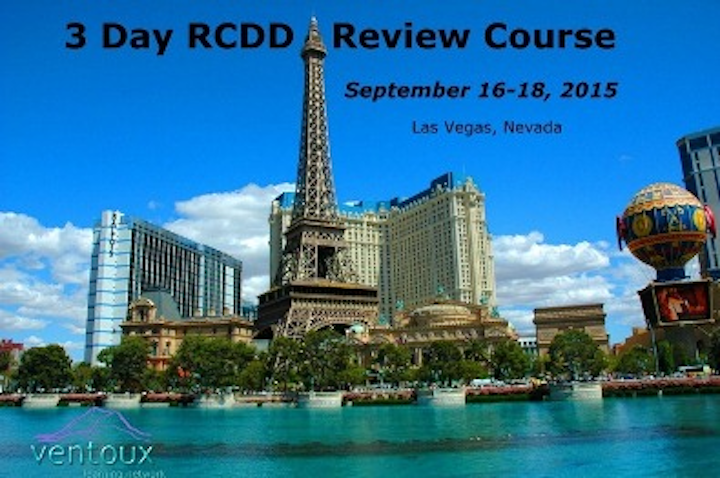 Ventoux Learning Network, a provider of educational services particularly including preparatory courses for the BICSI RCDD (Registered Communications Distribution Designer) exam, will provide a three-day RCDD review course in Las Vegas, NV September 16-18. BICSI will administer the RCDD exam September 21 in conjunction with its Fall Conference. Ventoux's preparatory class will begin at 8:00am and end at 5:00pm each day. "This is your best opportunity to hone your skills and build your confidence before the exam," Ventoux said.
David Cranmer, principal of Ventoux Learning Network said, "With a failure rate of over 60 percent for first-time takers of the RCDD exam, this is an opportunity to increase your knowledge base prior to testing. The review course is based on the 12 core chapters of the 13th edition of BICSI's TDMM. With 80 percent of the questions on the RCDD exam coming from these 12 core chapters, this course would be a wise use of your time. We will address each page in every core chapter, leaving nothing to chance."
The intensive review includes the following.
Initial evaluation test of 100 questions
Final evaluation test of 100 questions
Test-taking strategies
"We believe you will succeed!" Ventoux strongly stated. "The above-developed strategies are our way of building confidence and knowledge of what to expect with your upcoming RCDD exam. The initial evaluation test will help you identify your strengths and weaknesses. The instructor will then conduct a test-taking strategy workshop to help you focus on the best use of your time during the exam. We then prepare you for the exam with our three-day intensive review course to help you increase your knowledge and understanding of the material. Then to wrap up, we give you a final evaluation test to assess how much you've learned."
Materials required for the course are either a soft or hard copy of the 13th edition of the TDMM—Telecommunication Distribution Methods Manual—as well as a laptop or tablet to access the pre- and post-course test questions.
Cranmer will be the course instructor. He has more than 40 years' experience in the telecommunications industry and has been a BICSI member for 35 years. He has served as BICSI's president and as its executive director, and is recognized as a pioneer in developing training methods. "Your personal success is his goal," Ventoux said of David Cranmer. "He believes in the telecommunication industry. He is available for questions and career guidance during and after your RCDD review course."
The September 16-18 course will be held at the Allen Tel Products facility in Henderson, NV—less than five miles from McCarran International Airport.
Cost for the course is $975 and includes a daily catered lunch as well as demonstrations of products and technologies related to students' RCDD studies. Registration deadline is September 1. You can find more information on this course and register for it here.