Platinum Tools to unveil new cable tracing tone and probe set at BICSI Winter 2015
New tool quickly traces and identifies cable locations on jacks or through walls.
Feb 18th, 2015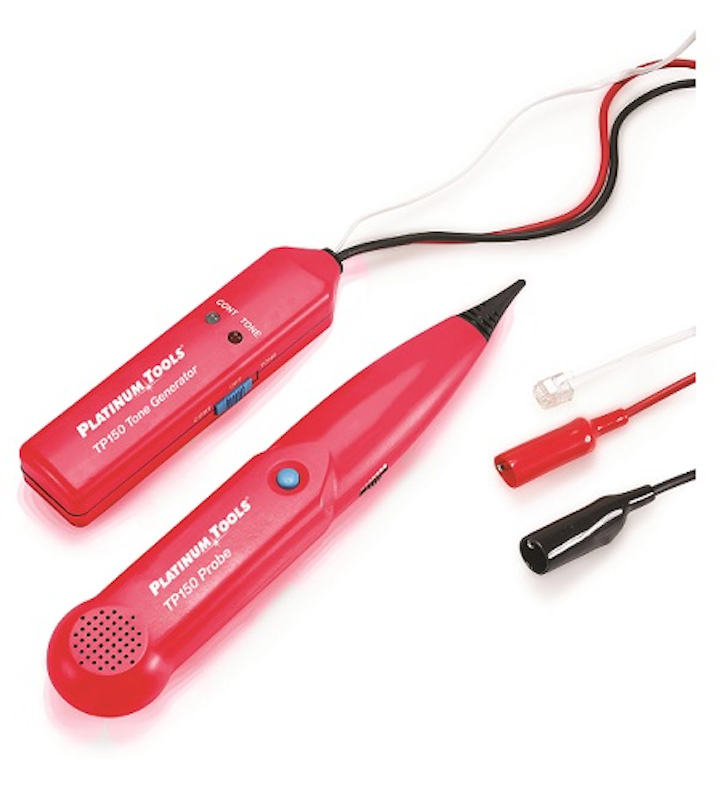 Platinum Tools, a specialist in products for the preparation, installation and hand termination of wire and cable, announced that it will launch a new tone and probe set during the 2015 BICSI Winter Conference & Exhibition, to be held in Orlando, FL from Feb. 22 - 26 at the Orlando World Center Marriott Resort & Convention Center, booth #1310.

Platinum's new Tone and Probe Set (P/N TP150) is shipping in March with an MSRP of $ 29.95. The probe features a recessed push-button which activates tone scanning when needed, the tapered tip allows easy penetration of cable bundles, side thumb wheel adjusts volume and turns off power to reserve battery power, and it has a sensitivity of 100Hz~300KHz. The tone generator features include a slide switch to select TONE/OFF/CONT, a continuity mode to verify if a wire is broken, alligator clips to test pairs, and an RJ11 connector for data or phone lines.

"With the Platinum Tools Tone and Probe Set's steady tone, push-to-scan button, and a clear loudspeaker, you can quickly trace and identify cable locations on jacks or through walls," explained George Jang, Platinum Tools product manager. "Wire bundles are easily penetrated with the tapered probe tip and the probe volume is controlled with a thumbwheel. With common send and receive frequencies, the TP150 is versatile enough to be used with other tone generators or probes."

The TP150 Tone and Probe Set includes a carrying case, 9V batteries, and user instructions, adds the company. For more information, visit www.platinumtools.com, call (800) 749-5783, or email info@platinumtools.com.