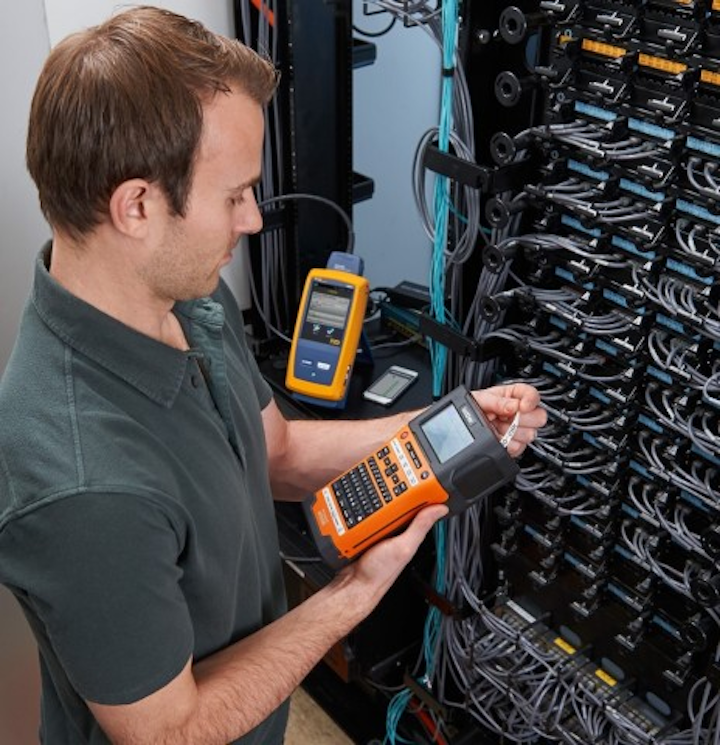 Brother Mobile Solutions recently announced it has formed a relationship with Fluke Networks, through which Brother has licensed the LinkWare Live API to create LabelLink, a mobile app and back-end solution "designed to dramatically streamline the network and cable labeling process," Brother Mobile Solutions said.
"Built on Fluke Networks' LinkWare Live platform, the new solution leverages the latest developments in cabling certification testing technology and advanced mobile printing capabilities to deliver unprecedented speed, efficiency and accuracy to the cable ID and labeling process—a discipline which continues to grow in scope, complexity and urgency as data centers evolve," Brother added. "Electrical construction and engineering contractors can now meet multiple project needs for cable ID by inputting data only once."
Here's how Brother Mobile Solutions describes the process of using the LabelLink solution.
In the office, the system designer uses CAD to plan the network infrastructure, and then uploads cable ID and component identifiers to LinkWare Live, Fluke Networks Cabling Certification tester and report management application.
Contractor downloads and installs free LabelLink app.
On the jobsite, the contractor or technician downloads the identifiers from LinkWare Live through a smartphone into a Brother P-Touch EDGE PT-E550W industrial labeling tool, which is used to create and print high-quality, standards-compliant laminated labels.
On the jobsite, the also downloads the same identifiers into the Fluke Networks Versiv Cabling Certification System, performs the tests, and uploads testing results for each identifier using LinkWare Live.
In essence, the LabelLink solution allows the cable identifiers and test results for each project to be stored in one place and to be retrieved and used as many times as needed.
"Keeping track of cable identifiers across multiple databases for testers and printers wastes time and cuts into our profitability," commented CJ Santeford, operations manager of PowerCom, a Bothell, WA-based installer of communications infrastructure. "Brother's LabelLink app combined with LinkWare Live gives us the ability to use a single database for managing this important task."
According to David Crist, president of Brother Mobile Solutions, "This solution was created by two great brands combining their technologies to make network wire, cable and component testing and labeling faster and easier than ever before. It's a real game-changer, especially for contractors engaged in standards-based labeling of large and complex datacom installations. Our Brother Mobile team is thrilled and excited to work with Fluke Networks to introduce the LabelLink application to the world."
Eric Conley, vice president and general manager of Fluke Networks, added, "LinkWare Live bridges the gap between the project manager's office where the data for testing cables and printing labels originates, and the jobsite where Fluke Networks testers and Brother labeling tools are used by the installation crew. For network designers, integrators and contractors, the combination of Versiv, LinkWare Live, and the LabelLink app automates multiple workflow processes and will help eliminate a major pain point in jobsite productivity. More importantly, it ensures labeling accuracy across the entire project."
"Brother created an app for our EDGE label printer that interacts seamlessly with the cloud ID data file, so installation workers can instantly access the relevant cable identifier and create and print labels without the need for additional data entry," said Duane Yamashita, senior product manager for Brother's P-Touch EDGE industrial labeling brand. "This not only ensures accuracy and consistency of the network labeling scheme as designed and built, but also provides the foundation for an effective cable management program going forward."
The Brother P-Touch EDGE PT-E550W features wireless connectivity for transferring data and printing directly from mobile devices. It can print labels up to 24mm wide, including heat-shrink tube, and Brother says it is ideal for labeling large, complex IT network projects.
Fluke Networks added that this agreement between itself and Brother Mobile Solutions "highlights extended benefits of the LinkWare Live platform for cable installers." The company said the agreement "makes the network and cable labeling process more efficient by allowing technicians to print cable and ID labels on the jobsite using data generated during the design and installation stages. The Brother LabelLink app enables cable installers to achieve greater efficiencies, improved accuracy and profitability by entering data a single time for reuse in the labeling phase of the cable installation process."
Conley added, "The relationship with Brother is a model for this type of technology integration partners Fluke Networks is working to identify. There are other companies who have applications and services that make sense to integrate with Fluke Networks' technology that will ultimately benefit our customers' business and the jobs they do.
"Today's cable installation projects are larger and more complex, and demands facing network designers and installers are more rigorous than they were only a few years ago. When we initially conceived of LinkWare Live in 2014, we realized that it would establish a powerful and flexible infrastructure for our customers and provide Fluke Networks a way to efficiently update our tools and capabilities. Now we have a greater understanding about how other vendors can leverage the platform to improve the capabilities of their tools as well."
Interested parties can learn more or preview the solution in a video by Brother and Fluke Networks at www.BrotherLabelLink.com.