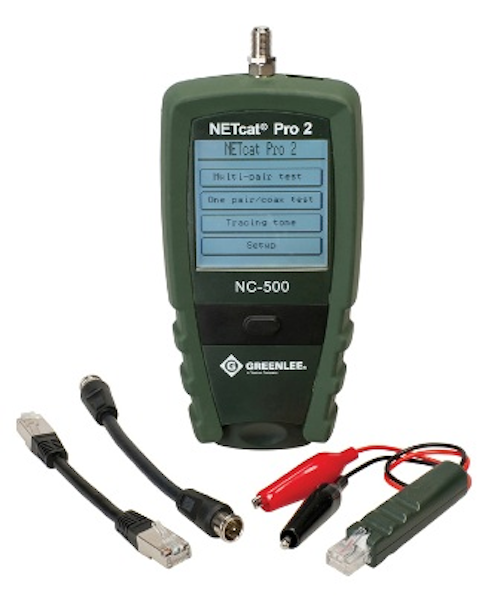 The NETcat Pro2 from Greenlee has been upgraded and now has the ability to identify active 10/100/1000Base-T Ethernet devices as well as cables that are also carrying direct current via Power over Ethernet (PoE). According to product manager John Fee, improvements have also been made to provide enhanced wire-continuity testing and proper pair allocation.
The new version of Netcat Pro2 uses a touch-screen display and is equipped with a memo pad and reminder feature. A fingertip or the tester's built-in stylus can be used to control the screen and display tests including fault finding, TDR length measurement and others.
"It's designed to verify that patch cords and in-wall cables have been correctly wired or installed," Greenlee says, "and determine if Ethernet LAN service is available." When a technician uses the connectors on the base unit as well as the onboard remote, the tester works with twisted-pair wiring for data and telephone signal transmission as well as with coaxial cable.
An optional accessory kit, NC-510, contains seven expansion remote test modules that allow NETcat Pro2 to test eight coaxial or twisted-pair jacks at a time.