Tester troubleshoots copper and fiber Gigabit networks
The LanXplorer Pro from Ideal Industries conducts passive and active tests, and also checks PoE circuits.
Apr 8th, 2011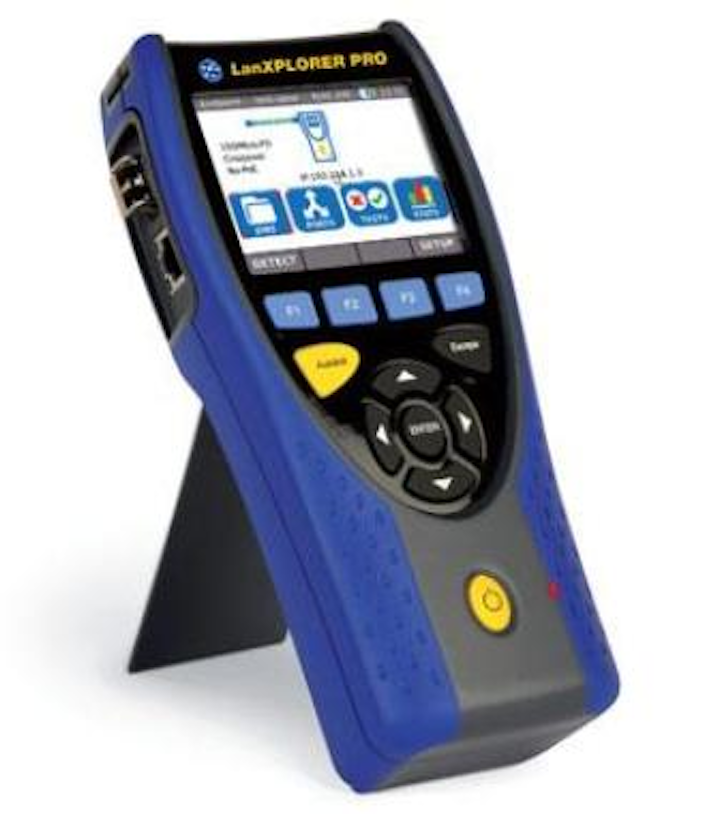 The LanXplorer Pro from Ideal Industries is an inline Gigabit network tester that can troubleshoot passive and active connections over both copper and fiber. It also features a network discovery/verify function that identifies all active network devices and compares them against previous device lists.
"Network faults or slow performance can have a direct impact on the profitability of any business, whether a small enterprise or a large corporation," said Dan Payerle, business unit manager for Ideal's datacom test equipment. "Our new LanXplorer Pro has been designed to resolve issues quickly to reduce downtime and costs. It is the most comprehensive network tester on the market today with extensive test capabilities, from locating simple cable faults to identifying causes of network slowdowns."
Ideal says the tester is an appropriate tool for installers, IT administrators, network technicians and system integrators. It can wirelessly connect to networks via 802.11 b, g or n WiFi, meaning the user does not have to make physical contact with the network in order to carry out tests.
The tester's network discovery/verify function identifies devices such as printers that are added to a network without an administrator's knowledge. The function also is able to compare a previously stored network-device list against the current device list, making any changes to the network easy to identify. The inline test capability can also monitor performance of devices like PCs; and it can identify devices that are consuming bandwidth and contributing to poor network performance. Users can select peak, instant, 30-second, or continuous bandwidth monitoring. VoIP testing features also help identify causes of poor call quality or dropouts by measuring jitter, packet loss and maximum bandwidth. It can also identify a network's top 10 talkers.
The LanXplorer Pro also conducts Power over Ethernet testing with load simulation to examine PoE power-supply equipment; it can also be used inline to measure power consumption of PoE and PoE Plus devices.
Ideal emphasizes the tester's ease-of-use. "Most tests can be completed in just three steps," the company says, "thanks to a virtual keypad for faster data input, a 3.5-inch color touchscreen interface, and an icon-driven menu navigation system. Even a novice can learn to operate the product in minutes."
The tester can be directly plugged into a wall socket, can run off a rechargeable battery pack, or off standard AA batteries.