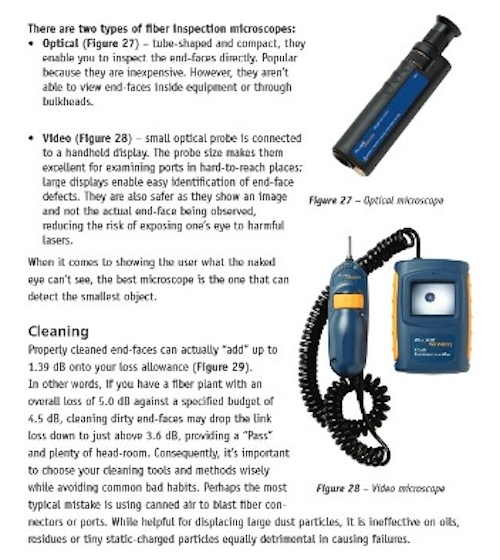 Fluke Networks' "Optical Fiber Test and Troubleshooting Quick-Reference Guide" is a handy document for users of the company's fiber-test tools; it walks users through the steps required to test and troubleshoot fiber links using Fluke Networks products.
"Due to increased complexity of cabling systems, determining the cause of failure and quickly restoring suitable performance can be a challenging task," the company said. "This quick-reference guide walks you through the testing and troubleshooting of optical-fiber cabling for data communication."
By providing contact information, anyone can download the 15-page guide directly from Fluke Networks. The guide includes sections on fiber verification testing; certifying optical fiber cabling with OLTS (optical-loss test set) and LSPM (laser source power meter); finding and analyzing fiber-cabling faults; and end face inspection and cleaning. A page-capture from the section addressing cleaning and inspection is shown herein. Additionally, the guide includes a glossary and an index.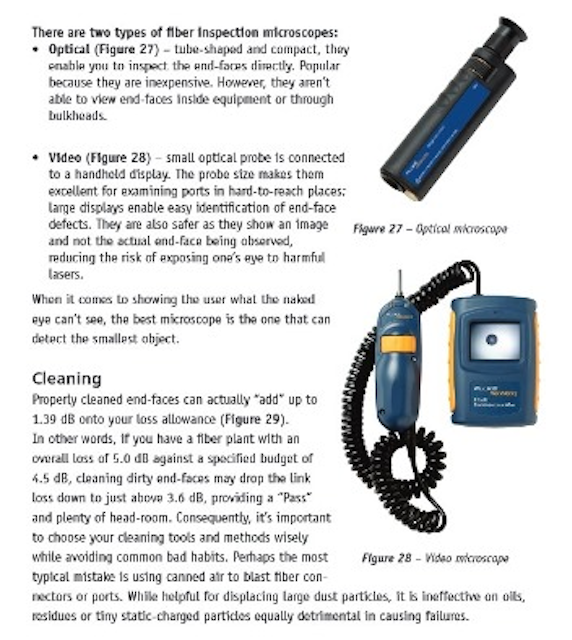 In the guide's conclusion, Fluke Networks states, "Cabling installation is a multi-step process. It is prudent to certify the cabling system after installation to ensure all installed links meet the expected level of performance. Certification will likely identify some failing or marginally passing results. In order to deliver a high-quality cabling system, defects that cause failures and marginal passes must be uncovered and corrected."
You can download the testing and troubleshooting guide here.