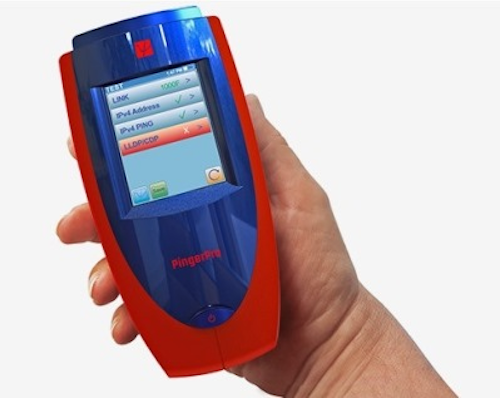 PingerPro is a new test tool available from Psiber, which the company says enables technicians to troubleshoot network issues layer-by-layer. "PingerPro provides a powerful combination of physical-layer tools to troubleshoot copper and fiber networks, and LAN tools to identify and repair a wide range of network problems," the company says. "Tests are based on user-configurable profiles, which can be stored in advance and selected for different jobsites or requirements."
The Psiber website shows two models—70, which tests copper links only, and 75, which tests copper as well as multimode and singlemode fiber. The Model 75 comes with interchangeable singlemode (1310 nm) and multimode (850 nm) modules, as well as an RJ45 interface. List price for Model 70 is $599, and for Model 75 is $899.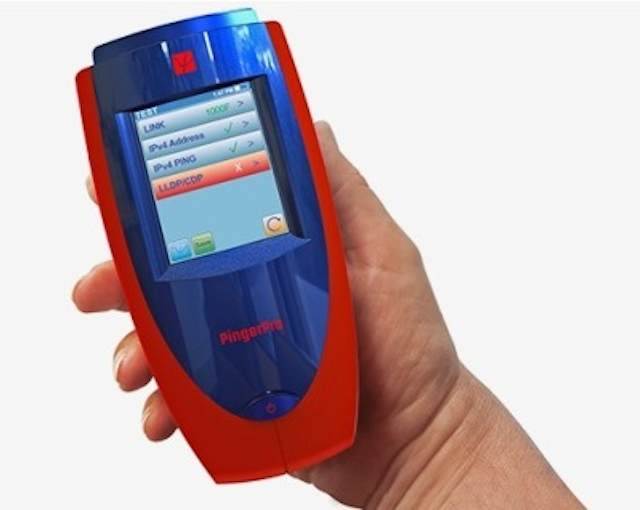 Psiber lists and describes the following capabilities and characteristics of the tester.
One-button autotest—Quickly provides connectivity, device, port and security information
Link test—Check to see if a port is operational, and display speed and duplex information to verify compatibility with connected equipment. Verify connection at 10/100/1000Base-T over copper or 1000Base-X over fiber.
Ping test—Verify connectivity by sending a single, burst, or continuous ping. The payload size can be adjusted from 56 bytes to 1516 bytes, and the interval between pings and the timeout duration for the ping response also is configurable. A VALAN tag can be added to the packet, and priority number can be specified.
MAC cloning (network device emulation)—Clone and troubleshoot a problem device to see if the issue is with the device or the network.
LLDP/CDP protocol support—PingerPro uses IEEE Link Layer Discovery Protocol (LLDP) and Cisco Protocol (CDP) to display port speed, duplex and number.
Trace route—Perform this diagnostic by selecting one of the ping results; trace route provides a method for viewing the path that packets travel between two devices.
IPv6 capability—Simplifies the transition to IPv6 and verifies that a network supports IPv6 traffic.
Additionally, Psiber notes that PingerPro offers a wiremap feature, time-domain reflectometry (TDR) capability, a built-in tone generator, and port ID capability.