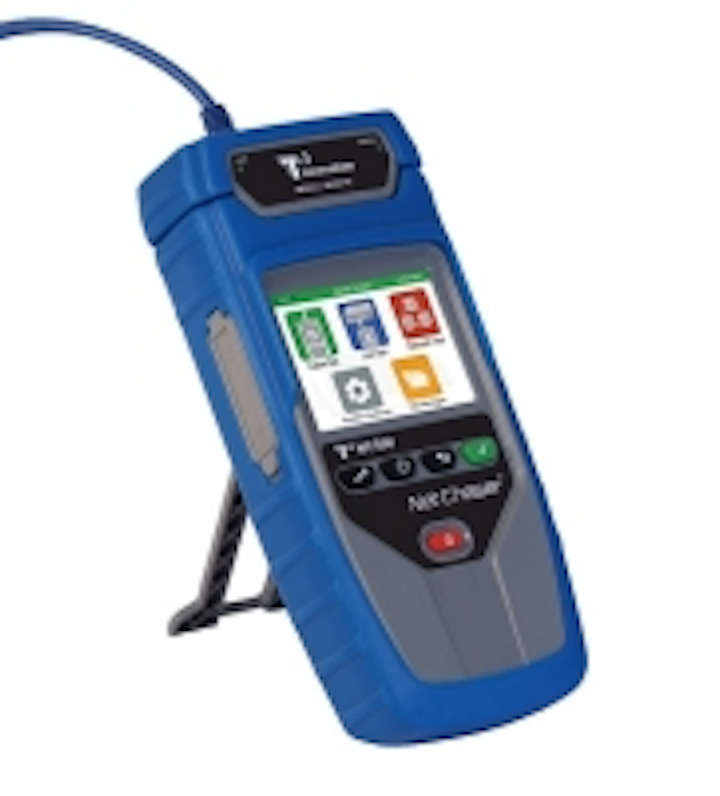 T3 Innovation (Camarillo, CA), a provider of handheld test equipment for cable/telecommunications, datacom/networking, electrical design and maintenance, and residential/CEDIA custom install applications, announced that its newly launched Net Chaser Ethernet speed certifier is now shipping. Made in the U.S., the new Ethernet Speed Certifier tester performs wiremap testing, measures cable length, performs a Bit Error Rate test, as well as Signal to Noise Ratio, and SKEW testing to ensure that cabling will perform to its maximum speed rating up to 1 Gigabit per second.

According to T3, the Net Chaser includes a diverse feature set for testing active network capabilities, allowing technicians to: measure Power over Ethernet (PoE) to ensure the correct power is available on the correct pins, use Port Discovery to ensure the correct speed and duplex capability are available; connect at gigabit Ethernet and run ping tests to verify connectivity to IP hosts; discover network devices using Cisco Discovery Protocol (CDP) or Link Layer Discovery Protocol (LLDP); VLAN discovery; Traceroute function displays the path internet packets travel to reach a specified destination.

Net Chaser also has the ability to save all cable tests and active network testing. All saved test results can be save in either CSV or PDF file format. Additional NetChaser specifications and applications, according to T3 Innovation, include:
• Measures and displays length for each pair in feet or meters
• Improperly terminated cables are clearly displayed on a color
graphical wire-mapping display
• Detects Length to Opens & Shorts
• Verifies Continuity for RJ45, and Coax cables
• Saves test results and easily uploaded to a computer
• Tone Generation
• ID Only remotes (Network and Coax) - up to 20 available
• Testing and ID Remotes - up to 8 available
• Active Ethernet (Link Capability & Link Status)
• Detects PoE/PoE+ and load test for voltage drop
• IPV4 & IPV6 Support
• VLAN Discovery
• Ping to a specific IP or URL address
• Ping up to 10 addresses at a time
• Link Light
• DHCP
• Discovers CDP and LLDP Protocols
• Traceroute
• Rechargeable Lithium Ion Battery Pack; 8 hours of battery power in the field
• Made in the USA
• MSRP: $1,799.95

For more information, visit www.t3innovation.com or call (805) 233-3390.
To view the NetChaser promotional video go to: http://t3innovation.com/netchaser