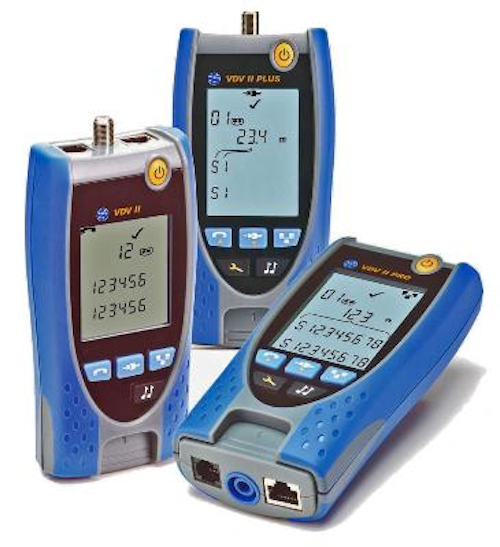 Ideal Industries has introduced the VDV II Series cable verifier tools, which the company describes as "affordable, easy-to-use" tools that "serve a variety of applications." Three versions of the test tool are available, all of which check the integrity and detect wiring fault in low-voltage copper cables commonly deployed in residential, commercial or industrial voice, data or video installations—including telephone wiring, Category 5 through Category 7 UTP and STP LAN cabling, as well as coaxial cabling.
The company further explained, "All three VDV II Series models—the VDV II (basic), VDV II Plus (advanced), and VDV II Pro (professional-grade)—provide wiremapping capability. In addition, the VDV II Plus offers a 2.9-inch display with backlighting, hub blink, cable-length measurement and distance-to-open. The flagship VDV II Pro offers all this, plus uses a TDR to quickly determine where cable damage is located by identifying the distance to opens and short. The VDV Pro will also display mission-critical network-connectivity information without the need for a PC. By detecting the presence of voltage and checking polarity, the VDV II Pro quickly determines which type of media service is running over the cable, such as ISDN, PBX and Power over Ethernet, resulting in faster fault diagnosis. Troubleshooting active Ethernet networks is also made easier with in-building network detection that displays network rate and duplex information."
According to Ideal, the testers are ergonomically designed to fit comfortably in the palm of a hand. They identify wiring errors, capturing comprehensive details on faults such as opens, shorts, reverses, miswires and split pairs, the company added. Integrated RJ11/RJ12, RJ45 and F-type connectors "help the user achieve faster testing of most types of low-voltage cables by eliminating the need for separate testers or adapter," Ideal said. "Intelligent technology lets the unit know if it has been plugged into an outlet where potentially damaging voltages are present."
Jeff Meader, business unit manager for the company, said, "Installers and technicians spend too much time troubleshooting with testers that are inaccurate or do not provide enough detail about the installation to really diagnose and solve the problem. With our new VDV II series, problems can quickly and easily be located, thereby saving time and money. They have a range of features to match all levels of network and coax installation or maintenance, whether it's a new build or network moves, adds and changes."
Find Test Equipment products and providers in our Online Buyer's Guide.