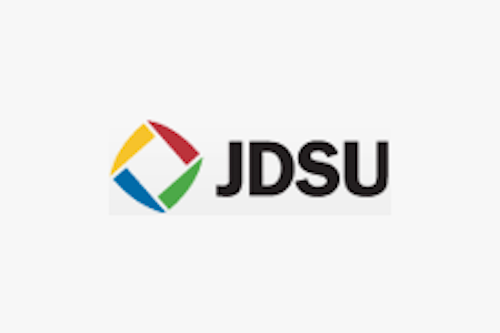 JDSU (NASDAQ: JDSU) says it now offers RFC 6349 testing as a virtualized network function (VNF). The new TrueSpeed VNF software package can reduce costs and truck rolls, says JDSU, and is interoperable with the company's hardware-based TrueSpeed capabilities contained within StrataSync-enabled T-BERD/MTS handheld network test and measurement instruments. RFC 6349 is an IETF standard set of tests that measure the end-to-end throughput of TCP transmissions. It also enables troubleshooting of underperforming links.

"Offering the TrueSpeed VNF recognizes the fact that network performance that was once predictable in a dedicated, hardware-based network appliance may now be affected in new ways when a new virtual network element is installed," said a company product manager. "For example, physical links between network equipment that previously had been accessible for monitoring and troubleshooting are being replaced by virtual interfaces, with functional connections within software in the same or different physical servers. Therefore, test capabilities must be virtualized as well."

Use of the TrueSpeed VNF has three principal benefits, which JDSU asserts as follows:

-- It enables RFC 6349 compliance testing remotely, without the need to dispatch a field technician or dedicated test equipment.

-- It enables network technicians to ensure high-quality service delivery through automated evaluation of performance between various Internet points of presence, data centers, and network handoffs. Operators can leverage their installed base of server resources to evaluate customer experience and provide actionable information.

-- When field technicians need to be involved, these technicians can use TrueSpeed VNF as the far-end for their RFC 6349-compliant tests without a second device or technician.
SEE ALSO:Virtualized security fueled by SDN?

"As networks move toward becoming virtualized, operators must access solutions that are standardized for what it takes to meet the high demands of ensuring service quality in complex virtual network settings -- TrueSpeed VNF is a game changer," said Olga Shapiro, program manager for Measurement and Instrumentation at Frost & Sullivan, a global research group. "Impressively, JDSU has broken through with the first industry-compliant test software that serves the virtualized environment," added Shapiro. "An innovation perfectly timed while NFV [network functions virtualization] and SDN [software-defined networking] stay top of mind as both challenging and promising network architectures."

"Virtualized and software-defined networks are transforming the communications industry as new building blocks that help keep pace with technology change, unpredictable data traffic, the cloud and more -- it's vital that test be virtualized, too," said Sue Spradley, senior vice president and general manager in JDSU's Network and Service Enablement business segment. Spradley added, "TrueSpeed VNF is a test-industry first to ignite confidence among network operators and enterprises knowing that a dynamic solution developed in close collaboration with customers will ensure quality and reliability when deploying, installing and maintaining in a virtual world."

Source: Lightwave