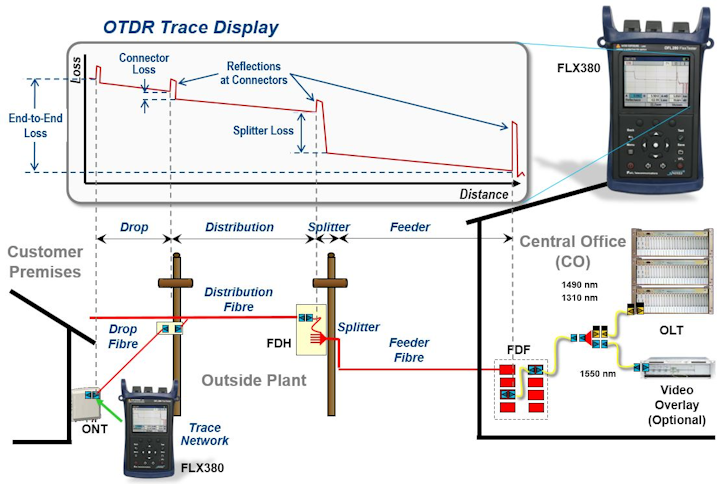 Fiber-optic communications industry analyst ElectroniCast Consultants recently announced the release of its annual market forecast of handheld OTDR [Optical Time Domain Reflectometer] fiber-optic test devices. The new report provides a 10-year forecast of the worldwide market for handheld OTDRs and multiple-test units (platforms) using OTDR modules, as well as supplementary/secondary (add-on) OTDR-based modules.
An OTDR as defined by the analyst is "a fiber-optic test instrument used as a troubleshooting device to find faults in the optical fiber link." According to ElectroniCast, the worldwide use of handheld OTDR and associated devices reached $407.33 million in 2018, up from $397.8 million in 2017. Per the report, "Telecommunications reached $289.63 million, representing a 72.5 percent market share, last year. The Cable TV sector is forecast to increase in volume (quantity/number of units) at over 5% annually during the forecast period (2018-2028)."
Light Brigade adds course for OTDR operation and fiber-optic field troubleshooting
The report's summary adds, "The consumption value of OTDRs in the Private Networks is forecast for very impressive 'double-digit' annual growth over most of the next 10-years, due to the increase in optical fiber deployment in LANs (local area networks), campus (LAN extension inter-building, LAN-to-LAN and redundant lines), and (very large) Data Centers (DCs), driven by critical high-speed data applications. Military/Aerospace applications, as well as various specialty/other applications are also quantified in this report of the study. ElectroniCast defines the use of handheld OTDRs in Specialty applications, as units testing the deployment of Sensors, which are not used in the other applications). Specialty applications also include the use of OTDRs in used in Industrial, Laboratory, rental units, other applications and non-specific/miscellaneous."
Market forecast data in this study report refers to consumption (use) for a particular calendar year; therefore, this data is not cumulative data. This market forecast report is available immediately from ElectroniCast Consultants. For detailed information on this or other services provided by ElectroniCast, please contact Theresa Hosking, Marketing/Sales; thosking@electronicastconsultants.com (Telephone/USA: 831-708-2381)