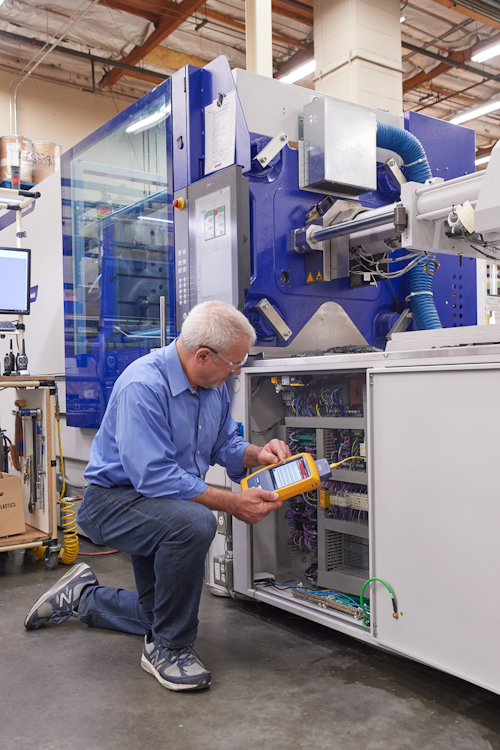 Fluke Networks recently announced the availability of an M12-X adapter for its DSX CableAnalyzer family of network cabling certification tools. The M12-X is a standardized connector designed for harsh Ethernet environments, supporting communication rates up to 10 Gigabits per second. The new adapter allows the DSX Series to connect to cabling systems employing the M12-X connector for the purposes of pre-startup verification and troubleshooting.
"As a leading supplier of Industrial Ethernet cabling systems, Panduit understands the need for pre-startup testing of cabling systems," asserts Michael Verbeek, Sr. Manager Product Management & Engineering at Panduit. "Even when customers and contractors use top quality components, variations in the installation process can cause issues ranging from intermittent to total network failures leading to unplanned downtime. Certifying the installed cabling to industry standards during deployment reduces start-up time and prevents costly cabling-related downtime."
Digital poster illustrates Industrial Ethernet cable testing
Fluke Networks says its DSX CableAnalyzer Series comprises the industry's leading cabling certification system, supporting the most extensive variety of in-plant cabling up to and including Category 8, single and multimode fiber, and standards from the Telecommunications Industry Association (TIA), International Standards Organization (ISO) and the Institute for Electrical and Electronic Engineers (IEEE). Over thirty cabling manufacturers worldwide have endorsed the DSX CableAnalyzer Series for certification of their installed systems. The DSX CableAnalyzer Series performs rigorous tests with simple pass/fail results and features extensive diagnostics that slash troubleshooting time.
"Research shows that more than half of all Industrial Ethernet failures can be traced to cabling issues," claims Walter Hock, Vice President and General Manager of Fluke Networks. "Examples include failed connectors, cable or shield breaks, susceptibility to electromagnetic interference or moisture, and cables that don't meet specification or are simply too long. The DSX CableAnalyzer Series can now ensure that installed cables are suitable for Industrial Ethernet environments before machinery starts running or to troubleshoot these problems quickly in the case of failure."
The Fluke Networks M12-X adapter for the DSX CableAnalyzer Series is currently available worldwide. For a list of resellers, visit this selection-guide page on the Fluke Networks website.