7-function OTDR
Fiber Instrument Sales' Thunder Bolt OTDR analyzes fiber links for 1-Gig or 10-Gig capabilities.
May 1st, 2019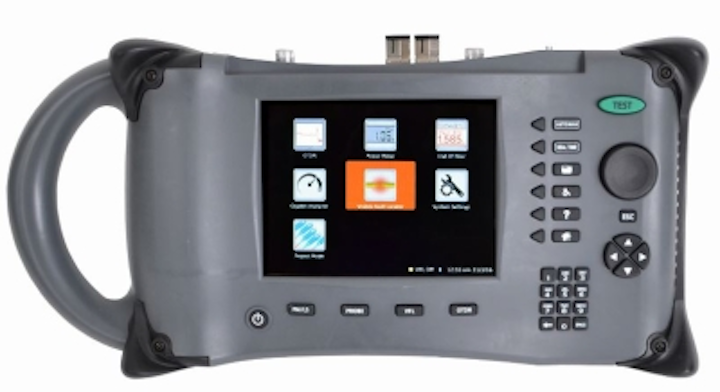 Fiber Instrument Sales recently released the Thunder Bolt optical time-domain reflectometer (OTDR), which the company describes as a 7-function tool. The company's president, Frank Giotto, commented, "We are thrilled to announce the release of the Thunder Bolt. The response to this unique 7-in-1-function OTDR has been tremendous."
The Thunder Bolt's functions as the following.
OTDR
Gigabit analyzer
End-of-line checker
Power meter
Visual fault locator
Reporting tool, via software
Connector inspector (optional)
It also can verify a break, end-of-fiber, or a highly reflective event such as a contaminated connector.
Fiber Instrument Sales adds, "The Thunder Bolt is a full-featured OTDR with trace overlay and event chart options displaying ORL [optical return loss] and dB loss values. Models are available in 1310/1550-nm singlemode, 850/1300-nm multimode, and 850/1300/1310/1550-nm quad-wavelength configurations. With a dynamic range of 36 dB, the OTDR is an outstanding value in optical testing performance for standard testing."
The company further explains that using the multi-wavelength OTDR application, users can scan with a single wavelength or with both the 1310- and 1550-nm wavelengths to overlay traces, which enables the user to detect macrobends. "In the OTDR project mode the user can test multiple fibers quickly, one after another, and there is no need to waste time renaming files," Fiber Instrument Sales notes. "Collected files are easily transferred to PDF format to meet customer-certification requirement."
According to Fiber Instrument Sales, the starting price for the Thunder Bolt OTDR is $3900. Giotto concluded, "We are working hard to keep up with the demand for this multi-function OTDR. It certainly is exceeding our expectations."