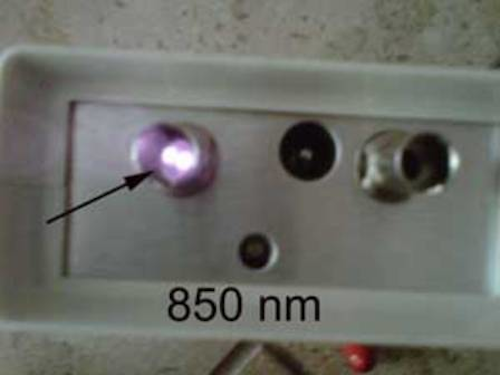 In most cases, the tool used as a fiber optic tester is either an optical-loss test set (OLTS), visual fault locator, or a higher-end device like an optical time-domain reflectometer (OTDR). But according to a "tech topic" recently posted on the Fiber Optic Association's Web site, the smartphone in your pocket can act as a fiber optic tester, in a pinch and for certain functions.
Chris Hillyer of the Northern California Sound & Communication JATC provided the tip to the FOA. According to Hillyer, "Your cell phone camera's image sensor can read IR light. it uses this technology to help take pictures at night. In the advanced audio and CCTV field they have been using the smartphone camera to troubleshoot problems in IR communications.
He further explained that the human eye cannot see the infrared (IR) light emitted by a remote control, for example. When such a device did not work correctly, we'd have to assume that either the batteries had worn out, or the remote's IR transmitted or receiver did not work properly. Now, he points out, you can use the camera on your smartphone to see the IR light emitted by the transmitter. To do so, follow these steps.
Turn on your phone's camera function.
Point it to the remote control.
Push any button on the remote control.
The IR light will show on the camera's screen.
Great - it works on a remote control. How does that relate to fiber-optic testing? Hillyer further explains: "You follow the same princples. Let's say you wanted to see if a fiber port was energized. You can either use the card that is supposed to show you in a few seconds whether or not the port is hot. Or, you could plug in your power meter, which you either may not have handy or you may not be able to find its card. Just pull out your smartphone, turn on the camera, and hold it over the port. If it is hot you will see a bluish white dot in the fiber bulkhead."
The image at the bottom of this screen, supplied by Chris Hillyer and also available for viewing on the FOA Web site, shows such a bluish white dot in an 850-nm fiber bulkhead.
Hillyer says he found his camera phone to be very sensitive at 850 nm, but less so at 1300 nm (like all semiconductor detectors, he points out). "Our phone could still see 1300 nm sources at around -20 dBm, making it very useful even for LED sources, and of course, perfect for lasers," he concluded.
Check out this Tech Topic and other information on the FOA Web site.