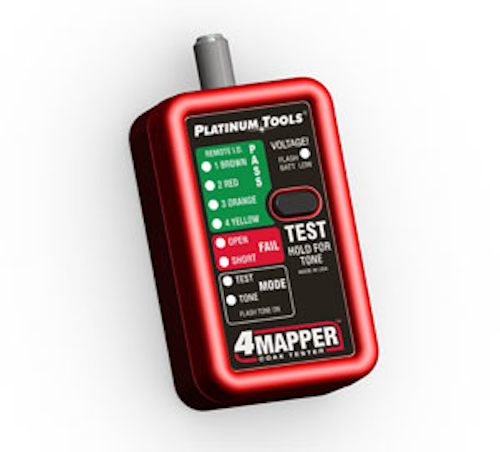 CAMARILLO, Calif. -- Platinum Tools has launched its new 4Mapper Coax Tester. The tester can troubleshoot and identify single or multiple coax cables connected to TVs, security cameras, splitters, monitors or routers.
Lee Sachs, Platinum Tools, Inc. president and general manager, comments, "Made in the USA and fast and easy to use, the individually identified custom remotes allow the user to track up to four connections at a time from the main cable box."
RELATED PRODUCT: Platinum adds comprehensive crimp tool
4Mapper Coax Tester additional features, according to the company, include: EZ 1-button design; Displays Pass, Open or Short; Integrated tone generator; Automatic power off; Line voltage warning LED; Flashing low battery LED; Ultra bright, high intensity LEDs; Easy to see in the daylight; Includes four custom F remotes, push-on design; Long battery life.
The product is scheduled to ship by October 1; MSRP is $42.95. For more information, visit www.platinumtools.com, call (800) 749-5783, or email info@platinumtools.com.