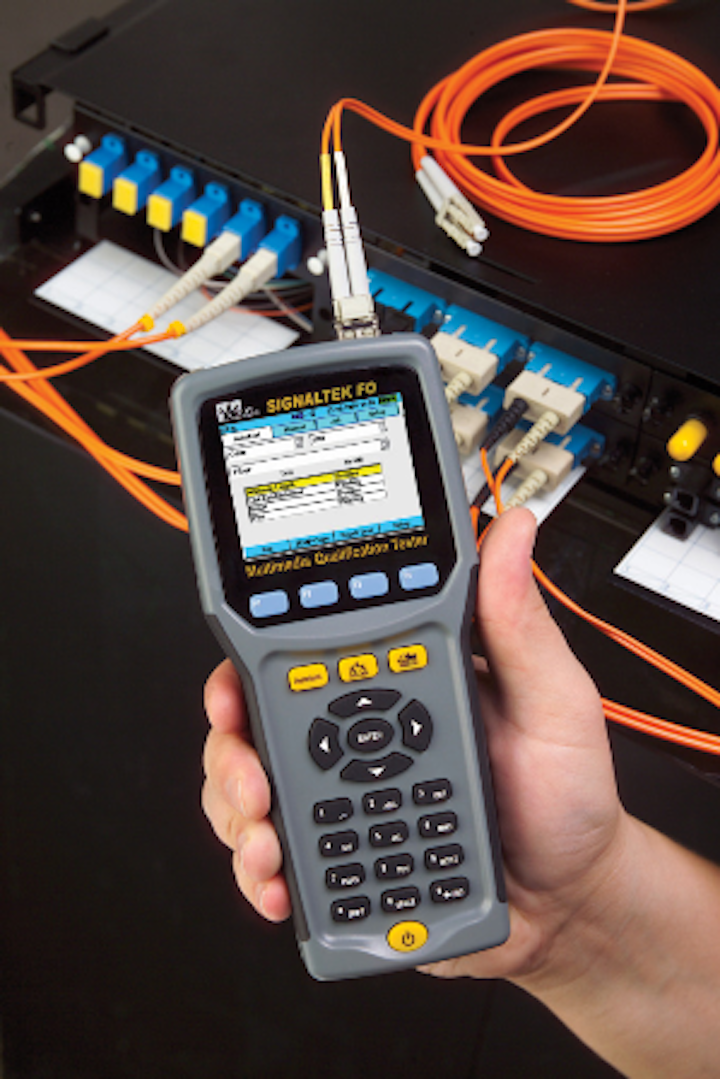 The Signaltek-FO qualification tester from Ideal Industries allows the user to measure performance of both copper and fiber-optic cabling systems to IEEE 802.3 Gigabit Ethernet standards. Signaltek-FO incorporates features including Gigabit Ethernet bit error rate testing, active LAN diagnostic testing, 32-Mbyte internal memory for storing up to 20,000 tests and printed pass/fail qualification reporting.
It also features an interchangeable small-form pluggable (SFP) port with a duplex LC connector for fiber-optic qualification. According to Ideal, this feature enables the user to easily migrate from copper to fiber qualifying, assuring all new and existing links are properly installed and will perform reliably in support of 10/100/1000 Ethernet, Voice over Internet Protocol, voice, IP video and other applications.
The company adds that the Signaltek-FO's dual-wavelength capability enables it to switch over from 850 to 1300 nm to test fiber installations, while multimode and singlemode capabilities permit qualification of cabling to distances of 10 kilometers. The unit will perform both bit error rate testing and optical attenuation loss measurements on fiber-optic links, and will measure cable attenuation with a dynamic range of up to 20 dB.
Singaltek-FO can be configured to run for several minutes, or multiple hours, to "stress-test" a link for dropped packets, Ideal says. This monitoring mode allows the tester to be used to isolate intermittent network problems that are difficult to detect, the company adds. The tester will inform its user which device is at the end of a cable run, such as its own remote handset, a live network device or an open link. The autotest function performs a test suite based on the link's current configuration.
The tester's reporting capabilities allow it to produce a customized report documenting cable performance that can be stored on the tester, transferred to a PC via USB, or printed via a Web browser.
Several accessories are included with the tester including a fiber-ready near-end and remote-end handset; carrying case; copper cable accessory kit with RJ45, RJ11 and coaxial leads; a fiber-optic accessory kit; 8 AA batteries; 2 AC power adapters, a USB cable; user manual on CD; and a training DVD.