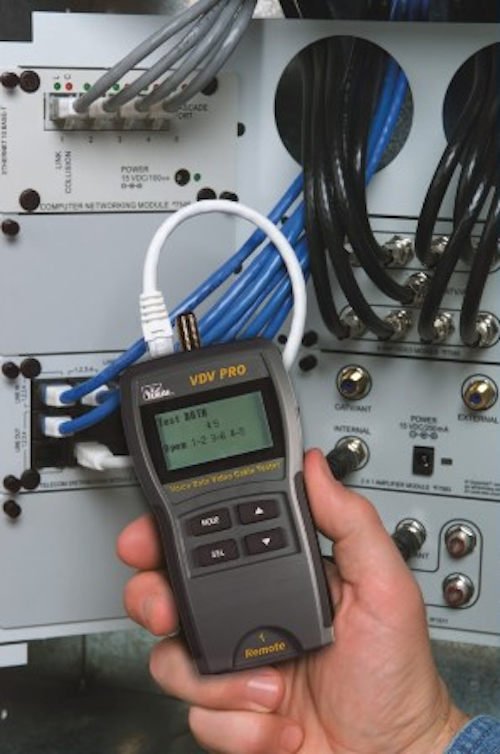 The VDV Pro from Ideal Industries has integrated RJ-11/12 (voice), RJ-45 (data), and coaxial F-connector (video) interfaces directly on the unit's top, which the company says reduces the time needed when technicians are transitioning between voice, data, and video cabling testing. The integrated interfaces also do away with the expense of replacing lost or damaged adapters.
"We listened carefully to what users of the first VDV Multimedia told us they needed, including faster testing," said Dan Payerle, Ideal's business unit manager. "As those requirements evolved with changing technology, we responded accordingly with the more advanced VDV Pro." The tester also features a backlit full dot-matrix screen that can be read in dark telecom rooms and is viewable in extremely low-lit environments. The tester is ergonomically designed for handheld orientation.
Accessories enable the tester to also support BNC and RCA connectors, which are commonly used in cable, satellite, and video surveillance systems. An integrated tone generator offers four unique analog tones to almost instantly locate and isolate wire pairs, Ideal says.
In addition to the main unit, the VDV Pro has a detachable remote with RJ-11/12, RJ-45, and coaxial F-connector interfaces that store in the main unit's base for ready avaialability. The unit has the capacity to support up to eight remotes for larger installations.
Specific testing functions include the following.
Voice: The VDV Pro will test 3-pair USOC and 6-position RJ-11/12 jacks for voice cable integrity. Voice testing will detect RJ-11 (1, 2, or 3 pair) and also show normal or reverse for pins 1 through 6.
Data: Tester confirms the quality of installed shielded or unshielded twisted-pair cable to T568A/B (RJ-45) standards. The full dot matrix screen shows a "pass" or "miswire" to indicate reversals, shorts, splits, breaks, and opens. It will also test cable for shield continuity and the presence of voltage. In addition, it measures the length of UTP, STP, and coaxial cable during initial test results along with displaying the distance to a specific fault by displaying a graphic wiremap on the LCD. When connected to its remote, the VDV Pro will display wiremap for 10Base-T and Token Ring. In addition, it is able to link a "hub" to identify the port to which the cable is connected. It will also identify network operation when connected to an active LAN port.
Video: Primarily used in cable TV and security camera coaxial systems, the VDV Pro provides quick verification in multi-run coaxial terminated with F-connectors of opens and shorts. Coaxial mapping is possible with up to eight color-coded coaxial remotes.
The VDV Pro is available in three kit configurations. The unit with one remote lists for $269; with eight remotes for $369, and with a remote and probe to identify cable runs for $299.