NetScout introduces LinkRunner G2, an Android-based PoE, copper, fiber Ethernet network tester
NetScout says the LinkRunner G2 uses mobile apps to automate the processes of copper and fiber Ethernet testing.
Nov 28th, 2017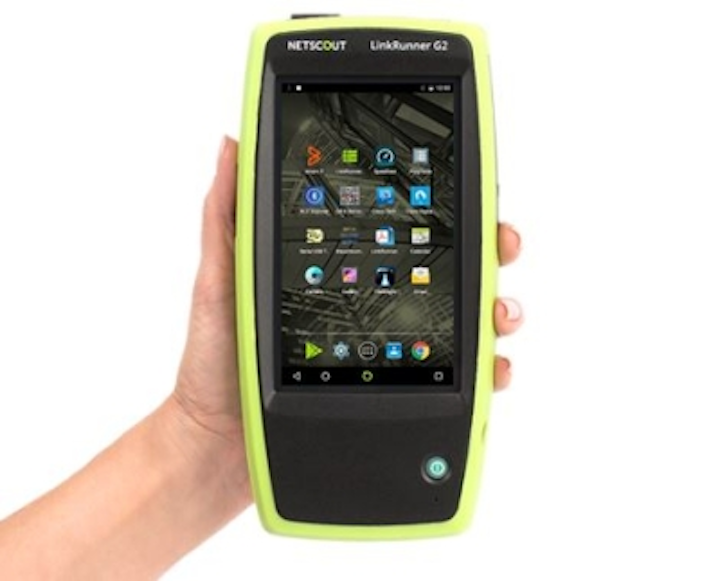 NetScout today announced the availability of LinkRunner G2, which it describes as "the world's first Android-based smart network tester." The company added, "This next-generation test tool enables IT professionals to accelerate deployments and speed problem identification, improving the efficiency and effectiveness of network operations."
LinkRunner G2 conducts twisted-pair testing of 10/100/1000Base-T and fiber-optic testing of 100/1000Base-X, as well as conducting the patented TruePower PoE test, which supports 51-watt UPOE under load on all four pairs at the powered device. It operates on an Android-based OS for Ethernet connected app use, is WiFi and Bluetooth-ready, and automatically uploads test results to the Link-Live Cloud Service. Other tests the LinkRunner G2 conducts include distance-to-fault; discovery of switch/slot/port and VLAN/Voice LAN; DHCP, DNS and gateway connectivity; ping and TCP port connectivity; packet reflection up to 1 Gbit/sec.
"Network operations play an essential role in building and managing the network of the future, enabling those deployments in access networks," NetScout said when announcing the LinkRunner G2. "But with limited resources and tight budgets, these teams need tools that can help them improve their productivity through faster installation, quicker upgrades, and the rapid identification of issues."
The company's chief operating officer, Michael Szabados, commented, "As the world's leading network connectivity tester, LinkRunner provides immediate visibility and value to professionals responsible for delivering reliable network services. The novel combination of LinkRunner G2's Ethernet test capabilities with a hardened Android operating system simplifies and streamlines installation and troubleshooting workflows and automates manual processes, significantly improving efficiencies in network operations."
LinkRunner G2 combines the use of vendor-specific mobile apps and LinkRunner's custom hardware, meaning "network professionals can now execute their entire workflow on a single device," NetScout says. "They can receive a trouble ticket, review documentation, test loaded PoE and network services, automatically document the results, and configure and triage connected devices."