Fluke Networks introduces DSX-8000 Category 8 tester
The DSX-800 Category 8 tester has been independently certified by Intertek to meet ANSI/TIA-1152-A Level 2G requirements for measurement accuracy.
Jan 23rd, 2017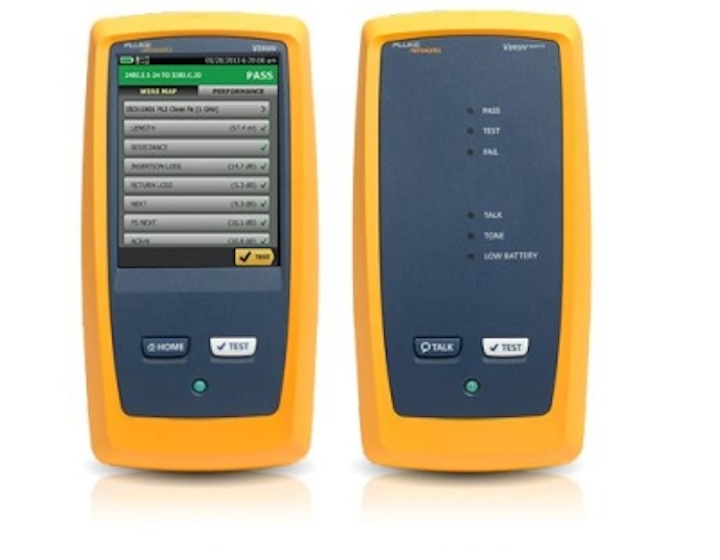 Fluke Networks introduced the DSX-8000 CableAnalyzer today. The company says the DSX-8000 is "the first tester independently certified and endorsed to meet all requirements for the Category 8 field testing standard." The latest addition to Fluke Networks' Versiv cable certification family, the Category 8 tester "helps data communications installers more quickly, accurately and profitably achieve system acceptance for copper and fiber jobs," the company stated.
Antoine Pelletier, project engineer for ICT cabling products testing with Intertek, said, "The Fluke Networks DSX-8000 CableAnalyzer has been confirmed by Intertek to meet the ANSI/TIA-1152-A Level 2G requirements for measurement accuracy. The availability of testers that meet this standard is an essential milestone in the evolution of Cat 8 and means customers can ensure their installations are standards-compliant."
Fluke Networks added, "With the launch of a field tester, designers and installers now have the tools they need to deploy Cat 8 in support of 25- and 40-Gigabit Ethernet networks." The company added that in reaching the milestone of Category 8 field testing, the DSX series has achieved the following breakthroughs.
Permanent link and channel adapters with a full 2-GHz range, allowing field certification of TIA Category 5 through 8 and ISO/IEC Class C through FA, and I/II (Class II adapters will be available summer 2017)
An eight-second Category 6A certification time
Endorsement by manufacturers of Category 8 solutions
The ability to test screen continuity along the path of the cabling, as required for Level 2G testers
Capability to test optional resistance unbalance measurements that are critical for guaranteeing operation of advanced Power over Ethernet systems
Eric Conley, vice president and general manager of Fluke Networks, commented, "While Versiv owners report a fast payback on their investment, contractors expect their testers to last for years. By purchasing the DSX-8000, they can ensure they will be ready when their customers deploy Cat 8 technology. The combination of strong ROI and futureproofing make this the smart buy."
Panduit has endorsed the DSX-8000 CableAnalyzer and verified that it meets all Category 8 requirements. Marc Naese, vice president of Panduit Corporation's data center business unit, stated, "Category 8 will offer the promise of smooth migration to higher bandwidths in the data center, with ease of deployment and significant cost saving. To realize these benefits, customers will need to ensure their installation meets all Cat 8 requirements. Panduit Labs have evaluated and endorse the Fluke Networks DSX-8000 for certification of our installations."