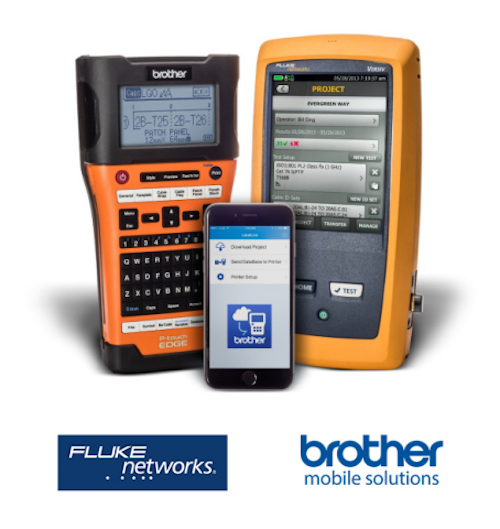 Brother Mobile Solutions, Inc. (BMS) announced that the Brother LabelLink application is now available for Android platform devices. The app can be downloaded free of charge on Google Play. With this release, the app is now available to support contractors in the datacom/telecom/cable installation industry who use both iOS and Android based devices. Further, the LabelLink app integrates with Fluke Networks' LinkWare Live, a cloud-based solution for managing cable certification projects.
BMS says its LabelLink "leverages the latest developments in cabling certification testing technology and advanced mobile printing capabilities to deliver unprecedented speed, efficiency and accuracy to the cable ID and labeling process."
Ravi Panjwani, Vice President of Marketing and Product Management for Brother Mobile Solutions, comments: "With LabelLink for Android, electrical construction and engineering contractors can meet multiple project needs for cabling ID and testing faster, more efficiently and accurately by inputting data only once. This new version provides high value for contractors operating on Android-based smart devices, especially businesses engaged in installing standards-based cabling infrastructures for large, complex data centers and enterprise networks."
Per a BMS press release:
"How the LabelLink App Works
The new LabelLink app for Android works identically to the iOS version and provides the same benefits to users. Here is a snapshot of LabelLink in action:
-- In the office, the systems designer uses CAD to plan the network infrastructure, and then uploads cable ID and component identifiers to LinkWare Live, Fluke Networks' Cabling Certification tester and report management application.
-- Contractor downloads and installs free LabelLink app.
-- On the jobsite, the contractor or technician downloads the identifiers from LinkWare Live through a smartphone into a Brother P-touch EDGE PT-E550W industrial labeling tool, which is used to create and print high-quality, standards-compliant, dual-laminated labels.
-- On the jobsite, the contractor or technician also downloads the same identifiers into the Fluke Networks Versiv Cabling Certification System, performs the tests, and uploads testing results for each identifier using LinkWare Live.
-- Basically, this means that the cable identifiers and test results for each project can be stored in one place and can be retrieved and used as many times as needed."
The Brother P-touch EDGE PT-E550W is billed as "a compact, full-featured industrial labeling tool featuring wireless connectivity for transferring data and printing directly from mobile devices. Designed by industry professionals for industry professionals, it can print wider labels (up to 24mm wide) ‒ including heat shrink tube ‒ and is ideal for labeling large, complex IT network projects. The ruggedly-built PT-E550W combines powerful technology with advanced features and intuitive operation that make the labeling job faster, simpler and more efficient for the installation crew, without the need to read a manual or undergo extensive training."
Duane Yamashita, Sr. Product Manager for Brother P-touch EDGE industrial labeling brand, concludes: "We created the unique LabelLink app for use with our P-touch EDGE label printers (PT-E550W), which interact seamlessly with Fluke's LinkWare Live cloud-based data files, so onsite workers can instantly access the relevant cable identifiers and create and print labels at the jobsite without the need for additional data entry. This helps ensure accuracy and consistency of the network labeling scheme as designed and built and also provides a solid foundation for an effective cable management program going forward."
Learn more about the LabelLink solution in this video by Brother and Fluke Networks at www.BrotherLabelLink.com.
Search the Cabling Installation & Maintenance Buyer's Guide for companies, new products, press releases, and videos: