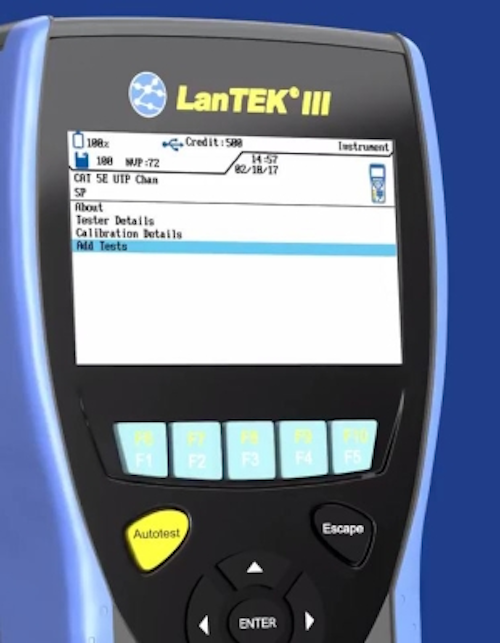 Ideal Networks recently launched Test4Less, a suite of products, services and payment methods that the company says help companies installing and testing data cabling and networks to reduce capital expenditure, increase productivity and improve cashflow. "Companies investing in multiple certifiers face the issue of increased expenditure and reduced ROI," said Tim Widdershoven, global marketing manager at Ideal Networks. "We've also found that several businesses have invested in a fleet of certifiers which now require an upgrade to new models due to certifier discontinuation by the manufacturer."
Ideal explained that research it recently conducted showed high capital expenditure for cable certifiers is an issue for many because it reduces cash flow and offers a low return on investment. "We also discovered cable installers required a certifier such as a LanTEK III on 25 percent of their cable installations typically, and on the remainder a less-expensive cable transmission tester, such as SignalTEK CT or SignalTEK NT, could be used to provide proof of performance," the company said. "These 25 percent of cable installations include building specifications that require a cable certifier or if cable manufacturer warranties are required." By using certifiers only when and where they are needed—and using transmission testers on the other approximately 75 percent of jobs—companies could reduce their capital expenditures on testing by as much as 57 percent, Ideal Network calculated. That calculation is based on the cost of 10 LanTEK III certifiers with permanent link adapters, versus 3 LanTEK IIIs with permanent link adapters and 7 SingnalTEK CT units.
The aspect of Test4Less that many may find to be the most intriguing is the "pay-as-you-test" option. Using this approach, Ideal says, transforms testing and certification from a capital investment to an operating expense. Under the pay-as-you-test plan, users purchase test credits for the LanTEK III cable certifier in batches—initially purchasing between 5,000 and 10,000 tests, then purchasing additional test credits when needed. "Businesses can opt for either a free-on-loan certifier agreement, or to purchase the certifier with an additional, initial up-front payment," Ideal Networks explained. "It could cost just $3,500 up-front for a new cable certifier with the pay-as-you-test options."
Coinciding with Test4Less and the pay-as-you-test option, Ideal Networks has launched the Sapphire Care Plan, which includes annual calibration, loan units during calibration, shipping, and a selection of replacement accessories annually.
Testers in the program are equipped with the company's Ideal AnyWARE software; the Ideal AnyWARE mobile app enables users to transfer data in real time from tests conducted on the SignalTEK CT, SignalTEK NT or LanTEK III. Test data is transferred from the test unit to the user's mobile device, and shared with remote colleagues immediately.
A three-minute video summarizing the Test4Less program can be viewed below.
You can find detailed information on the Test4Less program here.