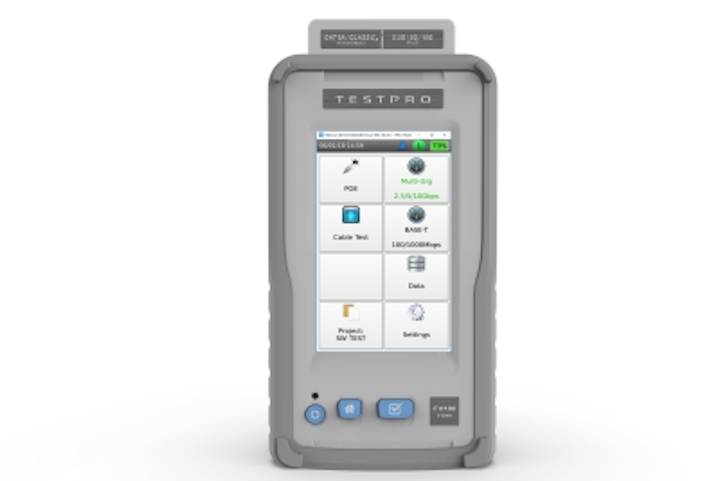 AEM announced on August 21 that its TestPro Multifunction Cable Tester received Level 2G accuracy certification—the highest level specified in TIA-1152-A and ISO 61935-1 standards for cable certification testers—from the Intertek/ETL agency. "With a six-second Category 6A certification test, TestPro is the fastest field tester on the market today," AEM said. (A screenshot of a TestPro Cat 6A test report is below.) "TestPro can also qualify multi-gig link speeds up to 10-GbE and verify loaded Power over Ethernet, PoE++, up to 90W. With testing for all three of these essential core functions in one simple, economic platform, cable contractors and those responsible for deploying IoT-connected devices can quickly understand the problem's source. This has never been more important with the proliferation of network-connected IoT devices that require more from the digital network infrastructure."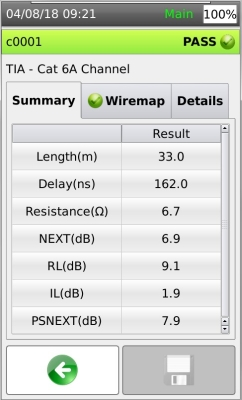 AEM points out the following example of TestPro's practical value: Wireless access points are one of today's most broadly deployed IoT devices, and 802.11ac Wave 2 wireless access points require 2.5- and 5-Gbit Ethernet backbone speeds to run at maximum performance. Additionally, these devices can be PoE-powered and by the nature of the link speed, require all four pair to be terminated. TestPro can certify the cabling infrastructure in accordance with TIA standards, verify link speed in accordance with IEEE 802.3bz specific to 1/2.5/5/10-GbE, and verify loaded PoE++ in accordance with IEEE 802.3bt to 90W including DC resistance measurements.
Harshang Pandya, general manager of test and measurement at AEM International, commented, "Digital transformation is having a huge impact on today's network and the demand for more bandwidth is driving increased use of multi-gig Ethernet over copper cabling. In addition, sophisticated PoE devices like multi-sensor cameras, Wave 2 wireless access points, building security systems and more are turning the network switch into a power distribution center. With TestPro, contractors and network owners can quickly and accurately certify the cable, qualify link speed and validate PoE++, which are all critical components to test in today's digital infrastructure."
Steve Kanne, founder and vice president of business development at Prime Communications, added, "The TestPro's ability to provide fast cable certification combined with in-depth PoE validation capabilities and multi-gig link speed testing helps our technicians to run more tests in less time. The fast they test each cable run, the more runs they get installed per day, which means more take-home pay. Furthermore, the device's ability to provide our security technicians with visibility into how the power sourcing equipment [PSE] is configured and if the proper level of power is available at the jack has saved countless hours of troubleshooting time and finger-pointing. It allows us to immediately understand where the issue is and correct it, rather than replacing something that may not be broken. The price of the TestPro, combined with the functionality, make this tester a win-win for our business."
Here is a sample PoE++ test result from TestPro: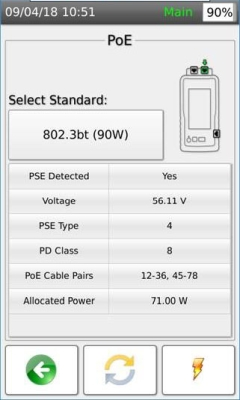 Pricing for the TestPro starts at $2,000, according to AEM, and modules to support singlemode and multimode fiber-optic testing will be available later this year.
AEM emphasizes the following characteristics and capabilities of TestPro.
The 6-second Category 6A certification test includes TCL (transverse conversion loss) and return loss location troubleshooting
Ability to certify Category 5e to Category 8
Live wiremap and cabling diagnostics, including distance to fault
Ability to measure impact of PoE on network link performance with simulations of traffic generation and sustained power-load testing
DC resistance unbalance measurement
Ability to verify loaded PoE++ for 802.3af/at/bt up to 90W
Reporting of PSE configuration and powered pairs
Reporting of voltage/current/real power
Autotest to qualify link speeds supported with pass/fail indication of 1/2.5/5/10-GbE data rates, including under sustained PoE++ load
Per-pair signal to noise ratio (SNR) and bit error rate (BER) reporting against default or user-defined limits
Integrated traffic generation and loopback to stress-test cable links
You can visit AEM's testing product page, with information onTestPro, here.