ConnectorMax solution tests MPO polarity, continuity, connector cleanliness
Automated solution from EXFO executes the critical tests needed to validate MPO links.
Sep 27th, 2018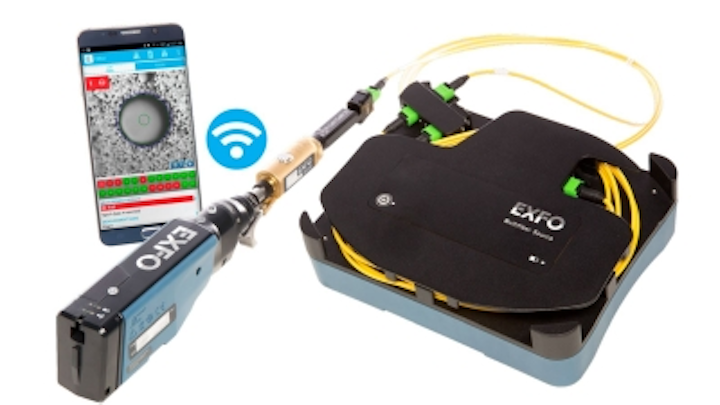 EXFO recently introduced the ConnectorMax MPO Link Test Solution, which it describes as "an automated test solution that combines testing of polarity, continuity and connector cleanliness—the critical tests needed to validate multifiber push-on links."
The ConnectorMax test solution pairs a light source at one end of the cable with a fiber inspection probe for analysis at the other end. "Additionally," EXFO says, "it is the only all-in-one solution that provides a clear pass/fail diagnosis of MPO-12 and MPO-24 links in a single report … Not only do field technicians benefit from the MPO inspection tool that eradicates the number-one cause of network failures—contaminated connectors—it now enables them to check polarity and continuity in just about the same time as inspection alone."
When introducing the test and analysis system, EXFO explained that many telecommunications companies are reconfiguring their central offices into data centers and in doing so, are deploying MPO cabling with 12 and, increasingly, 24 fibers. "When not properly tested, multifiber links can put the entire health of a network at risk," the company notes. "Traditional solutions often fall short on design or price, can't perform all three critical tests or don't offer analysis and reporting capabilities. Customers are left choosing between solutions that are either too much for what they really need—and too expensive—or lacking in features and fit." Users often use multiple tools to accomplish these tasks, EXFO adds.
Stephane Chabot, EXFO's vice president of test and measurement, comments, "The market was missing a quick, reliable and less-costly method to test multifiber cables before installation, so if outages occurred, technicians would be certain their pre-tested links were not the cause. The ConnectMax MPO Link Test Solution provides a fit-for-purpose solution that helps our customers test and turn up networks right the first time—making deployments faster, more efficient, and cost effective."