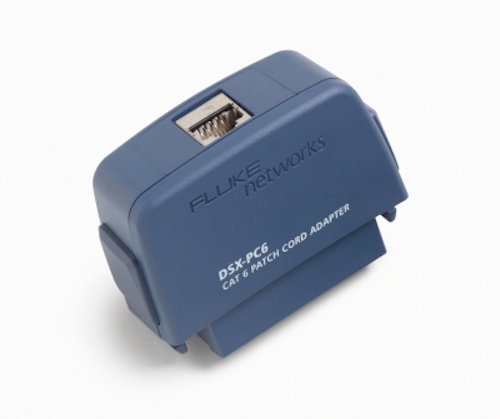 Fluke Networks recently introduced three adapters for its Versiv DSX CableAnalyzer Series that provide the ability to certify modular plug terminated link (MPTL) cabling installations to the draft ANSI/TIA-568.2-D standard. The adapters support Category 5e, 6, and 6A performance levels and are paired with the DSX Permanent Link adapter to perform MPTL certification. The DSX Permanent Link adapter is included with all DSX CableAnalyzer models. The MPTL adapters are compatible with all DSX models.
"The MPTL was created for scenarios where a typical four-connector channel is unnecessary for connecting cabling to networked devices—such as those that reside in a ceiling space where it is impractical to install a faceplate and connect via equipment cords," Fluke Networks said when announcing the adapters' availability. "Instead, there is just a single run from the patch panel in the telecommunications room or from a zone box to a termination at the far end with a plug directly connected into the device, eliminating the work area outlet and equipment cord."

Bob Allan, global business development manager for intelligent buildings with Siemon, commented, "With the proliferation of IoT, more devices than ever are communicating and receiving power via the network cabling infrastructure. Rather than connecting to the network via outlets and equipment cords, many of these devices can be rapidly and more-efficiently connected using an MPTL configuration. Directly connecting devices to the network can improve security by eliminating equipment cords that can be easily disconnected."
Siemon's Z-Plug Category 6A Field Terminated Plug facilitates "quick, reliable high-performance plug terminations that enable custom-length MPTL connections to a variety of IP-based and PoE-enabled devices deployed in today's intelligent buildings," Siemon said.
Allan continued, "We believe it is important to use the right tools to properly test and certify MPTLs performance to industry standards. Verifying MPTL performance is critical to ensuring our customers that their investment will meet and exceed their expectations when they deploy high-speed 10-gigabit applications and the latest four-pair Power-over-Ethernet applications, including 802.11ac WiFi, LED lighting, security surveillance, and building automation controls."
Harley Lang, director of marketing for Fluke Networks, added that the company "has worked closely with the industry associations and manufacturers in developing the standards such as MPTL that are set to ensure optimal performance of today's and tomorrow's advanced networks and the devices people and businesses count on. Our commitment to the industry can be seen in our products to support standard worldwide—including Fluke Networks' Versiv Cabling Certification system, which is endorsed by 31 cabling manufacturers to meet standards set for their products."
Fluke Networks also stated that more than two-out-of-three users of its Versiv test platform reported a reduction in test-related errors, and a 10-percent increase in overall profitability. The Versiv product line includes test capabilities for copper certification up to Category 8, fiber loss, OTDR, and fiber-inspection testing and certification. "The new MPTL adapters give users another tool that works with the Versiv DSX CableAnalyzer series and LinkWare Live, to which users have uploaded more than 10 million test results to date," the company concluded.