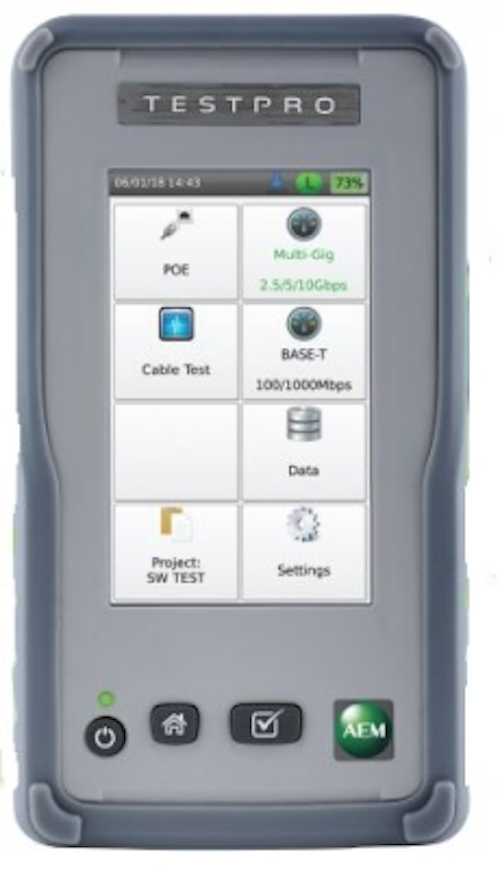 AEM announced the availability of TestPro 100, which the company describes as "a high-performance field cable tester for installers and IT managers that serves all phases of enterprise networking, from cabling installation to PoE and network deployment, device activation, and lifecycle maintenance."
TestPro 100 confirms a cabling link's ability to support 2.5G, 5G, or 10G transmission rates, and also validates Power over Ethernet performance up to 90W.
Harshang Pandya, general manager of AEM's test and measurement solutions business unit, stated, "By enabling networking teams to quickly test and validate cabling infrastructure before expensive equipment and services are deployed, TestPro 100 allows corporations to save significant time and money in upgrading networks to multi-gigabit Ethernet rates."
In addition to multi-gigabit Ethernet validation, TestPro 100 offers an option to perform cable certification at a speed of 6 seconds for a complete Category 6A autotest, which is "at least 30 percent faster than any certifier in the market today," AEM noted. "With detachable adapters, TestPro 100 also provides an option for characterizing cabling against recently defined single-pair Ethernet standards for industrial, automotive, enterprise, and home networks," the company added.
Loke Wai San, AEM's executive chairman, commented, "TestPro 100 is an example of how the innovative synergies have already been realized through AEM's acquisition of InspiRain in 2017. We are looking forward to more exciting product releases in the coming year as we continue to capitalize on the team's deep expertise in designing and delivering industrial test solutions."
The launch of TestPro 100 extends AEM's test solutions into the enterprise networking segment; the company previously launched its Mixed Mode Multi-Port Vector Network Analyzer (MMVNA) for the automotive industry.
TestPro 100 is available in a range of configurations to suit customers' testing requirements, and is available for ordering with typical shipment time within four weeks. The tester will be on display in AEM's booth (Booth 904) at the BICSI Winter Conference February 5-7.
You can find more information on the TestPro 100 and MMVNA here.