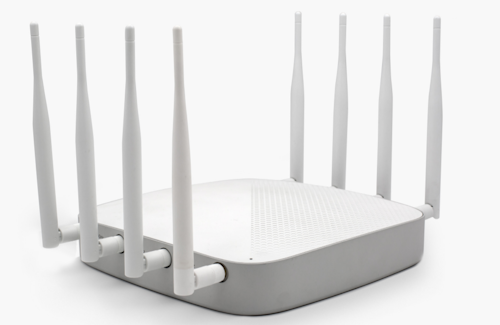 Extreme Networks and Aerohive Networks today entered into an agreement under which Extreme will acquire Aerohive for approximately $272 million ($4.45 per share). "The acquisition of Aerohive will add critical cloud management and edge capabilities to Extreme's portfolio of end-to-end edge to cloud networking solutions," the companies said in a joint announcement. The statement added that the acquisition will add a subscription revenue stream to Extreme's business, and strengthen its position in wireless LAN "at a critical technology transition to WiFi 6."
One of Aerohive's WiFi 6 (IEEE 802.11ax) access points is pictured on this page.
"Aerohive has a global footprint of 30,000 cloud wireless LAN customers in verticals including education, healthcare, state and local government, and retail," the companies added. "This acquisition will bring new automation and intelligence capabilities to Extreme's Elements portfolio."
They added that Extreme expects to gain new SD-WAN (software-defined wide are networking) capabilities, bringing its total addressable market by a total of $1 billion. "At a time when many of Extreme's customers and partners are turning toward as-a-service/subscription models to reduce costs and gain efficiencies, Aerohive will expand Extreme's mix of revenues to approximately 30% from subscription recurring revenue," they said.
The announcement said the companies expect the acquisition to close during the first quarter of Extreme's fiscal year 2020. The company's fiscal year 2019 ends June 30, 2019.
Aerohive's president and CEO David Flynn commented, "The role that cloud-managed technology plays in modern enterprises is impossible to overstate; it is where digital transformation is won and lost. Aerohive's expertise and excellence in cloud management and edge technology, combined with Extreme's extensive solutions portfolio and continued investment in software and AI for automation, gives our customers the most-advanced digital experiences in the market."
In a letter to its partners, Extreme Networks' president and CEO Ed Meyercord said, "With this deal, we will add an industry-leading cloud management platform to our portfolio of software-driven networking solutions. As we strive to deliver more services over the network to improve business outcomes, Aerohive's native cloud platform will be an integral part of our strategy."