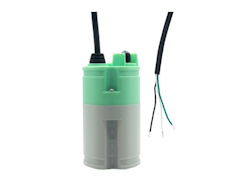 Lantronix Inc. announced on July 8 it acquired the entire business of Maestro and FALCOM Holdings Limited. Widely known as Maestro, the acquired company supplies wireless Internet of Things (IoT) products. Lantronix said the deal is for $4.9 million in cash.
"Maestro is a leader in wireless IoT with a strong focus on cellular connectivity," Lantronix said when announcing the acquisition. "Maestro designs, manufactures, and sells state-of-the-art global navigation satellite system (GNSS) receivers, tackers, modems, routers, and gateways ideally suited for numerous M2M and IoT applications, including industrial automation and Supervisory Control And Data Acquisition (SCADA), energy and metering, tracking and automotive."
A Maestro low-power radio (LoRa) node is pictured on this page.
Maestro's senior director of mobility solutions, Xavier Dupont, commented, "We are excited to integrate our products with the Lantronix solutions. The natural synergy and common strategy to provide industrial-grade cost-competitive solutions with comprehensive device management capability across a unified portfolio will provide deeper penetration into key regional markets and enable the combined companies to cross-sell and provide customers a more-robust offering.
Lantronix's president and chief executive officer Paul Pickle added, "The addition of Maestro's product portfolio and cellular connectivity technology is the perfect complement to the Lantronix portfolio of IoT solutions. This acquisition allows Lantronix to offer best-in-class products in wired Ethernet, WiFi, LoRa/LPWAN, and now in cellular environments as well. This transaction represents Lantronix's commitment to deliver incremental growth and shareholder value through acquisition."