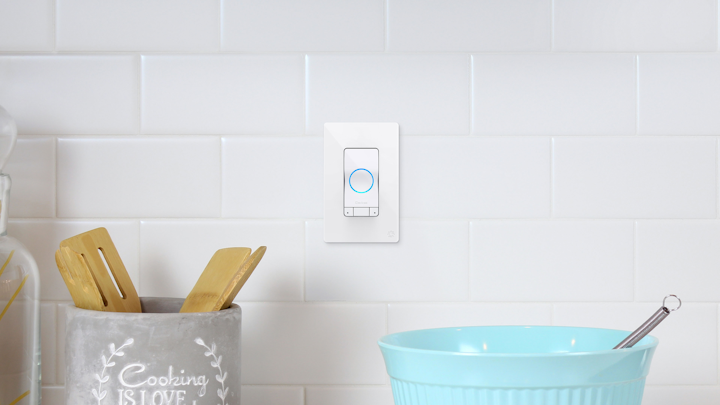 iDevices
iDevices, the exclusive smart home manufacturer under Hubbell Incorporated, has announced the availability of Instinct, a smart light switch that integrates built-in Wi-Fi functionality in conjunction with Amazon Alexa capabilities.
Per an explanatory press release, "Instinct combines the performance of a Wi-Fi enabled smart switch with the convenience of integrated voice control in an unparalleled design, creating one of the most immersive smart home experiences to date. With Instinct, users aren't just controlling a smart light switch with a separate Alexa device. Instinct is an Alexa device, giving users the ability to issue voice commands to control iDevices' entire line of smart lighting, power, and HVAC solutions — in addition to any other Alexa-enabled smart devices. When Instinct is installed throughout the home, users need only their voice for effortless smart home control. Instinct is essential in situations when users have their hands full, or need to control devices in another part of the home. A user in an upstairs bedroom can use Instinct to shut off lights left on in the living room or basement without having to go downstairs. Alexa inside a light switch truly revolutionizes the smart home ecosystem."
iDevices adds that, within the Amazon Alexa app, users can control and manage Instinct remotely, alongside iDevices and other Alexa-enabled products. Users can create Routines in the app to automate daily tasks, and access more than 90,000 Alexa skills. For instance, with Instinct in an entryway, users can turn on their entire home with a single command the moment they walk through the front door. Users can also schedule lighting and other smart home accessories, or set them to adjust automatically when they leave or arrive home, adding efficiency and an additional layer of security.
In addition to smart home control, Alexa within Instinct serves as an on-demand personal assistant. A user just asks, and Alexa provides personalized weather and traffic updates, news, notifications, and more. "By combining Amazon Alexa with a smart light switch, counter space is no longer a barrier to whole-home voice control," commentd Chris Allen, president of iDevices. "Instinct is the epitome of sophisticated intelligence, functionality and design — a critical breakthrough in the smart home evolution. It represents the latest innovation from iDevices, and a clear shift in how we'll interact with our homes going forward."
The Instinct platform features premium SOEN Audio technology, enabling high-performance sound in a compact design – perfect for listening to music and podcasts throughout the home. Further, per the company, "Unlike any light switch in existence, smart or otherwise, hidden behind Instinct's rocker-style paddle are LEDs that appear like magic to form an Echo-style light ring and customizable night light controlled via the Amazon Alexa app." With far-field microphones integrated on-device, Instinct responds only when it's the closest Alexa device. Instinct features a mute option directly on the switch, in addition to manual lighting control, and flexible, silicone-coated wiring.
As with all iDevices products, Instinct is hub-free and compatible with iOS and Android devices. The system features automatic over-the-air updates, ensuring users are always running the most up-to-date software. When enabled, motion and ambient sensors built into Instinct will allow for additional home automation capabilities.
Instinct is available now at InstinctSwitch.com or Amazon.com for $99.95. Builders and professional installers interested in offering Instinct to their customers should contact sales@idevicesinc.com.