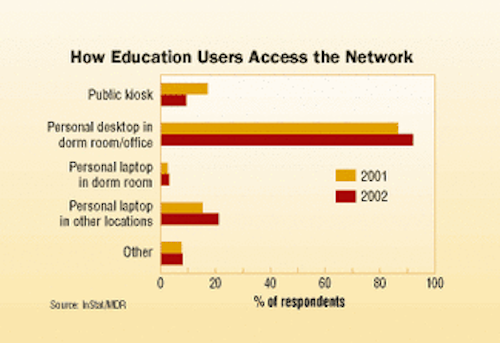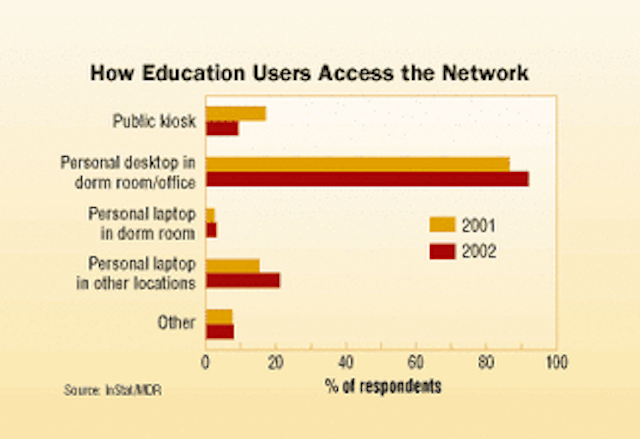 Click here to enlarge image
Despite ongoing budget cuts at schools across the country, the education market will continue to be a hot arena for LAN networking technologies, according to a recent study by In-Stat/MDR (www.instat.com).
The research firm finds that while education institutions are facing neutral or shrinking budgets, escalating WAN bandwidth needs and the development of the campus network remain an important component of education IT budgets. The report, "Making the Grade: Challenges & Opportunities in Education Broadband Networks," looks at broadband access in educational environments in the U.S., including both K-12 and higher education markets.
Amy Cravens, industry analyst for In-Stat/MDR, says most of the survey responses came from the higher education market. She says most or all of the schools are weathering the difficult economy, and facing their own internal budget reductions.
But despite the budget constraints, Cravens says most of the schools responding say they are experiencing escalating WAN bandwidth needs, forcing them to develop their campus networks. Cravens believes that many campuses are using their own technicians to complete the work, but, "Still, it certainly is an opportunity for integrators [installers] to work with a school."
A variety of factors are leading to the push for higher bandwidth, including the need to use the campus network for video, distance learning, reaching off-campus housing, and using the network for Voice over IP (VoIP) in dormitories. The report states that the education market is rapidly migrating to an optical-fiber backbone—16% of the K-12 and 30% of the higher education network backbones are comprised of Gigabit and 10-Gigabit Ethernet connectivity.
"They are upgrading the in-building wires from what might have been Category 3 to Category 5, and then also moving to upgrade the wide area connection," says Cravens.
The survey also finds that some schools are using their technological prowess as a means of attracting students, boasting of their ability to provide each student with Ethernet access. "Schools are promoting their connectiveness," says Cravens. "They want to be able to say they have a megabit connection per pillow, and show how students can use this to access the network, bring in the wireless LAN, access students from outside."
The survey found that Ethernet LAN connectivity was by far the most prevalent form of access, with 70.2% of respondents indicating that's how they accessed the campus LAN. And compared to responses in a 2001 survey, the most significant shift in connectivity option availability was the growth of wireless LAN (WLAN).