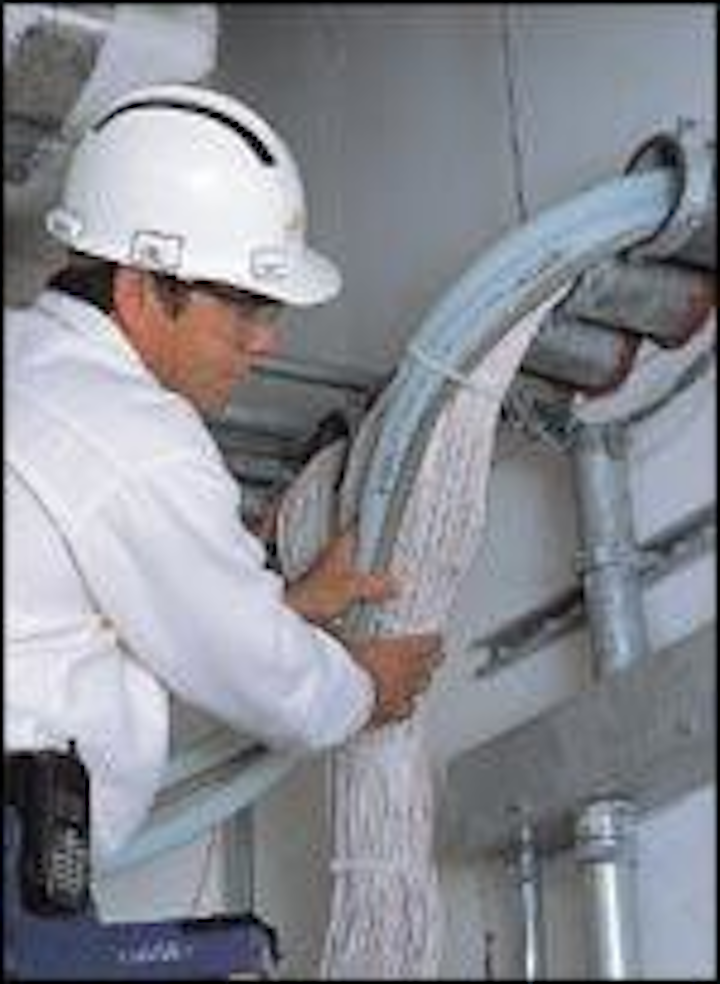 Designers and installers overcome the challenge of integrating multiple technologies with a VoIP system for an advanced central Florida/east coast medical center.
There is nothing more reassuring than watching your doctor stroll in wearing a white jacket, pull the x-ray film from its folder, and place it up on the light board for careful inspection. But what patients, and even many physicians, do not see is the outdated technology and logistical nightmare of traditional x-ray films that consume precious storage space, are all-too-easily lost or misplaced, and require film budgets as high as one half million dollars.
When the 210-bed acute care Parrish Medical Center (PMC; www.parrishmed.com), designated as the primary emergency medical site for The Kennedy Space Center and North Brevard County, Florida, decided to build a replacement facility, they were given the opportunity to rethink current operational systems and outdated technology. To incorporate state-of-the-art technologies and cut costs, PMC selected a converged network environment with Cisco voice-over Internet protocol (VoIP) technology, Kodak DirectView picture archiving and communication system (see sidebar, "Merging medical technologies," page 22), and a wireless system.
But when it comes to designing and installing a cabling infrastructure to support such advanced medical technology, it's a whole other ballgame.
Supporting quality patient care
In 1996, PMC's board of directors approved the construction of a new facility located just 1,000 feet from the existing hospital, after it was determined that renovation of the existing building would disrupt hospital functions and wouldn't be cost-effective. Key operational systems at the existing hospital, including the cabling infrastructure, were not keeping up with ever-changing technology requirements. Many systems were already running at 100% capacity. Construction of a new facility would allow for a new cabling infrastructure that could support applications well into the future and provide the opportunity to incorporate state-of-the-art medical technologies.
Ali Hernandez, field supervisor for CompuLink, supports horizontal and backbone cable entering Parrish Medical Center's second floor intermediate crossconnect.
Click here to enlarge image
The objective of the new facility, scheduled to begin receiving patients on October 19, is to provide a cost-effective patient care delivery system that is patient-sensitive, provider-friendly, and achieves superior quality care. Considering the objective, PMC IT professionals set out to design a technologically advanced convergent network. With a cabling budget of $1.5 million, the new infrastructure needed to allow for both high-speed voice and data, such as MEDITECH, Novell, and Microsoft products, to run on the same redundant high-speed Gigabit backbone.

"One of our biggest challenges in coming up with the design was keeping up with how fast technology changes," says Christopher Charron, PMC's technical and telecommunications manager. "It was tough for project managers to pick a stopping point and make final decisions on the design and components of the system, especially when they knew that technology was still advancing past that point."
Gary Coates, a senior technology advisor with C&S Data Services (www.csdataservices.com), was contracted by PMC to create and handle all cabling infrastructure RFPs. C&S Data Services, a leader in comprehensive systems support, is headquartered in Florida with locations also serving New England, Georgia, and the Carolinas. Working closely with PMC IT professionals, Coates also designed the cabling infrastructure and was responsible for overall project management. "Because we needed a cabling infrastructure to support the merging of new medical technologies, we had to future proof as much as possible and use the highest quality materials to achieve a maximum level of system performance," says Coates.
Redundant, reliable remedies
Utilizing more than 15,000 feet of NextGen 24-strand multimode fiber from General Cable (www.generalcable.com), the new PMC system is designed with a redundant gigabit fiber backbone. Fiber runs from the two main crossconnects (MCs) located on the third floor to each of the 12 intermediate crossconnects (ICs). The two MCs also connect to each other via fiber to create the redundant backbone.
"I designed the redundant ring to utilize the design of the building," says Coates. "The fiber rings run in reverse directions around the central atrium of the Parrish facility." According to Charron, it is critical for PMC to have a system design that allows for maximum redundancy because in a healthcare environment, downtime can mean a life or death situation.
Coates says the design was for a primary and secondary fiber feed from the main distribution frame (MDF)/main crossconnect to each intermediate distribution frame (IDF)/intermediate crossconnect. "In the MDF, there are two sets of communications racks-one at the east end and another at the west end," explains Coates. "From each of these racks, a separate 24-pair fiber was run to each IDF. The fiber from the east set of racks is routed counterclockwise to each IDF around the central atrium via a set of risers on the east side." In the same fashion, he says, fiber from the west set of racks is routed clockwise to each IDF.
Rather than running the cable direct, Coates, says, this routing design required additional lengths of fiber and additional installation time, "but ensures that a cut in any location in the cable tray system will not cause a loss of connectivity to any communication closet, even if all the cables in the tray are cut."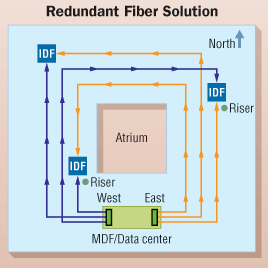 A redundant fiber ring routing on each floor at the Parrish Medical Center creates two loops leading from racks in the MDF, around the atrium, to each IDF. Each loop runs in reverse direction from the other. This method is designed to ensure connectivity to any IDF, even if all the cables in the tray are cut.
Click here to enlarge image
In each MC and IC, all fiber is terminated via Hubbell Premise Wiring's (www.hubbell-premise.com) Opti channel fiber patch cords and FSP adapter panels installed in Optichannel rack-mount panels. Fiber also connects two other buildings on the property-one for business offices and the other for facility services. Fifteen-thousand feet of General Cable 50-pair Category 3 copper riser cable also runs from the incoming service location to each of the ICs and MCs to provide plain old telephone service (POTS) external to the PMC phone system, needed for such equipment as fire alarm panels. "We chose Category 3 because we knew this cable would strictly be used for POTS and never for data," explains Charron.
For the horizontal cabling, C&S Data Services presented PMC with ClearBIT, the General Cable/Hubbell Premise Wiring structured cabling solution featuring General Cable Command LINX 6 Category 6 cable and Hubbell Category 6 jacks, patch panels, patch cords, racks, and surface raceways. The Hubbell/General Cable alliance was the first of its kind to achieve third-party verification of Gigabit Ethernet performance.
At each IC, the Command LINX 6 cable is terminated onto NEXTSPEED 48-port patch panels via Xcelerator patch cords. All cable is managed in the ICs with NEXTFRAME vertical cable channels, duct panels, and cable management accessories. The critical network equipment is stored in seven-foot NEXTFRAME equipment racks. Under ClearBIT's Mission Critical enhanced 25-year warranty, the cabling solution installed at PMC promises to be free from defects in material and workmanship, will exceed applicable TIA/EIA and ISO/IEC channel specifications, and will support any current or future applications required to run on that specific cabling. ClearBIT is also designed to provide guaranteed PSACR (power sum attenuation-to-crosstalk ratio) headroom, which the companies say ensures optimal system performance and assists in limiting the bit error rate that can cause retransmissions and downtime.
Achieving critical connections
Over a three-year period, Chris Gosche, president of Orlando-based Carlson/ProLAN Solutions (www.prolansolutions.com), provided numerous product demos and training sessions to PMC and C&S Data Services. These included TIA/EIA standards updates, termination practices, cable management techniques, and premise specifications as related to the ClearBIT system. "We selected the system for its high level of performance," says Coates, "and we knew the Xcelerator jacks would work well with the continuous power running across the cable for the VoIP phones and wireless devices."
To handle the continuous power running over the Category 6 cabling system, printed circuit board technology incorporated in the connectivity was carefully designed to meet or exceed all industry standards, according to Mike O'Connor, technical director for Hubbell Premise Wiring. If circuit board traces are located too close to one another, electrical current can arc over, causing a short circuit. Additionally, if trace width and thickness are improperly designed, they may not be able to handle the current flowing through. The Xcelerator jacks and related patch panels installed at PMC were designed with all power requirements taken into consideration and with heavy-duty contacts and trace dimensions that will support in-line power for the life of the install.
At data, wireless, wall and pay phone, time clock, and patient monitoring stations, more than one million feet of General Cable's Category 6 horizontal cable is terminated onto Hubbell's Category 6 Xcelerator jacks housed in Infin-e-Station modular face plates. "We chose the Category 6 jacks because we wanted expansion ability for future bandwidth and high-speed applications," explains Charron. The Xcelerator jacks are also installed in bed receptacles located in patient rooms, as well as in equipment arm units located in operating rooms that provide incoming oxygen or other surgical gases and power outlets for medical instruments. The medical Category 6 data connections allow for patient monitoring, recording critical statistics via computer, or viewing essential patient data over the network.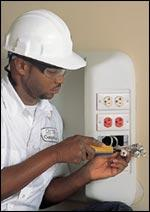 At a bed receptacle, Donnell Councill, CompuLink crew leader, terminates the Category 6 horizontal cable onto Hubbell Category Xcelerator jacks for data, phones, and patient monitoring purposes. Bed receptacles are located in patient rooms throughout the Parrish Medical Center.
Click here to enlarge image
The wireless medical technology and wireless voice system installed at PMC will also help establish effective and efficient patient care. PMC nurses will have wireless phones and laptops connected to the MEDITECH healthcare software system. "Nurses can be contacted at all times and go in and out of patient rooms without the need for a wire," says Charron. "They'll be able to enter notes at a patient's bedside and look up critical lab results or pharmacy information." The wireless system will decrease errors and increase timeliness throughout the facility.

Coates and Charron selected a Cisco (www.cisco.com) VoIP solution for PMC's telephone system. "More and more people are using VoIP. It's no longer bleeding edge technology, its leading edge," says Charron. "The only concern is that it runs on our network with the potential for downtime. But the system was designed with plenty of fail-over and maximum redundancy." PMC IT professionals have planned for various types of outages by adding redundant call managers and separate Primary Rate Interfaces (PRIs), which will be available in running mode in the unlikely event of a network interruption. "This system will be tested in full before production mode," says Charron. "We plan to simulate these unlikely events to ensure everything remains functional.
Operating In cramped spaces
During an extensive RFI and RFP selection process, Coates and Charron worked with PMC's Christopher Male, senior vice president/medical center development; Tim Skeldon, senior vice president finance/CFO; and Chee Bass, financial systems analyst, in the evaluation of each proposal. "Near the end of the selection process, we interviewed four finalists and chose CompuLink as our cabling contractor," says Charron. CompuLink Network Installation Services, Inc. (www.compulink-usa.com) is a Florida-based company that specializes in cable assembly manufacturing, as well as communication cabling premise design, installation, and cable plant documentation.
Steve Bartlewski, CompuLink operations manager, attributes some of the cabling challenges to the medical environment. "In a hospital setting, we have a very confined space in the ceiling to run cable," says Bartlewski. "Hospital ceilings include so much ductwork for other vital necessities, such as oxygen, heating and cooling, normal power, and even critical power." Security systems, including a biometrics system with pin coding and fingerprints, as well as a nurse call system and CCTV wiring, all have to share ceiling space with the Category 6 cable.
Beers Construction, general contractor for the project, hired a certified firestopping company to oversee all firewall penetrations. "CompuLink was only responsible for their specific firewall penetrations," says Bartlewski. "We used Hilti (www.us.hilti.com) FS-ONE Intumescent Firestop sealant for all of our firewall penetrations-4-inch EMT conduit-throughout the building."
To pull riser and fiber cable in the crowded ceiling space, CompuLink used Leviton's (www.leviton.com) Cable Joe Clamp On Cable Router-a nylon pulley system especially designed for pulling through 90° corners. Once the cable exited the cable tray system, CompuLink used The Loop from Arlington Industries (www.aifittings.com)-a flexible, non- metallic hanger-and PVC tie wraps to suspend and bundle the cable in the ceiling space.
Weekly construction meetings at the project site involving the various trades helped keep things running smoothly, "but there were difficulties to overcome," acknowledged Bartlewski. "For example, at one point, the HVAC ducts and cable tray had to be rerouted." Adds PMC's Charron, "One of the greatest challenges with a huge project is working with various trades. For example, occasionally, we run into problems when we enter a particular area expecting to pull cables and an electrician hasn't put any back boxes in to pull the cables to."
But in the Parrish installation, Bartlewski says, "all contractors worked to resolve issues in a professional manner. Communication was the key to success."
Except for office areas and hallways, PMC chose hard ceilings over drop ceilings for finish considerations, and for isolation purposes in areas where germs and viruses are a concern. Hard ceilings with access points and some concrete floors make for limited accessibility to cable and other ductwork. "It's definitely not like an office environment with just drop ceilings and fluorescent lights," comments Bartlewski. CompuLink crews had to work quickly and accurately to run cable before hard ceilings were installed. "If we miss something, it's an enormous cost to take down the hard ceiling," says Bartlewski. "That's why we have to do everything right the first time."
Charron notes, however, that the hard-ceiling areas were "overwired, so there will be plenty of cable in all areas of the rooms should they ever need a different data port on a different wall."
Creating cutting-edge treatment
The next phase of the PMC project involves the decommissioning of the existing hospital once the new facility is up and running in October. Some portions of the existing medical center will be disassembled, and all re-usable materials will be donated to healthcare projects in such as the Caribbean to help those less fortunate build healthcare clinics. The remaining portion will be used as the business office for patient accounts and billing processes for administrative functions.
The fiber backbone and Category 6 ClearBIT solution installed at the new facility will take PMC well into the future. "This has been a busy and exciting time for Parrish Medical Center's entire information systems staff," comments Charron. "We're really looking forward to the wealth of the new technology that our infrastructure will support."
PMC's final system is an excellent example of merging new and advanced technologies to create an efficient, cutting-edge medical facility where x-ray films are a thing of the past, nurses perform bedside work via wireless connections, and patients have access to cost-effective, high-quality care provided in the most efficient and effective manner.

Betsy Ziobron is a freelance writer for the communications and cabling industry. Photos by Tony Giese, Port Orange, FL.
---
null
Merging medical technologies

Parrish Medical Center's (PMC) integrated cabling system design and connectivity were selected to support a VoIP phone system, wireless system, and the unspecified bandwidth of Kodak's picture archiving and communication system (PACS). A full PACS is a filmless radiology system that lets doctors simultaneously view, manipulate, digitally enhance, and archive x-ray images on the network. "Because the x-rays are digitized and shipped across the network, a PACS will use as much bandwidth as the system can provide," explains Coates.
With viewing stations throughout the facility, digitized radiology equipment, and the future addition of the archiving component of the Kodak PACS, PMC hopes to be completely filmless within one to two years of opening the new facility. "At our existing hospital, we've invested in radiology equipment to provide digitized x-ray studies, but in order to have a full PACS we also need the vital archiving component," explains Debra McAlear, administrative director of diagnostic imaging for PMC. "The archiving component will give us the ability to be filmless, and the new cabling infrastructure was designed to support it."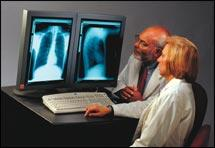 Requiring high bandwidth, the Kodak DirectView PACS is a filmless radiology system that lets physicians simultaneously view, manipulate, digitally enhance, and archive x-ray images on the network.
Click here to enlarge image
Becoming filmless is extremely beneficial for PMC. Film budgets are sky-high, with huge amounts of space required for storage. "In radiology, film is the second highest expense after salaries," says McAlear. "And it's not just the cost of the film, but the logistics and manpower needed to support it." Because a full PACS is expensive and technology is changing rapidly, most medical facilities see a five-year payback. "In the long run, we'll have cost savings, but it's really more about improved patient care," says McAlear.
Having x-rays archived with a full PACS means that doctors can easily access important information and treat patients much faster. "The biggest advantage of PACS is how readily available images are to the doctors," says McAlear. "If a trauma patient is sent to another facility, we can send images by computer and a physician can look at critical information before the patient even arrives." Digitized x-rays are also becoming more Internet-friendly and able to be sent anywhere in the world.
Not only does it take precious time to move a physical piece of film from location to location, but also approximately 5% of film is lost or misplaced due to human error. "Once we have the archive component and our full PACS up and running, the problem of lost film goes away all together," explains McAlear. At the new PMC facility, the only film needed is for mammography, as current digital mammography equipment is nearly six times the expense of traditional systems and not yet cost-effective.
null
null