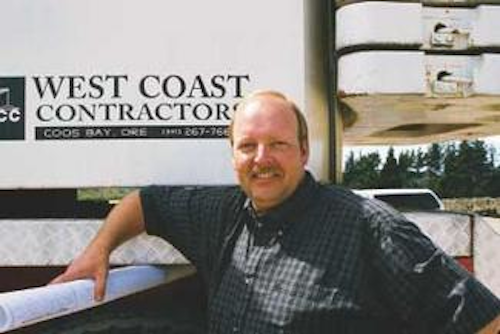 As the wireless communications industry has grown, the need to locate towers and equipment in sensitive, remote, and hard-to-access locations has increased exponentially. Consumer demand for seamless wireless service means that providers have to seek sites and designs that offer optimal conditions and that meet every operational, environmental, and aesthetic requirement.
Many communication tower sites are located in difficult, hard-to-reach locations. Achieving the goal of seamless service in less urbanized parts of the country requires that towers and cells be placed in extreme places—work that requires a contractor who "knows the landscape," and has the facilities, equipment, and experience to successfully plan and complete the job.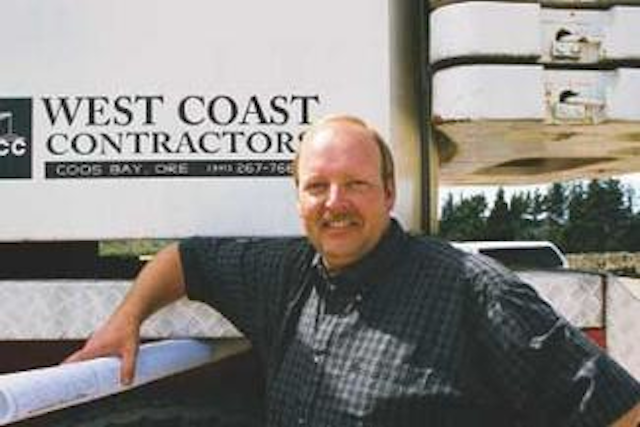 Lonnie Kronsteiner, vice president of operations for West Coast Contractors, oversees the company's operations throughout the western United States.
Click here to enlarge image
The rugged coastline and forests of southwestern Oregon present particularly challenging topography for telecommunication systems development. Based in Coos Bay, OR, West Coast Contractors (www.westcoastcontractors.com) has successfully applied its multi-disciplinary expertise to the telecom industry, building multiple communication sites that include complete cell towers and telecommunications head-end facilities. The company provides turnkey construction services, switch center facility build-outs, utilities installation, and site and structural improvements.
Founded as a crane service in 1962, West Coast Contractors has been tackling difficult construction assignments for 40 years. The company's background includes everything from ocean-whipped marine construction to sensitive mountaintop telecommunications facilities.
Proprietary planning system
A major component of West Coast Contractors' success in telecom has come from pre-construction planning and use of the company's proprietary Project Control System. "Initially, we coordinate with our client, the architect, and engineer, site operators, and any other involved parties to develop straightforward, prioritized schedules," says Scott Partney, West Coast Contractors general superintendent, who manages telecom work for the company. "During the planning phase, we also endeavor to identify problems related to access, as well as issues specific to the site itself," he adds.
To develop telecom sites in southern Oregon, Partney says, "We usually have to deal with a wide range of environmental and logistical difficulties. Simply moving the personnel, construction equipment, and assets that are being installed to the site can present major challenges."
On many projects, West Coast Contractors deals with narrow, unpaved roads, mountainous terrain, and harsh weather. "Once all of the potential problems related to the site have been identified, we move into a problem-solving stage," Partney explains. "We review and explore construction techniques, equipment transportation, and storage strategies. We even review long-range weather forecasts for the location where we will be working. With this data, we can determine tactics that are best suited to the site and assignment at hand."
Once a time and cost-effective design and build strategy have been determined, a detailed project schedule is developed. "The earlier that we are involved in the planning process, the better," says Lonnie Kronsteiner, West Coast Contractors' vice president of operations. "This allows us to work with the architectural and engineering team, helping to further optimize and streamline their planning by contributing our site assessment and logistical analysis. We understand how to communicate this information effectively to the owner and planners, and assure that the prints our team will be working from are succinct to the job at hand. This helps us finish the project on time and on budget, and to avoid costly delays and rework."
The Project Control System also calls for frequent job site meetings to address scheduling, budget, and safety issues. These meetings allow for continual re-assessment of project status and upcoming work, with changes being made as necessary to supplement the schedule.
Using the Project Control System during the construction phase can also result in significant improvements to the durability and serviceability of aspects of the finished project.
Fore-sight
Sometimes, speed and aesthetics take precedence in the design and management of a telecom job. A tower installation at Bandon (OR) Dunes Golf Resort was based on a need to provide golfers at the exclusive resort the high-quality wireless service that they expect while they are on the links.
But in addition, the owners dictated that the installation needed to blend into the environment and be completed on a fast-track schedule. They wanted improved wireless service with strong signals to cover the expanse of their two golf courses, located on a stretch of sand dunes perched 100 feet above the Pacific Ocean. They specifically did not want the sight of an obtrusive tower to be juxtaposed against the lush beauty of the landscape.
While it's difficult to make a 60-foot steel tower for wireless communications disappear into the landscape, West Coast Contractors used a dull color to camouflage the components, and covered the equipment enclosure with cedar shingles.
Click here to enlarge image
While it's difficult to make a 60-foot steel tower disappear, West Coast Contractors took extra care during the planning phase to be certain that everything blended in as unobtrusively as possible. "The tower is surrounded by trees, so we used a dull color to effectively camouflage the components," says Partney. "We covered the equipment enclosure that we built next to the tower with cedar shingles. The galvanized steel tower was also designed as a mono-pole, to be as narrow as possible while still providing the strength and height necessary."
Partney added that not only were the requirements for the tower's components unique, "but installing the tower's foundation on sandy terrain was also a challenge. It's always very exciting to see everything come together, even if in this line of work, what you don't see tends to be the most important details of a project."
Remote site installations
West Coast Contractors was also chosen by Edge Wireless (an AT&T Wireless affiliate) to complete a remote colocation site in Denmark, OR, and a permanent site in Hugo-Merlin, OR, to strengthen capacity and improve reception along their all-digital system. With their extensive network and advanced technology, Edge Wireless offers voice privacy, enhanced features and improved messaging capability to markets where these features may not be available. The completion of the installations at these sites by West Coast Contractors has significantly improved Edge Wireless' reach and service in Oregon.
"The two sites were in fairly remote areas," explains Dave Kronsteiner, president of West Coast Contractors. "Our familiarity with Edge Wireless, the terrain, equipment, and our expertise with telecommunications technologies resulted in success, with each site taking less than a week to become fully operational."
In situations such as these, WCC draws from specialized crews that work on jobs that run the gamut from driving piles underwater to state-of-the-art civil engineering–and often, everything in between. When dealing with outside plant telecom installations, WCC combines its own multi-disciplinary expertise with qualified subcontractors and specialized equipment. The customer or subcontractors generally handle the actual telecom installation and service establishment, under WCC participation and supervision.
Oregon's south coast includes forests, rocky and mountainous terrain, ledges overlooking the Pacific, sand dunes, and a rugged coastline. The area has one of the world's major ports for the shipment of forest and wood products, and is a paradise for those who love recreation and the outdoors.
When construction projects are proposed for this part of the world, West Coast Contractors has often been the firm of choice, particularly for telecommunications facilities, bridges, and other work performed in harsh marine environments and rugged terrain. The company also handles projects throughout the west, with operations concentrated in Oregon, Washington, and California.
Veteran team
West Coast Contractors is led by president Dave Kronsteiner, who joined WCC in 1976. Since then, WCC has grown from a three-man crane service to a regional force in the marine, heavy construction, bridge building, and communications fields. With a bachelor of science degree in applied mathematics from Oregon State University, and extensive training in sophisticated construction robotics in Japan, Kronsteiner is a recognized leader in the development of innovative heavy-construction techniques. He is also a member of the Oregon Board of Directors of the international Associated General Contractors trade organization, and has served on committees for the State of Oregon Department of Transportation and trade groups in California.
Scott Partney manages telecommunications jobs. Besides telecom construction management, Partney has 23 years' experience working as a carpenter, framer, concrete finisher, and site manager. "Scott has an extensive background in commercial construction in the communications industry, and he has made a major impact in our switch center and cell tower projects," says Dave Kronsteiner.
Dave's brother, Lonnie Kronsteiner, serves as vice president of operations, and oversees the company's operations throughout the western United States.
Steve Melkonian is a writer for Christie Communications, Santa Barbara, CA (www.christiecomm.com).