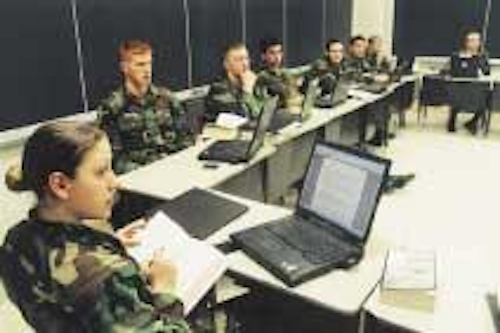 The West Point (NY) Military Academy (usma.edu) is beefing up its wireless local area network (WLAN) by installing wireless access points directly onto the cabled backbone at various campus locations.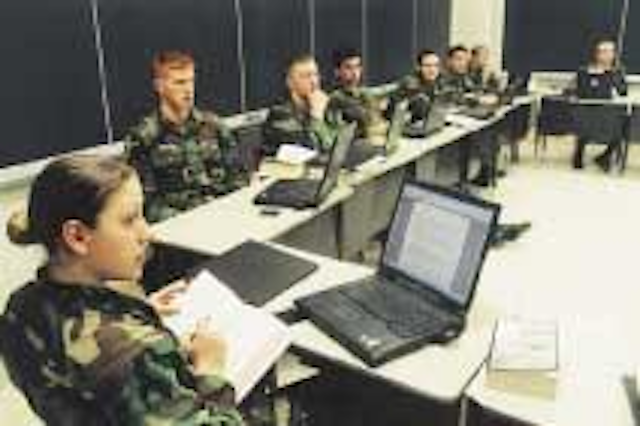 Cadets at West Point Military Academy use wireless notebook computers in the classroom and labs after the school installed wireless access points onto the campus cabled backbone.
Click here to enlarge image
null
The installation, which was completed by cadets, lets students use notebook computers throughout the campus. When the project is complete, wireless access points will be in place everywhere on campus—classrooms, labs, libraries, and lounges.
"They wanted to go wireless because of the access they would have across the entire campus," says Max Peterson, vice president of federal sales for CDW-G (cdwg.com), based in Vernon Hills, IL. "We increased the requirements they needed for mobile computing, so that everyone doesn't have to work inside a building where there is wire."
West Point has been issuing PCs, referred to as "cadet computers," to incoming first year cadets since 1986. The school's curriculum has included Internet access since 1987.
Each student's workstation area in the barracks has been wired for LAN and broadband networking since 1989. Those connections were upgraded last year to 100 Mbits/sec. The cabling that makes up the network includes a future-ready optical-fiber strand, which will make it easier for installers to take it to the next level—Gigabit connectivity to each barracks workstation.
"The higher bandwidth could be used by multiple students in a lab environment, and any wireless access points could create a shared environment," says Tony Stramandinoli, director of marketing for SMC Networks Inc. (smc.com), based in Irvine, CA.
The networking project began when Col. Donald Welch, West Point's associate dean for information and educational technology, led a pilot program to test the security and effectiveness of classroom wireless connectivity. Working with a team, Welch attempted to find a wireless firewall that met the academy's mission-critical security requirements. The team chose the WirelessWall Software Suite from Cranite Systems Inc. (cranite.com). It then pursued wireless classroom connectivity by evaluating 802.11a wireless networking products in a series of tests that looked at bandwidth, latency, and signal propagation.
After the testing phase, West Point considered all of the options for wireless networking, including 802.11a, 802.11b and the draft 802.11g. The academy finally chose an 802.11a solution because it provides more bandwidth per access and smaller range per access point, meaning that fewer students share a given chunk of bandwidth. The team opted to avoid 802.11g products because the standard is not complete and it carries the inherent disadvantages of 802.11b.
The school then purchased SMC Networks' (smc.com) SMC2755W EZ Connect 802.11a Wireless Access Points and SMC2735W EZ Connect 802.11a Wireless CardBus Adapters. Students installed the wireless access points directly onto the wired backbone at various locations throughout the campus. Approximately 450 participants in mathematics and English classes connect to the network using their notebook computers in classrooms.
The pilot project was concluded last fall. Now, the entire incoming freshman class will be issued notebook computers outfitted with 802.11a adapters.
"We are moving from where we have a physically wired world to one where people expect network access wherever they show up," says Peterson.