Power over Ethernet gets boost with standard ratification
The Institute of Electrical and Electronic Engineers (IEEE) has approved the 802.3af-2003 standard, which defines the specifications to deliver power over standard Ethernet cables.
Aug 1st, 2003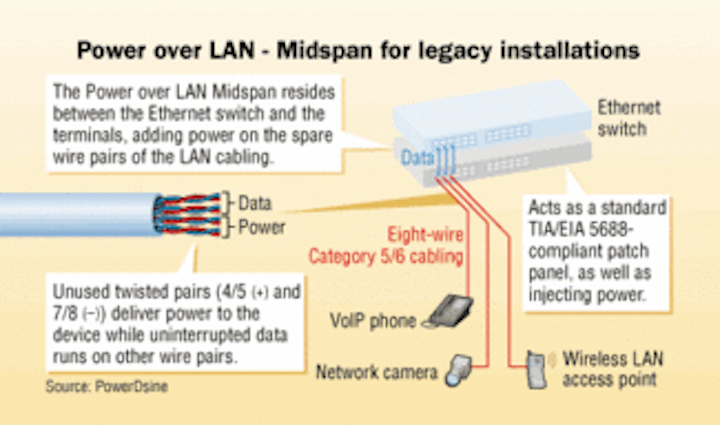 The Institute of Electrical and Electronic Engineers (IEEE) has approved the 802.3af-2003 standard, which defines the specifications to deliver power over standard Ethernet cables.
The standard was approved by the IEEE Standards Board on June 12, and was scheduled to be published by July 11 as 802.3af-2003.
"The 802.3af standard will provide the first global standard for power," says Steve Carlson, chairman of the 802.3af Task Force. "Thousands of new and innovative products will emerge to take advantage of having the proven robustness and reliability of Ethernet along with power on the same connector. In 10 years, no one will be able to remember when Ethernet ports didn't supply power."
A legacy 24-port 10/100-BaseT Ethernet switch cascades with a 12-port PowerDsine 6012 midspan unit. Category 5, 5e or 6 cables, which connect to the scattered 8-pin modular connector outlets, can feed power in addition to undisturbed data communication. When a Power over Ethernet-compliant terminal, such as an IP phone, WLAN access point or other terminal is connected to the LAN wall socket, the midspan automatically authenticates and enables the power.
Click here to enlarge image
Analysts say the standard will provide a stable basis from which vendors can reduce the cost of installing and upgrading network devices, particularly the hidden cost in deployment and scaling-up of wireless LANs.
Amir Lehr, vice president of business development and strategy planning at PowerDsine (www.powerdsine.com), based in Hod Hasharon, Israel, says the standard ratification should provide new impetus to silicon vendors that design chipsets for laptops and other portable devices that require low power consumption below the 12.95 watts prescribed in the Power over Ethernet (PoE) standard. PowerDsine manufactures Power over LAN technology, including midspan devices, which allow the delivery of both power and data over a single network cable. The company was a contributor to the 802.3af Task Force, and participated in the Call for Interest in the 802.3 Working Group in 1999.
PoE is being adopted in the Voice over Internet Protocol (VoIP), wireless LAN and IP security market. The technology is being touted as saving up to 50% of the overall installation costs by eliminating the need to install separate electrical wiring and power outlets.
PoE also has the ability, particularly for IP telephony and surveillance camera applications, to offer continuous operation—even in the event of a power failure—by delivering battery back-up uninterrupted power via the LAN.
The technology has been deployed in two formats either as endspan devices, which are embedded into switches, or as stand-alone midspan hubs. These allow terminal devices to be power-enabled without upgrading the existing switches. The new standard will cover both categories of technology.
Lehr says contractors should be able to quickly learn how to install midspan devices, which can, for example, power network jacks over standard Category 5 or 5e Ethernet cabling. "The devices' auto detection enable you to detect terminal compatibility or not, and if you want to add a midspan device, you just connect it like a patch panel," says Lehr. "You don't have to worry about the cabling application."
Lehr believes there has been growing interest in PoE, and thinks the growth will only increase with the standard in place. He says there are more than 200 manufacturers who are now producing Power over Ethernet technology to feed the current demand.
"If you look at what was happening with end users pre standard, we saw a strong demand," says Lehr. "A lot of end users are currently installing or considering installing wireless LAN access points, and they see the benefits of the contributions from this (Power over Ethernet) as being significant."
Lehr says as the devices become less power demanding and PoE becomes more common in corporate IT environments, business professionals will no longer have to carry a variety of plugs when they travel. He believes that the 8-pin modular connector will become the universal power jack, and 75% of enterprise network devices will be able to be powered by Ethernet in the next five years.