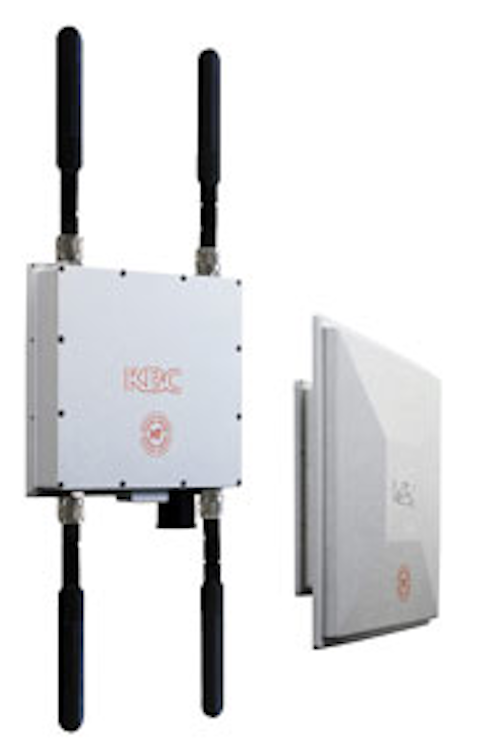 From the November, 2013 Issue of Cabling Installation & Maintenance Magazine
In many environments wireless mesh is an enabling technology for networking devices from video-surveillance equipment to sensors.
By Patrick McLaughlin
Mesh networking may be an application gaining new attention from certain enterprise and other user organizations, but the technology is far from new. As wireless-mesh networking provider Airberry (www.airberry.com) points out in a white paper on the technology's fundamentals, "Mesh networks have been around for more than 40 years. Originally a mobile wireless solution for military applications in the U.S., they have been used since 2000 mainly as civil-network solutions for whole streets to connect private households to broadband Internet via [wireless local area networks], gaining rapidly in popularity. Today mesh networks are frequently found in industry applications (for example to network measuring devices and meters), in company and city networks, in mobile applications between vehicles, and based on other technologies, such as Zigbee, to be used in sensor networks. These mesh networks always serve as flexible solutions to increase the range of individual radio users through their radio range and supply a simple, high-performance redundant network."
Airberry points out there is no single mesh radio technology, nor a single approach to designing and deploying these networks. For example, the company says, "A lot of" (but not all) "mesh WLAN devices provide the AP functionality through the same WLAN module as the mesh functionality … In addition, the mesh may be configured on any number of devices. For example two WLAN modules may be configured on different channels and operated in the mesh mode, achieving redundancy and expanding the mesh network across several radio channels while maintaining the properties of a large, interconnected mesh network …"
New technology
Far from a cookie-cutter application, the mesh network requires of its designers significant planning and, to the extent possible, knowledge of the user organization's current and future requirements. Additionally, as mesh technology has evolved and developed, providers of mesh-based products have rolled out additions and improvements. Two recent product introductions are examples.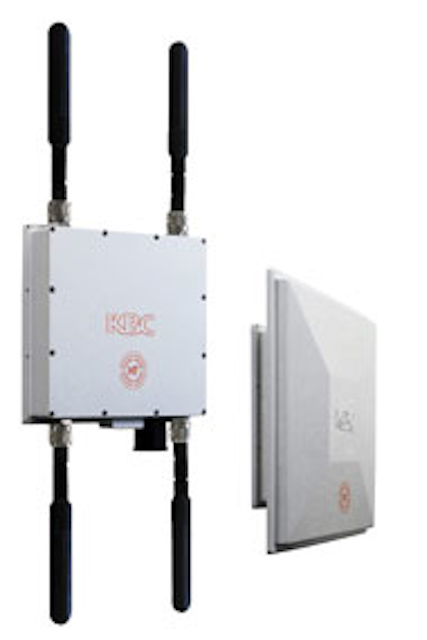 KBC's recently introduced HT wireless ranges are available in point-to-point, point-to-multipoint and redundant ring mesh formats.
In September, at the security-focused ASIS 2013 show, KBC Networks (www.kbcnetworks.com) introduced a set of wireless products that it promised "will enable customers to obtain even greater throughput over their wireless links. KBC's new wireless HT products have been demonstrated to provide useable throughput in excess of 230 Mbits/sec across a wireless link," the company continued. "The units also feature a Gigabit port, making them ideal for backhaul and megapixel camera installations." It then discussed mesh capabilities: "The new KBC HT series is available in all of KBC's wireless formats: point-to-point, point-to-multipoint and redundant ring mesh with both passive PoE [Power over Ethernet] and 802.3af/at variants."
Even more recently, in early October, mesh-technology provider Firetide introduced what it described as a reliable wireless-network-edge solution for zero-downtime applications. The company said its new HotPort 5020 is "designed for edge-of-the-network, low-bandwidth applications such as SCADA data backhaul, broadband Internet access, perimeter video surveillance, and parking-meter and smart-meter aggregation."
All of Firetide's wireless-infrastructure products include the trademarked AutoMesh technology, which the company characterizes as self-healing. It adds that this capability "ensures that the network remains available to high-bandwidth applications and always-on devices, even when the prevailing physical conditions are challenging."
Security applications
Firetide put some emphasis on security applications--surveillance in particular--when describing its latest product. Often mesh networks are associated with surveillance. Earlier in 2013, Firetide was one of several companies that publicized their combined efforts to use mesh-based surveillance at the high-profile Little League Baseball World Series in South Williamsport, PA. Also participating in that effort were networking-infrastructure manufacturer Allied Telesis (www.alliedtelesis.com), IP-video provider Axis Communications (www.axis.com), and provider of software for security and integrated systems Lenel Systems International (www.lenel.com).
In a combined statement about the effort just before the tournament got underway, the companies explained, "The Little League Baseball World Series evolves and improves upon its security each year by leveraging state-of-the-art technologies. This year, Allied Telesis is contributing the backbone of the wired network with nine of its GS950 Gigabit WebSmart switches driving complementary solutions that include Lenel's access control and a mix of more than 30 Axis Communications IP-based digital surveillance cameras. Firetide is supplying 13 outdoor HotPort 7020 mesh nodes to connect a network of multiple IP cameras that cover the vast majority of the 79-acre baseball complex and surrounding areas, delivering high-definition video surveillance."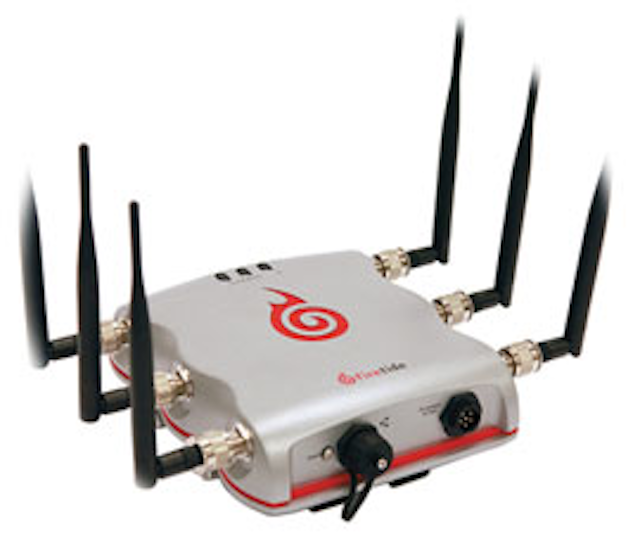 The HotPort 5020 from Firetide is designed as an edge-of-network device. The company's chief executive officer explained, "Network architects and systems integrators … need a way to reliably attach an increasingly wide array of IP devices and sensors to the edge of a network."
Jim Ferguson, director of security for Little League Baseball and Softball, was quoted as saying, "Our top priority is keeping everyone safe and that requires a massive coordinated effort involving local, state and federal law enforcement. The technology solution provided by Allied Telesis, Axis, Firetide and Lenel is a critical part of that coordinated effort and enables us to provide our joint security forces with the high-performance IP video surveillance solution they need to ensure a safe, fun experience for all the players and fans."
The companies' joint statement also said, "With Firetide's wireless infrastructure mesh technology, the Little League Baseball World Series has increased the video surveillance coverage area significantly over previous years. The Firetide wireless video network, coupled with a new mix of Axis Communications network cameras, will provide security forces with live video feeds of areas directly surrounding the baseball stadiums, public parking lots, and the dormitory complex known as the International Grove, which houses all players and coaches during their two-week stay."
John McCool, Firetide's chief executive officer, added, "With increased security concerns, temporary wireless video networks make sense for securing special events, be it a baseball tournament or a presidential national convention. And because the short duration of the Little League Baseball World Series event restricts any trenching to lay permanent fiber, our ability to quickly install a flexible, high-performance wireless video network with our partners--without any physical alterations to the facility--is a perfect match for this annual event."
Internet of Things
Notwithstanding the prevalence of security applications on mesh networks, other applications and capabilities--some of them quickly and strongly emerging onto the scene for private and public user organizations--can also benefit from mesh's capabilities. When Firetide introduced the HotPort 5020, McCool commented, "The Internet of Things is driving demand for more edge connectivity. Network architects and systems integrators looking to build advanced public-safety, industrial-automation, and service-provider applications need a way to reliably attach an increasingly wide array of IP devices and sensors to the edge of the network."
Some of the newest-generation lighting systems are using sensor technology to achieve efficiency. One example of a system that combines sensor-based lighting efficiency with wireless infrastructure is the nWiFi solution from Sensor Switch. As the company explained when introducing nWiFi, it "uses existing WiFi network infrastructure to further simplify control installation and reduce hardware costs.
"The nWiFi solution adds conventional 802.11n WiFi technology to nLight devices, such as occupancy sensors and relays, enabling them to seamlessly communicate with both wired and wireless nLight lighting control zones. Additionally, nWiFi devices can directly communicate to locally wired nLight devices through Category 5 cables."
While it may not fit everyone's definition of a mesh network, the nWiFi system is another example of the integration of wireless communication into building systems--not necessarily as a replacement of cabled infrastructure, but often as a technology that enables enhanced capabilities or efficiencies.

Patrick McLaughlin is our chief editor.
More CIM Articles

Archived CIM Issues