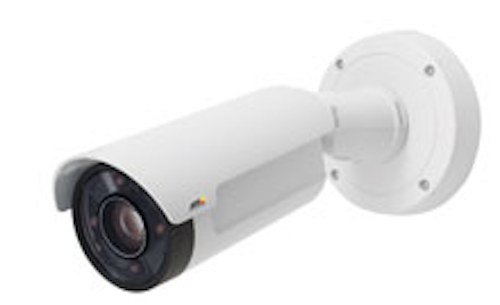 From the December, 2013 Issue of Cabling Installation & Maintenance Magazine
Compiled by Matt Vincent
---
Bullet-style network camera targets outdoor surveillance
The bullet-style Q1765-LE network camera from Axis Communications incorporates full HD image quality, plus 18x optical zoom and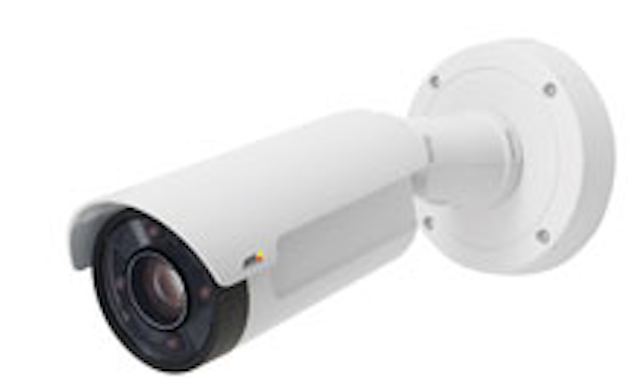 built-in IR illumination capabilities, making it suitable for around-the-clock surveillance installations. The company says the outdoor-ready network camera is designed for monitoring entrances, exits and perimeters. For surveillance of parking lots and/or traffic junctions and general city surveillance purposes, the camera is also optimized for pole mounting, where it covers great distances, providing both wide overviews as well as detailed images for identification purposes.
With built-in infrared LEDs, Q1765-LE is billed as a fixed camera for outdoor surveillance that is also specifically designed for use in harsh environments and tough climates. The camera provides full HD (HDTV 1080p) image quality both day and night. Installation and operation are made easy with Power over Ethernet (IEEE 802.3af) and 8-28 V DC, 20-24 V AC power. A memory card slot is included for storing recordings locally. Two-way audio support is useful when a deterring effect is required. The unit's 18x motorized optical zoom covers long distances with enhanced autofocus capability.
In addition, Axis says the camera's integrated Corridor Format technology allows for effective monitoring of vertical scenes such as long streets or long perimeters. The Q1765-LE further incorporates built-in, highly efficient automatically adaptive infrared LEDs (IR LEDs) that allow the camera to cover at least 15 meters (50 ft.) in the widest field of view and up to 40 meters (130 ft.) in full tele view. The unit's built-in IR illumination is especially beneficial for installations with the need for around-the-clock surveillance without artificial lighting, says Axis.
Lightweight yet tough, the compact Q1765-LE camera is IP66/NEMA4X rated, making it resistant to water and dust. Arctic Temperature Control capability allows reliable start-up in temperatures ranging from -40 °C to 50 °C (-40 °F to 122°F). The camera can easily be integrated with existing security systems, says the company. It also includes support for Axis Camera Application Platform, Axis Video Hosting System and ONVIF for easy camera system integration and for application developers to provide the camera with intelligent capabilities.
Convenient installation and mounting is enabled with optional accessories such as the Axis T98A17-VE surveillance cabinet for both coax and fiber, and the Axis T91A47 pole mount. The Axis Q1765-LE network camera is available as of Q4 2013 through Axis distribution channels.
---
Automated, intelligent fiber inspection probe
Exfo Inc. has introduced its FIP-400B, a fiber inspection probe designed to provide crisp digital images of optical connectors at three levels of magnification. As a complementary tool for any fiber tester, the FIP-400B fiber inspection probe simplifies the inspection process and speeds up connector certification time by up to 57%, claims the company, securing the network from issues related to dirty or damaged connectors.
Featuring an ergonomic, patent-pending design, the FIP-400B probe is optimized for easy handling by both left- and right-handed users. Built to simplify and speed up the inspection process, the FIP-400B integrates advanced automated features, such as a high-performance, fiber image-centering system that eliminates the labor intensive step of localizing the fiber in the image. The FIP-400B also includes Exfo's ConnectorMax2, an onboard connector-endface pass/fail analysis application, based on IEC or custom standards to deliver accurate and repeatable connector certification in seconds. It is also equipped with a LED indicator located on the probe to provide users with an immediate health pass/fail verdict for the connector under test.
Because fiber inspection tools are now an essential part of every fiber technician's toolbox, Exfo has concurrently released its MAX-FIP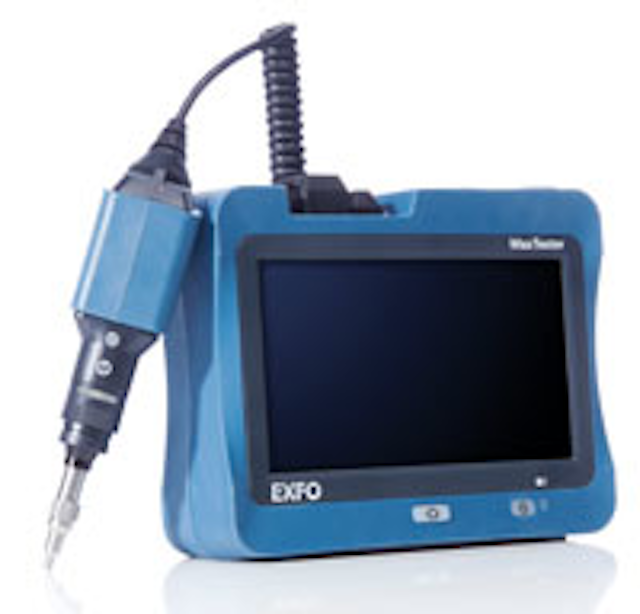 Intelligent Connector and Fiber Certifier. The MAX-FIP is a compact, rugged, tablet-inspired stand-alone display kit integrating the FIP-400B Fiber Inspection Probe and ConnectorMax2 analysis software, an optical power meter for power and loss testing, and a visual fault locator (VFL) to effectively test and troubleshoot any type of optical network. The MAX-FIP's bright, 7-inch touchscreen offers the best magnification level available from a portable probe display, claims Exfo. The unit's eight-hour rechargeable Li-ion battery provides enough power to tackle a full day of inspection (e.g., FTTH cabinet installation). In addition, the MAX-FIP offers extensive data storage, enough for thousands of high-resolution inspection results.
"Customers are looking for easy-to-operate solutions that will save them time while ensuring optimal network performances," comments Étienne Gagnon, vice-president of Exfo's Physical Layer and Wireless divisions. "The FIP 400B's auto centering feature greatly reduces inspection time by eliminating the hassle associated with fiber-image centering, while its automatic analysis capability removes any risk of misinterpretation, leading to faster, more accurate and more consistent results."
The FIP-400B family of USB inspection probes is compatible with any PC or laptop, the entire range of Exfo's FTB Ecosystem platforms, and the company's newly launched MaxTester 700B OTDR series.
---
Wall-mount enclosures suit new or retrofit installations
Snake Tray recently released a new horizontal wall mount enclosure designed for new or retrofit installations. Enclosures are configured to customers' specifications. The enclosure is one of a series of optical network terminal secured housings manufactured in the U.S. by Snake Tray.
---
DIN-rail mount Gigabit Ethernet switch
Wago Corporation's newly launched Ethernet Eco Switch brings simplicity to small- and mid-sized data networks by eliminating preconfiguration, asserts the company. Emphasizing usability rather than extensive management functions, the plug-and-play Wago Model 852-1111 switch connects up to five network devices to an Ethernet network.
Data transmission occurs at rates of 10, 100 or 1,000 Mbits/sec. Designed for compact control cabinets, the Eco Switch's DIN-rail mount, IP30-rated metal housing measures 74 x 110 x 24 mm. While small in size, the Eco Switch features all standard functions of a network switch, including automatic data rate adjustment (auto-negotiation) and automatic transmit/receive cable detection (Auto-MDIX).
Up to 2,000 devices can be managed via the device's MAC address list. Full-duplex communication complies with IEEE 802.3x at permissible operating temperatures ranging from 0 to 60°C. The unit's front-panel LEDs permit quick on-site diagnostics, increasing visibility and accessibility. Power supply ranges between 18-30 V DC and integrated overvoltage protection provides additional safety.
---
WiFi Alliance unveils WiGig certification
With industry momentum and user anticipation of 60-GHz wireless technology growing, WiFi Alliance announced that it has designated WiGig Certified as the certification brand for products approved in its forthcoming interoperability program. The certification brand will be designated with a new logo, available for use on certified products entering the market as soon as next year. WiGig Certified products will operate in the 60-GHz frequency band and deliver multi-gigabit speed, low latency traffic, and security-protected connectivity between nearby devices. Many WiGig certified products are expected to be WiFi certified as well, and products implementing both WiGig and WiFi will include mechanisms to facilitate seamless handover between the two technologies.
"We are excited to expand the WiFi Alliance interoperability program to include WiGig Certified products, which will deliver the same security and interoperability that consumers have come to expect with WiFi," comments Edgar Figueroa, WiFi Alliance president and CEO. "WiGig Certified will be an excellent complement to WiFi Certified, advancing our vision of seamless connectivity and extending the user experience to new applications."
In addition to developing a certification program to validate product interoperability, WiFi Alliance has initiated several projects to address 60-GHz implementations of data, display, and audio applications. Newly formed cooperative relationships with other industry organizations will also help ensure delivery of the best user experience with a variety of applications on WiGig Certified products. WiFi Alliance has engaged with the USB Implementers Forum (USB-IF), and has formally transferred the WiGig Serial Extension Specification to that organization, which plans to use it as a foundation to develop a Media Agnostic USB Specification. It is expected that WiGig Certified and WiFi Certified products will implement USB functionality.
"The USB-IF is pleased to accept the transfer of the WiGig Serial Extension Specification from WiFi Alliance, and it shares the commitment to enhance wireless connectivity with USB devices," comments Jeff Ravencraft, USB-IF President and COO. "The forthcoming Media Agnostic USB Specification will give consumers more flexibility to wirelessly connect their USB enabled devices."
WiFi Alliance has also engaged in a liaison agreement with the Video Electronics Standards Association (VESA) to facilitate the certification of products based on the WiGig Display Extension Specification, which is expected to be implemented in some WiGig Certified products. "The collaboration between VESA and WiFi Alliance was designed to define the next generation standard of wireless display technology," says Bill Lempesis, executive director of the Video Electronics Standards Association (VESA). "The ability to connect PCs and handhelds to monitors, projectors and HDTVs wirelessly is highly desired among consumers and IT users. We believe that the wireless ecosystem stands to benefit from both our ongoing collaboration and the introduction of WiGig Certified."
---
IEEE 802.3bk expands optical loss budgets for EPON
The IEEE recently announced approval of IEEE 802.3bk, Standard for Ethernet Amendment: Physical Layer Specifications and Management Parameters for Extended Ethernet Passive Optical Networks. The new specifications are designed to enable higher-density and longer-reach applications of Ethernet Passive Optical Network (EPON) infrastructure while improving cost of network ownership, says IEEE.
As EPON has grown in popularity, new requirements and areas for improvement have arisen, notes the consortium. These include the cost-effective deployment of EPON in rural areas with lower customer densities, increasing subscriber density per port in the central office, sharing available links among larger concentrations of users, and serving users at distances from the nearest network hub that were greater than the original specifications covered. IEEE 802.3bk addresses these issues by amending the base IEEE 802.3 Ethernet standard to support optical loss budgets in excess of those previously specified. In addition to expanding the EPON service area and reducing cost per subscriber, IEEE 802.3bk is expected to reduce the footprint and power consumption of central office equipment (per customer), the cost of service upgrades, and fiber deployment, as well as an increase customer density per central office.
"As operators around the world seek to build higher-density and more cost-effective optical access networks that connect more customers, service providers are grappling with a number of scalability challenges associated with delivery of mobile backhaul and guaranteeing connectivity to remote customers," comments Marek Hajduczenia, chair of the IEEE 802.3bk Extended EPON Task Force. Hajduczenia continues, "The development of IEEE 802.3bk was an open, market-driven effort to amend the Ethernet standard to allow a given EPON deployment to support more users over longer distances than previously possible."
"We're excited about new IEEE 802.3bk-based products that will allow service providers to make better use of their already deployed fiber, increasing the number subscribers that can be served per OLT [optical line termination] port," asserts Edwin Mallette, distinguished engineer, network architecture and standards, with Bright House Networks. "This will significantly reduce the overall cost of delivering services over an EPON-based first-mile optical access."
Mallette concludes, "We are also looking with interest at future projects within the IEEE 802.3 working group aiming to define a next generation of EPON, primarily from the perspective of compatibility with our fiber-optic distribution network that supports 1G-EPON and 10G-EPON today. We hope that this next-generation EPON, once finished, will provide a cost-effective solution for a higher-speed optical access."
---
Bird Technologies acquires DAS manufacturer
Bird Technologies, which provides radio-frequency-based products, systems and services, acquired distributed antenna system (DAS) manufacturer DeltaNode in a transaction completed September 1, for an undisclosed amount of cash. DeltaNode previously was owned by Scandinavian Health Ltd., and Bird Technologies says the DAS manufacturer will continue to operate from its Stockholm, Sweden facilities. DeltaNode was established in 2005.
Mark Johnson, Bird's chief executive officer, said the acquisition "gives Bird the technical expertise and products to serve the rapidly growing market for RF distribution systems for both in-building and outdoor scenarios such as stadiums, transportation and many other applications. It also allows us to dramatically broaden our leadership in providing public-safety in-building coverage solutions to include outdoor networks and repeaters to serve commercial wireless carriers."
DeltaNode's CEO Henrik Huss commented, "The acquisition aligns us with a company recognized for its RF expertise and will give DeltaNode greater global reach in sales, marketing and services so that we can better serve our growing customer base."
When announcing the acquisition, Bird Technologies said the two companies' product lines "seamlessly complement each other," with the joining of the two "making Bird one of only a handful of companies in the world to offer a complete line of RF products and services from the component through system levels for both commercial wireless and public-safety communications systems."
---
ONVIF updates networked video storage, recording specification
ONVIF, the global standardization initiative for IP-based physical security products, has announced the Release Candidate for its Profile G, the specification designed to store, search, retrieve and playback media on devices or clients that support recording capabilities and on-board storage. The new Profile is now available for review on the ONVIF website.
As with the previous Profile S, which ONVIF introduced in 2012 as the standard interface to stream video and audio between conformant devices and clients, Profile G now brings video playback into the Profile concept, says the consortium. Having global interface specifications--with specific functionalities easily identified by Profiles--makes it easier for end users, integrators, consultants and manufacturers to harness the opportunities offered by network video technology, contends ONVIF.
Profile G will encompass devices ranging from cameras and encoders to networked video recorders (NVR) and client systems such as video management systems, building management systems and physical security information management (PSIM) systems, among others. For example, Profile G can be deployed between a PSIM solution integrating video playback from a NVR, including specific features such as starting and ending recording; searching video using various filters such as time, event or metadata; video retrieval and playback; and, on the receiver side, creating a source of IP media.
ONVIF circulates new Profiles first as a 'Release Candidate' for six months, allowing members and stakeholders a final implementation review. When that process is complete, the final Profile is published and technology providers will be able to test their products for conformance to the final version of Profile G. This process is intended to allow members to more quickly introduce conformant products when the final Profile G is released in early 2014.
Although Profile G and Profile S are related, the two are independent profiles and encompass different functionalities of a network video system. Some devices and most clients may implement both profiles, for example a camera with onboard storage or a digital video recorder. In contrast, a camera may implement Profile S for transmission of the video while an NVR would encompass functionalities from Profile G. "The introduction of Profile G will complete the circuit between live video and the other half of the equation, which is video storage," concludes Steven Dillingham, chairman of ONVIF's Profile G Working Group and software engineer for Vidsys. "This further refines the level of interoperability among ONVIF-conformant products."
---
FOA adds Optical LAN (OLAN) certification
The Fiber Optic Association (FOA) has added a new certification covering Optical LANs (OLANs), a network architecture sometimes referred to as "passive optical LAN" or "passive optical network," and which the FOA describes as "one of the fastest-growing applications in fiber optics." The FOA has worked with industry companies to create a curriculum for courses, which will be offered at FOA-approved schools and will lead to the FOA CFOS/L specialist certification. FOA-approved schools were scheduled to begin offering OLAN courses and CFOS/L certification this fall.
When announcing the new certification, the FOA said, "OLANs are the next generation of LAN technology based on fiber-to-the-home networks. Typical LANs used today were developed 30 years ago based on premises telephone networks for PBXes. These LANs use unshielded twisted-pair wiring in a star architecture, with options for fiber optics in the backbone or directly to the desktop. The cabling systems for these LANs have struggled to keep up with Ethernet LAN speed updates for two decades."
OLANs, on the other hand, are "based on singlemode optical fiber with virtually unlimited bandwidth," the FOA said, and "are being adopted by users for their lower costs, increased security, lower power consumption and savings in the use of natural resources, especially the expensive copper used in LAN wiring."
They are based on the technology and products used in more than 100 million fiber-to-the-home installations around the globe, the FOA reminded. "OLANs use FTTH passive optical network [PON] or point-to-point [P2P] architecture on singlemode fiber covered in international communications standards. The PON architecture greatly reduces the cost of the network and, of course, the large numbers of installations worldwide create an economy of scale that reduces the cost even more. These two factors give OLANs a major advantage in cost and bandwidth for upgrades over conventional LANs.
"OLANs are based on a unique cabling architecture and singlemode fiber, which are new to many premises cabling installers. Plus, the PON architecture for POLs requires different design and testing processes. The FOA CFOS/L curriculum focuses on the unique aspects of OLANs to ensure that contractors and installers are properly trained for OLAN projects. Network owners and IT managers also will find the FOA OLAN program instructive to understand this new technology."
---
Campus housing provider Elauwit widely deploys Tellabs' optical LAN
Elauwit, a housing service provider for college campuses, is deploying Tellabs' Optical LAN to deliver RF video and ultra-high-speed Internet to college students in 8 student housing projects across 8 states. Because college students use many different devices to stream HD video and data, their bandwidth demands pose a major challenge for LANs, notes Tellabs. A recent study by Pew Internet cited by the company found that more than 9 out of 10 college students are using broadband data services. More than 8 out of 10 students rely on multiple devices, connecting via cell phones, laptops and iPods.
Tellabs notes that its optical LAN is purpose-built for high-capacity, high-performance deployment scenarios such as student housing networks. Tellabs contends that its optical LAN can save up to 70% of the total cost of ownership, 80% of power requirements and 90% of space needs, compared with a copper-based LANs. "To help college students succeed, ultra-high-speed data services are key. But traditional copper-based LANs can't keep up with growth in students' bandwidth demands," comments Tom Ruvarac, Tellabs' director-product management. "That's why Tellabs provides a future-proof optical LAN solution that can easily scale up to handle traffic needs for decades to come. [Our] optical LAN simplifies the underlying network infrastructure and operations, getting the LAN's job done with fewer network elements by using passive optical networking technology."
To ensure smooth deployments for Elauwit, Tellabs' trusted system integrator partner, CORE Telecom Systems, coordinated all support and logistics for installing the optical LANs. CORE's expertise with complementary solutions, from fiber cable and connectivity to video and power, were instrumental in providing Elauwit with an end to end network solution. "Our Elauwit deployments highlight the value that CORE Telecom adds to each LAN we deploy," says Lyle Frank, national sales director at CORE Telecom. "By enabling video and WiFi services through Tellabs' optical LAN, we helped Elauwit to reach its goal of meeting the college students' increasing network demands today and well into the future."
"College students expect great broadband data service, particularly in student housing. Tellabs' Optical LAN enables us to deliver the bandwidth students need today and tomorrow, simplify our LAN deployments and lower overall LAN costs," concludes Taylor Jones, CTO at Elauwit. "Tellabs Optical LAN, coupled with CORE Telecom's complementary solutions, provides Elauwit much better value for money, compared with conventional, copper-based LANs."
---
Boxes have increased capacity for data cables, fire alarms
Thomas and Betts says its new Steel City 5 Square Boxes "offer more than double the cubic-inch capacity of typical square boxes, making them ideal for telecommunications and fire-alarm applications." The boxes are 5x5x2-7/8 inches, which totals 67 cubic inches of interior space. Thomas and Betts says this amount of capacity reduces stress on data cables and ensures adequate capacity for fire-alarm devices.
The Telecom Box in particular features cable-management posts meant to guide cable around its outer perimeter to prevent excessive bending and kinking. For fire-alarm applications, the Fire Alarm Box's additional space simplifies troubleshooting by minimizing the potential for ground faults and short circuits that can result from installing large fire-protection devices in standard boxes, Thomas and Betts explains.
The Telecom Box's ample space also accommodates storage of a large slack loop, and eliminates the need for a second installer to pull cable out of the box from a remote location in order to terminate connectors, the manufacturer says. The resultant labor reduction yields time and cost savings. "The easy access to the slack cable loop is especially critical in hospital applications where removing ceiling tiles is discouraged," Thomas and Betts adds.
The Fire Alarm Box provides enough space to eliminate pinch points around the alarm device. Its interior space also prevents the overcrowding of conductors that can increase installation time, the company notes.
Chad Smith, vice president of product management and marketing with Thomas and Betts, commented, "The additional interior space mitigates stress on high-speed data cables, connectors and faceplates that results from using standard boxes for telecommunications. The extra space also fosters consistency in installation by eliminating the need to improvise solutions due to limited space, and it allows room for future product evolution."
---
Gator Eye logs tool use, battery info
The Gator Eye from Greenlee is a USB-powered "performance accountability tool," according to the company, because it allows users to access detailed work history and view real-time diagnostic information. It works with all of Greenlee's Gator brand crimping, cutting and punching tools, including those manufactured as early as 1994. Through the Gator Eye, users can connect their tools to Windows-based computers; using free software, they can then access the tools' work history and other information.
Ryan Berg, product manager for termination tools at Greenlee, said, "Information is important to our customers. And Gator tools have been recording work history since the first generation models in the 1990s. We wanted to open up that information so utility companies and contractors can get the most out of their tools."
Using the Gator Eye and the accompanying software, users can create operation logs, in the form of PDF documents that include detailed work information such as operating pressure, number of crimps and battery information.
"This means that contractors and utility companies can do their jobs, and have documentation to prove that their tools performed correctly. It means that users can differentiate their services by providing accountability."
Gator Eye also can be used to set maintenance intervals and add user-identifiable information, which Greenlee points out is useful for inventory management.
---
Dual-band WiFi technology for rugged machine-to-machine connectivity
New-generation, dual-band WiFi technology from B&B Electronics, the Airborne m2M platform, provides "secure, dual-band WiFi connectivity to rugged and mission-critical m2M networks," the company said when announcing the platform's introduction. "With dual-band [2.4- and 5-GHz] support and robust, enterprise-class security options, Airborne m2M is designed to enable integrators, VARs and OEMs to reduce the risk of obsolescence as enterprises both upgrade their security policies, and increasingly migrate their WiFi infrastructure to the 5-GHz band," B&B added. The company said the products feature industrial-strength packaging and a temperature range from -40 to +85 degrees Celsius.
"The WiFi connectivity technology is useful for rugged, mission-critical applications that need both Ethernet connectivity and wireless mobility, such as transportation vehicles [forklifts in warehouse shipping/receiving], mobile printers [rental car companies], medical [hospital patient monitoring systems, nurses' stations] and more," B&B said.
The technology is available in several forms, including a full line of industrial WiFi access points and clients--including Ethernet bridges, Ethernet routers and serial servers. These products "can seamlessly connect most any equipment--RS-232, 422, 485, Ethernet 10/100-Mbit and I/O--to the WiFi network," the company stated, adding that power options for these products include 5-36 VDC and 802.3af Power over Ethernet.
Additionally, embeddable access-point and client modules are plug-compatible with the company's previous-generation models and allow OEMs to integrate WiFi into their own m2M equipment without having to invest in WiFi engineering and certification efforts, the company emphasized. It said, "Leveraging B&B's WLNN [client] series modules with I/O flexibility enables rapid time-to-market with Ethernet, UART-based, or GPIO connectivity over WiFi." The company also offers a design-and-development kit.
Products in the Airborne m2M line are designed to handle the processor-intensive advanced encryption techniques defined for enterprise-class security that are not available on entry-level WiFi products, B&B explained. Features include network security (EAP), wireless security (802.11i and WPA2-PSK), access security (authentication and firewalls), communication security (SSH) and device security (encryption).
Also, B&B's Airborne Management Center device discovery, control and management application software, which is included with all Airborne m2M products, assists customers managing large networks.
---
Punchdown tool has built-in hook to feed or remove wire
The Pro-Strike Punchdown Tool from Platinum Tools is a compact tool that "combines rugged design, an ergonomic comfort grip handle and enhanced functions," according to John Phillips, product manager with Platinum Tools. "The primary tool for all telecom and datacom installers working with 110, 66, Krone and BIX-style crossconnects, this professional tool will provide precise, repeatable and reliable terminations that helps ensure installations pass certification, thus reducing and eliminating callbacks, resulting in peace-of-mind."
The Pro-Strike terminates and cuts Category 3, 5, 5e and 6 cables; it is spring-loaded for fast, low-effort wire seating and terminations, Platinum Tools says. The company adds that the tool's bayonet-style blade-retention socket is compatible with industry standard tools and blades.
The punchdown includes a built-in hook that can be used to feed or remove wire. It also includes a "multi-use spudger," the company explains, "for screwdriver, IDC insert tool or to clean debris."
Platinum Tools also lists the following features of the Pro-Strike Punchdown Tool.
110, 66, 630 Krone and BIX style interchangeable blades
Color-coded yellow on cut side
Adjustable low- and high-force impact settings controlled to meet industry standard 8762D spec
Will not damage sensitive circuitry
Spare blade storage compartment in the handle
6x1.5x1-inch dimensions
5.7 oz. weight
The tool has an MSRP of $36.95 without blades.
---
Conduit reamer attaches to drillt
Klein Tools has introduced a line of power-tool accessories that includes a conduit reamer for half-inch, three-fourths-inch and one-inch conduit. The reamer "installs fittings in a fraction of the time," Klein Tools says, and "is designed to speed up high-volume conduit installations and reduce wrist fatigue." The reamer fits into power-drill chucks and quick-release adapters. "It includes a precision-engineered blade and offers optional replacement blades and bits," the company adds.
Other power-tool accessories recently released by Klein include multi-bit power drivers, power nut drivers and power driver bits. The multi-bit power drivers combine up to six screwdriver and nut driver functions in a single adapter. The power nut drivers are available in 2-, 5- and 10-inch hollow-shaft lengths. They are designed for long bolts, studs or threaded-rod installs. The power driver bits are "precision-machined for better fit, more torque and less wear," the company says. "The bits are custom heat-treated and finished" in the same manner Klein Tools produces its screwdriver blades, it says.
Product manager Jon Ginsberg commented, "It was a natural evolution to take this expertise and create these tough, premium performance accessories for power tools."
---
BICSI president-elect, three other board members chosen
Brian Ensign has been chosen by BICSI members to be the organization's president-elect, serving in that position from 2014 to 2016 before taking the helm as the association's president for the 2016-2018 term. Ensign joins three other individuals who were elected to BICSI's board of directors during the voting period that ended September 30. BICSI's treasurer for the 2014-2016 term will be Mel Lesperance. Re-elected as region directors during the election cycle were Christy Miller of the U.S. North-Central Region and Carol Everett Oliver of the U.S. Northeast Region.
The new officers officially will be inaugurated in February 2014 during BICSI's Winter Conference and Exhibition, which will be held at the Rosen Shingle Creek Resort in Orlando, FL. At that time, BICSI's current president-elect, Michael Collins, will succeed current president Jerry Bowman in that role. Commenting on the recent elections and on membership at the highest levels of BICSI in general, Bowman said, "Assuming a board of director's role is a landmark event for both the candidate and for BICSI. Election to a board leadership position is recognition of the candidate's contributions to BICSI and often to the industry. From a BICSI perspective, election to the board typically comes after years of committee and industry service. On behalf of the current board of directors, we welcome these incoming board members and look forward to their vision, wisdom and leadership as they assume a governance role in helping to define strategic and financial matters for BICSI."
BICSI board membership is a two-year elected term, and the association staggers the elections such that each year several new or re-elected board members join several other members of the board whose positions will be up for election the following year. In February, when Collins becomes president, Ensign president-elect, and Miller and Oliver begin their next two-year terms, they will join existing board members Robert Erickson (Secretary), Larry Gillen (U.S. Western Region Director), Peter Levoy (Canadian Region Director), Jeffrey Beavers (U.S. South-Central Region Director), Brendan "Greg" Sherry (European Region Director), and Charles "Chuck" Wilson (U.S. Southeast Region Director).
---
Two-input wallplate for digital and analog AV
The XTP T UWP 302, a two-input wallplate transmitter from Extron Electronics, provides the capability to connect local source devices at a wall or other locations, including a lectern or floor box, the company says. The transmitter mounts into a standard three-gang junction box and sends HDMI or RGBHV video, audio and control up to 100 meters over a single Category cable. Extron points out the wallplate transmitter is HDCP-compliant and supports computer-video to 1920x1200, including HDTV 1080p/60 Deep Color and 2K. "For simplified integration," the company explains, "the XTP T UWP 302 features automatic switching between inputs with selectable prioritization, and can be powered over the same Cat X cable. The XTP T UWP 302 is designed for use in XTP Systems for signal distribution and long-distance transmission between remote endpoints."
Casey Hall, Extron's vice president of sales and marketing, commented, "This wallplate transmitter for XTP Systems enables easy AV access for guest presenters or when bringing in temporary sources. The XTP T UWP 302 transmitter offers the flexibility to accept digital or analog signals, in a discreet wall or furniture installation."
---
Distance-extending SFP sends Ethernet over UTP or coaxial cabling
ComNet has introduced a small-form-factor pluggable (SFP) device that can extend Ethernet distances over coaxial or unshielded twisted-pair (UTP) cabling to 3000 feet. The ComNet CL-SFP can be used in any Ethernet device that uses MSA-compliant SFPs for connectivity, the company explains. 10-Mbit/sec and 100-Mbit/sec models are available. The company says it "sees an application where existing coax or UTP is being utilized for IP transmission. The CL-SFP simplifies installation by eliminating the need for additional Ethernet-over-copper media converters by allowing direct connection to an Ethernet switch."
ComNet's president and chief operating officer Andrew Acquarulo Jr. explained, "We are seeing an increasing demand coming from the market to utilize existing copper media in IP networks. SFPs have been universally accepted for fiber-optic connectivity, giving flexibility in the choice of fiber type, connector type and distance. Our innovative CopperLine SFP-based Ethernet extender, the CL-SFP, gives our customers flexibility, reduces complexity and now allows a direct Ethernet-over-copper connection to any switch."
Skip Haight, vice president of marketing, added, "With the extension of our CopperLine series to now include a distance-extending SFP for switches, ComNet continues to set the standard for providing product solutions."
---
Flat-braid coaxial cables for RF, microwave interconnects
Times Microwave Systems recently introduced TFT cables, which the company describes as "a superior solution compared to semi-flexible (solder braid) coax and RG-type coax for RF and microwave interconnects in military and commercial applications." The company further explains, "Unlike solder braid cables, the flat braid shield on TFT cable is not susceptible to cracking when bent, which permits installation in tight spaces without the risk of compromising performance."
Times Microwave adds that, compared to standard RG cables, the flat-braid shield provides better shielding and lower attenuation. The TPT cable's FEP jacket "provides excellent protection in corrosive environments and is highly resistant to UV, making these cables suitable for outdoor installation," the company notes. The cables are plenum-rated and, according to Times Microwave, provide better than -160 dBc PIM (passive intermodulation) performance when properly terminated, "making them ideal for interconnects in cellular base stations and critical DAS installations," the company says.
The cable contains silver-plated CC and flat strip braid, with a blue FEP jacket. Model TFT-401, which is 0.265-inches in outside diameter, lists for $6.80 per foot. Model number TFT-402, which is 0.150-inches in OD, lists for $2.80 per foot.
---
Sticklers introduces additional fiber-cleaning products
Sticklers Fiber Optic Cleaning Products used the European Conference and Exhibition on Optical Communication (ECOC) as the platform from which to introduce new fiber-optic cleaning products to its portfolio. "One of the most important product introductions at the show was the new Sticklers Optical Grade Dust and Particle Remover," the company said. The company's European business-development manager, Scott Wells, commented, "ECOC was the perfect time to showcase our newest product, the new Sticklers Optical Grade Dust and Particle Remover. The new cleaner complements other products in the fiber-optic cleaning portfolio. Customers also can add the canister to the Sticklers Fiber Optic Cleaning Kit, which will help to ensure areas surrounding fiber-optic connectors and splices are kept perfectly clean."
The company also reported that its CleanStixx products received interest from ECOC attendees. The newest addition to that product family is the CleanStixx S16 connector cleaning stick. "With an extended tip that fits into all military adapters, including those used in the F-35 fighter plane, it offers fast and efficient cleaning of the entire endface without the need to disassemble the connector or adapter," Sticklers said. CleanStixx products are used to clean fiber-optic systems on the F-35 Joint Strike Fighter plane, the company noted.
---
Cat 5e industrial cord sets can go in existing 600V cable trays
The DataTuff TC Category 5e cord sets from Belden include TC (Tray Cable)-listed industrial Ethernet cable. "These 600V TC 1277-rated Cat 5e cord sets, with RJ45 connectors, are the first to address a long-standing challenge--the ability to easily route industrial Ethernet cables in the most demanding heavy-industry environments using existing 600V cable trays," the company explains. "These cord sets reduce the cost of installation and reduce the risk of field failure, with the attendant costs of operational downtime and potential safety issues."
Contrasting these cord sets with other commercially available alternatives, Belden added, "Standard commercial cabling is not robust enough for the demanding, mission-critical environments of the industrial world. Standard industrial-grade Ethernet cable is designed to address the needs of industrial applications but is unable to be routed in cable trays. The latter has caused plant engineers to develop creative, but not always acceptable or reliable, ways of routing cable through a plant."
Belden's industrial cables product line manager Frank Koditek commented, "DataTuff TC is a breakthrough in cable technology that addresses a very real need. It can be the solution that bridges the gap between 'if only' and 'let's do it' for Ethernet deployment in a number of heavy industrial applications."
The 18-AWG conductors in the cord sets enable them to achieve the 600V TC 1277 rating required for routing through 600V cable trays. The cord sets comply with the Category 5e performance requirements established in TIA-568-C.2 and are built to the same requirements and standards of other DataTuff products, Belden says. They use Belden's bonded- pair technology.
"Targeted at both OEMs and end users, the Cat 5e 600V UL 1277 TC cable meets NEC requirements for deploying in standard cable trays," the company notes. "The TPE jackets are sunlight- and oil-resistant, have an IEEE 1201 and FT4 flame rating, and are MSHA mining approved. They have a UL 1581 -40 deg. C cold bend rating and can withstand temperatures of up to 105 deg. C. Cat 5eTC cord sets have RJ45 connectors, and are RoHS approved."
---
High-definition fiber-inspection probe connects to smartphone, tablet
Optical Design Manufacturing (ODM) recently launched the VIS 400-HDP, a fiber-optic field connector-inspection kit that, the company explains, offers connection to a smartphone, tablet or laptop for automatic pass/fail analysis in accordance with IEC 61300-3-35. The scope features ODM's "Clear Test" software, which allows technicians to connect directly to their mobile device via high-speed USB 2.0 interface or an optional WiFi connection.
Michael Schneider, founder and president of ODM, said, "The VIS 400 offers precision and convenience in one cost-effective inspection system. It saves time and effort in the field, making it fast and easy for contractors to certify that every connection in their network is clear and free from contamination."
The VIS 400 features high-definition optics, ODM says, for precise analysis within less than one micron. The probe is designed to support a wide variety of tips for bulkhead adapters and patch-cord connectors; the kit includes a 2.5-mm universal adapter tip, 1.25-mm universal adapter, SC and LC adapters, and cleaning supplies for up to 500 connector cleanings. It is shipped in a 17-inch hard case.
The $1,595 price includes the Clear Test system software for IEC standards measurement, ODM notes.

More CIM Articles

Archived CIM Issues