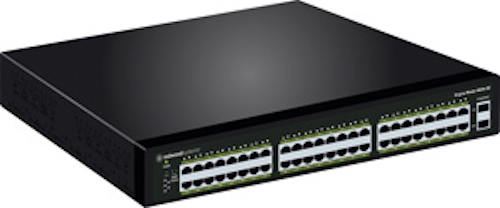 From the October, 2013 Issue of Cabling Installation & Maintenance Magazine
Compiled by Matt Vincent
Fiber fanout assembly connects 40-, 10-GbE switch, server ports in ToR applications
A fiber fanout cable assembly supporting the interoperability of 40 Gigabit Ethernet (40 GbE) switch ports and 10 GbE server ports is now available from the 3M Electronic Solutions Division. 3M says its new active optical cable (AOC) assembly for QSFP+ to SFP+ applications incorporates both VCSEL and 3M's own light-engine technologies to deliver exceptional cost and performance value for data centers and high-performance computing (HPC) clusters.
The hybrid AOC assembly transitions a single QSFP+ port with four parallel channels to four individual, single-channel SFP+ ports in top-of-rack (ToR) applications and at distances up to 100 meters. The fanout cable assembly addresses a common data center and HPC problem in which QSFP+ switch ports are underutilized. Because the 3M fanout assembly allows direct-attach transitions at a one-to-four QSFP+ to SFP+ ratio, more 40 GbE uplinks can be deployed. "This new AOC fanout assembly from 3M helps simplify cable routing for 10 GbE aggregation and 40 GbE top-of-rack applications while allowing optimization of the limited QSFP+ uplinks found on today's network switches," comments Jeff Bullion, marketing manager for 3M Electronic Solutions Division's system and components business. "It provides a plug-and-play, low-cost, low-power and low-latency alternative to the pluggable modules and patch cords commonly used today."
With no optical splices, 3M's AOC assembly for QSFP+ to SFP+ applications provides end-to-end connectivity over bend-insensitive multimode fiber. With the assembly, the number of connections is cut in half compared to traditional module solutions, claims the company. Fewer connection points can improve reliability, reduce optical loss and latency, and lower power consumption.
The cable assembly supports cost efficiency in a number of ways, asserts 3M. Each of the cable assembly's parallel channels is synchronized to provide interoperability between the 40 GbE and 10 GbE interfaces, which limits the amount of optical debugging and tuning required, which can speed up installation. The lightweight, thin fiber assembly makes cable routing and dress-out easier while allowing better air flow in the rack, potentially reducing cooling costs. In addition, one product replaces three (two types of transceivers and a fiber cable), lowering cost and reducing purchasing and inventory management complexity.
The cable assembly is available in lengths up to 100 meters with the individual and uniform fanout lengths ranging from 1 meter to 2.5 meters. It is designed to meet SFF-8436, -8431, -8472 and -8432 standards. All 3M Active Optical products meet FCC Class B and CE Emissions and Immunity requirements, CDRH/IEC 60825-1 and are RoHS 2011/65/EU compliant.
---
Redwood's latest intelligent building-performance lighting system leverages Cat 6 infrastructure
Redwood Systems, a CommScope company and specialist in intelligent building-performance lighting, has released its next-generation Gen-3 platform for commercial properties. Designed to deliver dynamic, real-time building intelligence within a cost-effective lighting solution, Redwood says the new platform allows both facilities and data centers to gain immediate energy savings with improved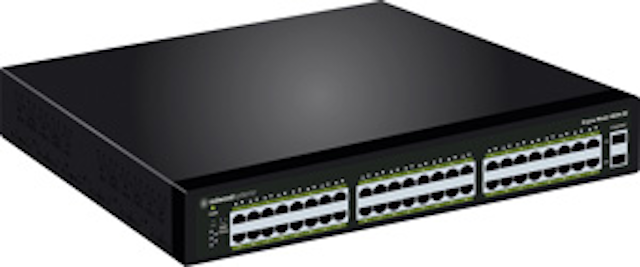 operational efficiency around building performance. LED [light emitting diode] lights powered and controlled by the new Redwood platform are competitively priced with other commercial lighting systems, contends the company.
The Redwood Gen-3 platform includes the new Engine-3, new environmental sensors, and a director function to centrally store available building data. In addition to energy savings from lighting, the new platform provides customers with intelligent data on space utilization and temperature across commercial offices, data centers and schools. Facility managers and property owners may use this data to make more informed, cost-effective decisions for lighting, heating and cooling, as well as strategic real estate portfolio plans, says Redwood. The company adds that a software upgrade to the system's cloud-based data warehouse is in development; this will give facilities managers and data analytics firms the ability to analyze real-time and historic data across multiple campus locations.
The new Redwood Engine-3 delivers the optimal amount of power to an LED fixture and simplifies in-field installation. With 70 percent more power per channel than the previous model, one engine can power and control significantly more lighting. New RJ45 input ports on the engine's front panel enable standard Category cable to be quickly connected and provide power, control and communications with lighting fixtures and sensors. Additionally, the new architecture will be able to support two LED fixtures on a single CommScope Category 6 cable, further reducing installed cost. These optimizations make the Gen-3 solution a superior choice to traditional fluorescent technology, claims Redwood.
"While big data has taken the IT industry by storm, the ability to act on this explosion of information can transform almost any industry," asserts Kevin St. Cyr, senior vice president of enterprise solutions, CommScope. "This is especially true with commercial properties that use sensors to collect data on energy and operational information. But without a robust analytics function to make sense of the data and turn it into something applicable, it is essentially useless. Redwood can now offer its customers a best-in-class means to both collect and synthesize the data for actionable insights."
---
Report: WLAN market to expand 57 percent in next 4 years, driven by 802.11ac
A recent market report by Dell'Oro Group forecasts overall Wireless LAN (WLAN) market revenues to approach $12 billion in 2017--well over 50 percent greater than 2012 revenues. Key trends expected to drive this growth include deployment of service provider WiFi (SP WiFi), the 802.11ac upgrade cycle, and cloud-managed WLAN. Additional influence is projected to come from the consumer video-over-WiFi phenomenon, as well as the bring your own device (BYOD) trend.
"Enterprises now see wireless LAN access as critical, yet historically have installed wireless as an overlay network that is separate from the Ethernet network," explains Chris DePuy, vice president at Dell'Oro Group. DePuy adds, "As new, higher-speed 802.11ac wireless systems are installed, we expect a growing number of companies will be reconsidering the interaction between Ethernet edge switches and enterprise WLAN devices. This provides both opportunity and risk for enterprise edge vendors," he concludes.
---
TE unveils new Cat 6A unshielded cabling system for 10-GbE applications
TE Connectivity has introduced a new Category 6A unshielded cabling system especially designed to meet the performance and density demands of 10 Gigabit Ethernet (10 GbE) applications. The copper cabling and connectivity system comprises TE's new SL Series Amp-Twist jacks and panels, along with a reduced-diameter Cat 6A patch cord.
TE says its SL-series modular jacks incorporate the proprietary Amp-Twist technology to deliver superior termination speed, reliability and consistency. When used in conjunction with TE's SL-series termination tool, all four twisted pairs are terminated and trimmed simultaneously in as little as one minute. The company says the jacks also incorporate category-leading crosstalk reduction technology and interchangeable color caps for easy port identification. The new TE Cat 6A U/UTP panels also offer 24-port 1RU and 48-port 2RU density and are available in flat, angled and dynamic-angled configurations.
TE says the new Cat 6A U/UTP system is ideal for accommodating today's higher processing speeds and bandwidth demand. Benefiting from TE's AirES cable and "inside-out" filler technologies, the cable is able to provide higher throughput and an increased signal-to-noise ratio in a smaller package. At approximately 0.285 inches in diameter and featuring 0.235-inch reduced diameter patch cords, the company says the cable is up to 32 percent thinner than traditional Cat 6A cables, helping to save space in the communications closet, reduce the amount of cable management accessories required, and lower the risk associated with fire and smoke in the plenum space. TE's AirES cable technology uses air as an insulator to enhance signal speed and strength, while minimizing cable size and crosstalk.
"The growing popularity of virtualization, IP video and larger file transmissions is driving the need for higher network performance while also necessitating higher density in data center and office LAN environments," comments Brian Davis, director of product management, TE Enterprise Networks. "Our AirES enhanced cabling solution provides optimal performance, meets bandwidth demands and is scalable--ready for new technology to be added. Plus, the smaller, thinner design of the patch cord makes it an unbeatable combination of performance and agility."
---
OFS develops hollow-core fiber
OFS has developed a hollow-core fiber (HCF) that it says exceeds state-of-the-art performance and eliminates limitations that have inhibited applications of this potentially disruptive technology. The novel fiber design was developed by OFS Laboratories in the DARPA-funded Compact Ultra Stable Gyro for Absolute Reference (COUGAR) program, led by Honeywell International, Inc. The fiber employs an air-filled core surrounded by glass webbing, and is first to demonstrate improvement in three key characteristics critical for such applications as high-precision fiber-optic gyroscopes for inertial navigation.
Hollow-core fibers allow light to propagate through free space rather than a solid glass core, making them an ideal waveguide in theory. Earlier versions of HCF showed high propagation speeds, but they weren't able to do so in combination with the properties that make it useful for demanding applications. Certain limitations prevented the breakthrough performance promised. The fiber developed in the OFS program overcomes these limitations and dramatically improves three critical performance enabling properties.
Single-spatial-mode: Breakthrough "PRISM" mechanism forces light to take only a single path, enabling higher bandwidth and lower noise over longer distances.
Low loss: Light maintains power over longer distances.
Polarization control: The orientation of the light waves is fixed in the fiber, which is necessary for applications such as sensing, interferometry and secure communications.
Hollow-core fiber can be bent and coiled to tight bend radius while guiding light at speeds 30 percent faster than conventional fiber. In addition to high- precision gyroscopes, there are many applications that will benefit from this technology, notes OFS. HCF is naturally radiation hardened and could find applications in space systems while other applications include low-latency telecommunications or high-performance computing systems and medical sensors. DARPA continues to work on integrating the new technology into gyroscopes.
"OFS is proud to be a participant in this prestigious program and to have developed this breakthrough fiber," commented Michael Fortin, vice president of marketing and sales at OFS.
---
APOLAN forms, exhorts PON, fiber enterprise over 'traditional' copper Ethernet designs
Seven companies in the IT networking sphere have joined to form a new industry association promoting the use of passive optical LAN technology. The founding members of the newly announced Association for Passive Optical LAN (APOLAN) include Corning, IBM, SAIC, TE Connectivity, Tellabs, Zhone and 3M. The association's stated mission is to advocate for the education and global adoption of passive optical networks in the local area network (LAN) industry. APOLAN aims to spread the word about the benefits of the passive optical LAN fiber-optic architecture, which adapts the passive optical network (PON) technology commonly used in fiber to the home (FTTH) applications to drive enterprise networks.
With bandwidth demands growing in the enterprise, the members of APOLAN see passive optical LANs as an ideal method to keep pace with requirements in a less expensive, more futureproof way than traditional workgroup switch-based LAN architectures. The association contends that this fiber-optic network scheme ideally reduces equipment costs as well as power, cooling, installation, and floor space requirements. "Passive Optical LAN serves as the optimized means to deliver voice, video, data, wireless access, security and high-performance building automation for the federal government and commercial enterprise," states the association's website. "Passive Optical LAN saves money, energy and space.
"With data and video consumption forecast to grow between 7-10x in the next few years, the demand for highly cost-effective and high-quality voice, video, and data continues to grow in the enterprise LAN market space, making passive optical LAN an appealing solution to address current and future bandwidth demands," comments Nav Chander, research manager, enterprise telecom at IDC, via an APOLAN press release. "The APOLAN will provide valuable education and guidance to those considering this type of networking solution, and I expect they will serve as strong advocates for its global adoption."
At the association's founding meeting this past March, APOLAN members settled the group's bylaws and elected Corning's Dave E. Cunningham president and chairman of the association. "The deployments of passive optical LAN to date have demonstrated significant cost and performance advantages compared to traditional Ethernet designs, and the optical foundation 'futureproofs' the network for any new bandwidth demand--a clear advantage over existing copper solutions," contends Cunningham in the same press release. "Participation in the APOLAN is open to all organizations interested in leveraging passive optical networking to revolutionize the way local area networks are designed, deployed, and managed."
Other APOLAN executives elected at the March meeting include: John W. Short, IBM, vice president; Joseph D. Marmion, Tellabs, secretary; John Winship, SAIC, treasurer. Joining Cunningham on the board of directors were board chair-elect S. Blaine Overstreet of SAIC and directors Jeffery H. Jones, IBM; Ryland J. Marek, 3M; Thomas C. Ruvarac, Tellabs; Brian O'Connell, TE Connectivity; and Brian Caskey, Zhone.
---
Optical splice, distribution enclosure
The LightLink 580 Optical Splicing and Distribution Enclosure from AFL is a solution for organizing, splicing and interconnecting fibers in a variety of broadband, distribution and commercial applications, the company says, including Metro Ethernet/business service applications and cell backhaul. The LL-580 can adapt to a variety of outside plant applications, AFL says, and a full complement of sealing options is available on interchangeable top and bottom entry plates, allowing the enclosure to be used with water-tight conduit fittings or a direct seal against fiber cables with a grommet system.
LGX adapter plates within the enclosure allow for splitter or WDM-based modules to be installed alongside interconnect adapter plates that express through or originate cable drops from the enclosure. When an application calls for a hard-spliced solution, a universal splice tray allows for up to 60 single-fusion or 288 mass-fusion splices to be organized and stored. These features and functionalities are protected by the weather-proof, lockable enclosure's design, which allows installation wherever it is needed. (Editor's note: This product appeared in our August issue's "Product Focus" section, in which it was misidentified as a splicer rather than an enclosure. We apologize for the error.) ::
More CIM Articles

Archived CIM Issues