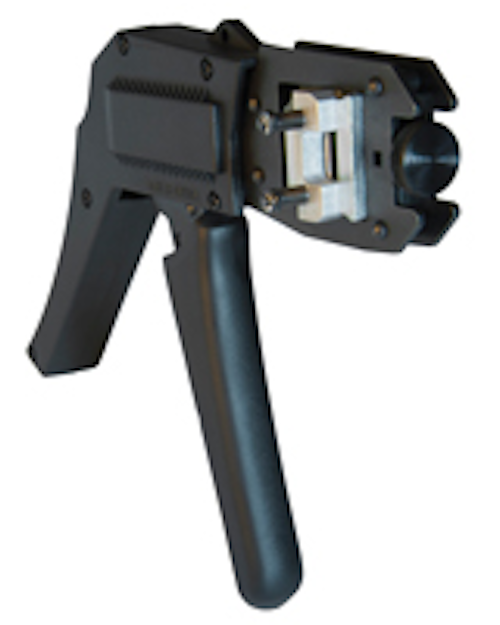 From the May, 2013 Issue of Cabling Installation & Maintenance Magazine
Compiled by Matt Vincent
---
Precision crimp tool terminates Cat 5e/6 modular plugs
Platinum Tools has released its EZ-Viking crimp tool, which the company says "was developed to meet the needs of the most discerning and quality sensitive [cabling] installation professionals, and to surpass the most demanding network and data communication performance standards" in the data center, aerospace and broadcast markets. "This professional crimp tool is precision-manufactured to the highest international standards and delivers the highest quality and consistent modular plug terminations available in the market today," comments Lee Sachs, Platinum Tools, Inc. president and general manager.
Key features of the EZ-Viking crimp tool include: terminates EZ-RJ45 Cat 5e/6 regular and shielded (external or internal); parallel action for precision crimping; optimizes termination of Cat 5e and Cat 6 shielded connectors; high leverage ratchet action ensures full crimp cycle; highest quality/durability with a minimum of 50,000 cycles; zero flex frame prevents torque loss during the crimping cycle; tool steel die provides 360 degree of connector support during crimp; tool flushes trim on the EZ-RJ45 extended conductors.
Made in Sweden, the crimper is factory set with a precise eccentric cam adjustment function to guarantee performance, and features a safety release. It is priced at $585. "We will continue to innovate and improve our unique 'EZ' family of connectors and compatible tools," concludes Platinum Tools' Sachs. "Products designed to increase an installer's efficiency have been the key to our success and they will continue to dominate our product line in the future."
---
Aquantia hits 1M 10GBase-T-port milestone
Integrated circuit (IC) developer Aquantia recently announced it has shipped a cumulative 1 million 10GBase-T ports. "The trends toward mobile, video and cloud continue to accelerate, creating an unprecedented migration and consolidation of data into large-scale data centers," Aquantia said when announcing the milestone. "Simultaneously, the virtualization of servers continues to increase rapidly, creating even more demand for faster LAN interfaces. In March 2012 major server OEMs released a new class of 10GBase-T-capable servers using the powerful Xeon E5 processors, creating a combination of high-performance processing and high-speed I/O, allowing the deployment of a new generation of 10GE infrastructure. The launch of these 10GBase-T servers, together with a broad range of 10GBase-T-based switches marked the beginning of the transition of this technology to mass deployment."
Jag Bolaria, senior analyst at The Linley Group, said, "Those trends, combined with momentum like Aquantia's 1-million-port milestone, indicate that the ecosystem is now in place and adoption of 10GBase-T is poised to surge. By capitalizing on the industry's transition to 10 Gigabit Ethernet, Aquantia has quickly established itself as the leader in 10GBase-T semiconductors."
Aquantia's president and chief executive officer Faraj Aalaei commented, "The economic and technical barriers to end-user adoption of 10GBase-T have been overcome, and 10GBase-T is moving to large-scale deployment. We are thrilled to have passed the 1-million-port milestone, and would like to thank all our customers and partners that have contributed to this successful ramp, and have put their faith in Aquantia's technology and leadership. We look forward to the continuing acceleration of the 10GBase-T market, which we are dedicated to serving with our industry-leading products.
"Assisted by Moore's Law, we continue to integrate more features, and reduce power consumption which will further accelerate the adoption," Aalaei continued. "It is the same reason that Gigabit Ethernet and Fast Ethernet were widely adopted in the past. History repeats itself."
In its announcement, Aquantia also stated, "As more products from OEMs have recently been made available, the growth for 10GBase-T is set to accelerate in the coming quarters, as evidenced by the latest forecast from Crehan Research, which is projecting that more than 5 million 10GBase-T ports will ship in the year 2013. The combined market share of data center-class switching OEMs having a 10GBase-T offering for their core products now stands at a staggering 95 percent, completing the swath of server products offered with that interface."
---
Six-port M12 junction box
The six-port M12 passive junction box from Turck was designed to integrate multiple devices into a single unit, the company explains.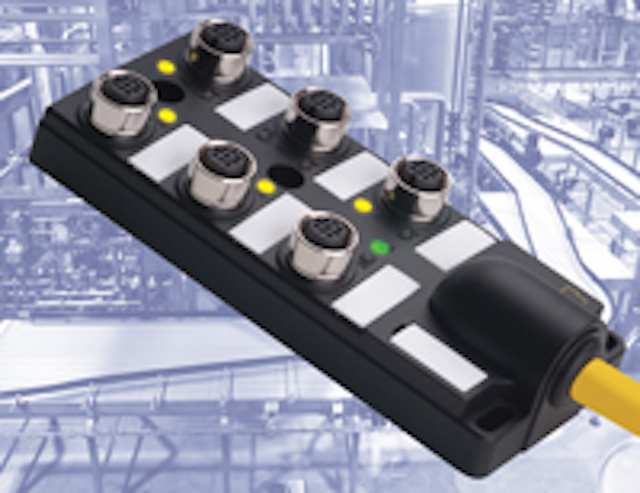 "Featuring a compact, low-profile design, the six-port model allows simple installation in diverse factory automation applications," the company said when announcing the product, "ranging from packaging and automotive to material handling and mobile equipment."
The box accommodates one or two discrete signals per port and can consolidate several devices in an area to one device—which is then connected to a controller via a single cable. "This eliminates each device requiring its own individual cable, delivering a more-cost-effective, streamlined connectivity solution," Turck added.
The company's connectivity product manager, Jeff Schoenberg, commented, "Offering flexible integration capabilities, the new six-port M12 passive junction box offers our customers dependable connectivity performance in virtually any industrial or factory-automation application. Plus with a compact, fully encapsulated housing, the junction box ensures easy installation and superior strength and ingress resistance in harsh environments."
---
TIA's Fiber Optics LAN Section becomes Fiber Optic Technology Consortium
The Telecommunications Industry Association's (TIA) Fiber Optics LAN Section has changed its name to the Fiber Optic Technology Consortium (FOTC). Rodney Casteel, who chairs the group, commented, "Our new name better reflects our evolving scope. There is so much opportunity now in the use of fiber-optic technology beyond the local area network [LAN] that it made sense for our group to embrace those changes. Fiber-based solutions are now integral to campus environments, data centers and other emerging applications. We are working to disseminate information about them all."
The FOTC has been part of the TIA since 1994 when it was formed as part of the TIA's Fiber Optics Division. "Our mission has stayed consistent," explained Casteel. "We represent technology leaders committed to providing the most current, reliable and vendor-neutral information about fiber optics and related technologies for advancing new and better communications solutions."
He added that in addition to the change in scope, the new name better describes the way the group works. "The word 'consortium' also more accurately describes the collaborative nature of our group. We are companies who are working together to provide an educational resource to the industry. There are so many questions about the technology that offering a unified vision from several companies is meaningful."
In addition to sponsoring educational webinars, the FOTC maintains a website, which houses white papers, fiber FAQs, presentations, technology information, standards information and the Consortium's interactive Network Architecture Model. The model allows users to compare different standards-approved architectures—hierarchical star, centralized cabling and fiber-to-the-telecom-enclosure—in ways that allow users to decide which approach works best for their needs. The model also includes information about both fiber and copper media.
"Our Network Architecture Model is really an educational tool," Casteel explained. "It helps people understand the choices and tradeoffs that are possible using different architectures." He also said the Consortium is currently updating the model and hopes to release a new version in 2013.
---
Dell introduces 10GBase-T top-of-rack switch
In conjunction with other technology releases, Dell recently introduced a 10GBase-T top-of-rack switch. The S4820T switch "is purpose-built for deployment in high-performance data center and cloud computing environments," Dell said when making the introduction in February, "leveraging the popularity of twisted-pair copper cabling and providing the right mix of scalability, performance, operational simplicity and cost-effectiveness."
The switch incorporates the Force10 operating system. Dell acquired Force10 in 2011. The switch is designed to support Layer 2 and Layer 3 functionality, the company noted. Dell described the S4820T's characteristics and features as follows.
10GBase-T connectivity – for migration from 1G to 10G servers, "especially for customers looking to consolidate server I/O at 10G."
LAN/SAN convergence – the switch "is ideal for customers aiming to consolidate LAN and SAN traffic over a common DCB [Data Center Bridging]-enabled 10G switching fabric and is one of the first copper-based 10G switches to support Fibre Channel over Ethernet using twisted-pair cabling." Dell added the switch is being lab-tested by vendors of network interface cards and converged network adapters.
High-performance fabric uplinks – The switch "is equipped with four 40G uplinks providing for high-speed fabric connectivity enabling scalable multi-rack deployments demanded by larger customers," Dell concluded.
Alan Weckel, senior director for Dell'Oro Group, commented, "We expect the Ethernet switch market to experience two significant years of market growth in 2013 and 2014 from the migration of servers toward 10 Gigabit Ethernet. We believe that in 2013, most large enterprises will upgrade to 10 Gigabit Ethernet for server access through a mix of connectivity options ranging from blade servers, SFP+, SFP+ direct attach and 10GBase-T."
---
10G fiber-optic infrastructure for small cell networks
TE Connectivity recently introduced its Serial Link Combined, a 10-Gbit/sec optical-transport product that the company says reduces the amount of fiber needed in a small cell network. The Serial Link Combined (SLC) "is a CPRI rate muxponder that can support up to 225 MHz of spectrum over a single fiber pair," TE Connectivity explains. "The SLC combines up to three, 3.072-Gbit/sec fiber links to a single 9.8304-Gbit/sec singlemode or multimode fiber pair." Furthermore, each SLC chassis supports four of these links, for a combined 900 MHz of availability transport capacity.

As TE Connectivity further explains, the system works well for multiband and multi-operator mobile networks "where it is necessary to transport multiband RF to a designated service area, such as a large public venue or urban core, where there is high sectorization and capacity strain from the network."
The amount of fiber needed for these links can be further reduced via wavelength division multiplexing (WDM), coarse WDM (CWDM) and dense WDM (DWDM). The system "works with any solution that transports at the 3.072-Gbit/sec data rate, including TE's digital DAS solutions or remote radio heads, and small form pluggable [SFP] and SFP+ optical transceivers to transport high amounts of capacity several kilometers away," the company says.
TE Connectivity sums up the SLC's benefits in mobile networks as follows: 1)Reduces fiber needed from up to three fiber pairs (six strands) to a single fiber pair (two strands); 2) Reduces fiber-leasing requirements, thereby reducing operational expenses; 3) Each chassis supports four, 10-Gbit/sec links; each of these 10G links supports up to 225 MHz of RF spectrum; 4) Allows for the reuse of existing fiber infrastructure.
---
OFS develops new fusion splicing method
At Photonics West 2013, fiber-optic network products specialist OFS announced a successful fusion splicing of silica fiber and sapphire fiber using the company's standard S178 portable fusion splicer. A new splicing method overcomes traditional barriers to splicing these fibers caused by the difference in their physical properties, including differences in thermal expansion coefficients and the 200ºC difference in their melting points.
Dr. Tom Liang, an OFS engineering manager based in Norcross, Georgia, worked closely with The Ohio State University to develop the special splicing method after months of investigation and teamwork. The technology development is a major step toward extending the commercial application of sapphire fibers to extremely high temperature instrumentation, says OFS.
Sapphire fibers can be used for optical sensing in harsh environments and for laser delivery in medical applications. Some examples of sapphire fiber-based sensors include fiber Bragg gratings that can be inscribed into the sapphire fiber, and sapphire fiber-based extrinsic Fabry-Perot interferometric sensors. Sapphire fibers offer excellent mechanical strength, hardness, corrosion resistance, and a high melting point (2050 deg. C). They are used in areas where other instrumentation is not considered acceptable due to geometric constraints, electromagnetic interference, chemical or radiological exposure, or risk of explosion or corrosion.
The major drawbacks to the use of sapphire fibers has been their high optical attenuation and their high cost, both of which have limited the fiber length between the optical sensor and detector. The new splicing technique allows low-attenuation silica fibers to act as a lead-in fiber to significantly reduce the total optical attenuation, says the company.
---
Forecast: Wireless LAN market will expand 49 percent in 5 years
A new market report by networking and telecommunications industries analyst firm Dell'Oro Group reveals that overall wireless LAN market revenues are forecast to exceed $11 billion by 2017, which is nearly 50 percent greater than 2012 revenues.
Emerging trends expected to drive this remarkable growth include deployment of Service Provider WiFi (SP WiFi), the 802.11ac upgrade cycle, cloud-managed WLAN, consumer video over WiFi, and the bring-your-own-device (BYOD) trend. In addition, there has been a shift in enterprise application development toward mobile devices, finds the study.
"Today's enterprise applications are now built for mobile devices, enabling workers to be nomadic," points out Chris DePuy, vice president at Dell'Oro Group. "The emphasis on mobile devices places new demands on the corporate wireless infrastructure. It also forces companies to maintain connections to employees while they traverse to cellular networks, and drives the need to apply consistent access rules for both Ethernet and wireless access systems. We see continued innovation at the edge of enterprise networks that will drive continued investment in both wireless equipment as well as access management infrastructure."
Dell'Oro Group's five-year forecast report offers a complete overview of the wireless LAN industry, covering the outdoor mesh nodes, enterprise, and SOHO product segments and the Service Provider WiFi market. Tables contain manufacturers' revenue, average selling prices, and unit shipments by the following wireless standards: 802.11b, 802.11g, 802.11a/g, 802.11n and 802.11ac.
The report also details why the enterprise segment will grow faster than SOHO—and exceed it—during the forecast period. Also included in the report are estimates on total SP WiFi units and revenue forecasts, and an analysis and current breakdown of the cloud-managed addressable market by vertical industry.
---
Report: Data centers now more-closely scrutinizing costs associated with risk aversion
A short report from DCD Intelligence, the research arm of DatacenterDyanamics, points out that data center administrators previously unconcerned about the costs associated with risk aversion are now taking such costs into consideration. As a result, they are now taking a harder look at their real risks and making budget-based decisions accordingly, in contrast to the previous common practice that probably amounted to overspending.
When announcing its short report titled "International Data Center Strategies," DCD Intelligence quoted a major international pharmaceutical company executive as saying, "When times were good money was no object and we were extremely risk averse. If we needed to have two of everything, we had two of everything. We're now more willing to accept risk than we ever have been."
The researcher interviewed 30 senior personnel responsible for their organizations' data center strategies. DCD Intelligence's managing director Nicola Hayes said, "Since the global financial crisis, cost and budget have become new industry watchwords and particularly in the context of international data center strategy these factors are becoming increasingly important. A wide range of factors are taken into consideration when crafting a strategy, yet according to our sources cost has traditionally resided towards the bottom of a long list of considerations."
That is changing, the researcher says, with cost moving to a far higher position on the agenda than it had been in previous years. The research conducted for the report "strongly indicates that companies are more willing to take on risk than they were before the crisis," DCD Intelligence said. "Many are also undertaking or considering a program of consolidating existing facilities and considering alternatives to building new 'owned' data centers. Economics are even forcing some to consider, possibly for the first time ever, reducing the amount of available data center capacity."
Hayes pointed out, "All of this is not to say that companies are taking unnecessary risks. Indeed it would appear that for the past decade companies have been overestimating risk-based concerns since when money was readily available this was the more cautious approach."
To that point, the research also indicates a move away from building Tier 4 facilities across the entire data center footprint. "Now, even where a high degree of resilience is warranted, a Tier 3 facility is being looked on as sufficient to save on the significant cost of building a Tier 4 facility," DCD Intelligence says—adding that its sources "have indicated that it can be more effective to spend less money on highly redundant data centers and build more Tier 2 facilities, while also paying more attention to the application level."
Hayes emphasized the executives' overall concern for applications: "There is a trend towards building-in resilience at the application layer. As most large organizations operate hundreds or thousands of applications, it would be difficult to predict how they interact with each other. Application resiliency is still in its early stages."
---
Enclosure protects wireless access points, DAS equipment
The Model 1024-00 is the latest addition to Oberon's line of NEMA 4 enclosures. The compact NEMA 4x enclosure is designed to protect external LAN wireless access points with internal or external antennas. "Body-integrated or small detachable antennas fit inside the enclosure," the company explains. "The rugged polycarbonate enclosure is transparent to wireless signals, providing physical protection and full wireless performance at the same time."
The enclosure protects against rain, dust and physical impacts—all threats to wireless networking equipment—in outdoor or indoor environments.
The 1024-00's hinged cover provides molded-in padlock hasps for locking, and an interior panel for attaching the access point. Covers can be opaque or clear, and can be painted to ensure the enclosure remains inconspicuous and/or meets aesthetic requirements.
The enclosure is available with pole-mounting brackets, weatherproof cord grips, and outdoor-rated WiFi and distributed antenna system (DAS) antennas.
---
BICSI withdraws from STEP Foundation
In a letter to BICSI membership on February 12, the association's president Jerry Bowman broke the news that BICSI has withdrawn its involvement in the STEP Foundation. BICSI had become a sustaining member of the STEP Foundation in November 2011, the letter said. "Becoming a member of STEP was a continuation of BICSI's effort to leverage the increasing focus on sustainability that we began with the Green Building Technology Alliance, and had the promise of enabling BICSI to add programs, publications and services to our educational and credentialing portfolio," Bowman's letter said.
Bowman's letter described the original STEP Foundation mission as being "to bring sustainability to the process of planning, designing, integrating and operating technology systems, as well as to reduce the long-term environmental impact from technology deployment." Furthermore, a STEP sustainability rating system was in the plans, said Bowman, and "STEP membership would require a manageable start-up investment by BICSI."
The letter then explained that STEP's board of directors—which included BICSI's executive director and chief executive officer John Clark Jr. as well as its past president Brian Hansen—engaged in a months-long set of strategic planning activities. "During this process it has become evident to us that STEP's direction was changing and the new direction was significantly different from the original STEP concept, not consistent with our BICSI sustainability vision and not in the best interest of our members," Bowman said. With these differences in vision, BICSI's board of directors voted during the association's winter conference in January to withdraw from the foundation. Bowman added, "Early indications are that BICSI's withdrawal from STEP will not hurt our relationship with InfoComm, TIA, CompTIA and CCCA, and we intend to continue working with them in the future."
Activities of BICSI's STEP Committee have been suspended, Bowman explained to BICSI membership, "until we have a new direction for our sustainability efforts." Bowman then commended the efforts of Hansen and the STEP Committee, saying they "have worked very hard, and I wanted to express my personal thanks for Brian's leadership and the exemplary way he has represented BICSI on the STEP board of directors."
BICSI's U.S. Western Region Director Larry Gillen has been appointed to head a Sustainability Task Force within BICSI, "with the mission of exploring options that will enable BICSI to continue to provide industry leadership in the sustainability arena," Bowman noted, adding that he will provide updates to members as the efforts of the Sustainability Task Force take shape.
---
Thin power and data distribution enclosure
The Snake Box is an "ultra-thin enclosure for super-low-profile access floors," according to its manufacturer Snake Tray. The box delivers power and data directly to a workstation. Data and power receptacles are built into the 1.6-inch-height enclosure. Snake Box enclosures can be customized to meet users' specifications, the company notes.
---
Environmental monitoring system for telecom rooms
RF Code, which provides asset-management and environmental-monitoring (EM) solutions for data centers, recently made available an EM bundle tailored to telecommunications closets and distributed networks. "Telecom closets are the essential spokes to the hub of the data center," the company said when announcing the system's availability. Furthermore, it acknowledged, in many cases the telecom closet really is just that—a closet—far from an ideal environment for networking equipment.
"Geographically distributed offices, departmental processing systems, critical applications and intra-company connectivity are all located in rooms not originally designed to house environmentally sensitive technology."
The company's chief executive officer Mitch Medford said, "The challenge faced by the engineers in charge of network and wiring closets is as tough as that of their colleagues in the data center. In their case, however, they often don't have the power and cooling infrastructure to monitor and maintain the necessary environment for this critical equipment."
The EM bundle that RF Code has packaged for distributed network and telecom closets includes all sensors and readers required to ensure that the conditions affecting power and cooling, as well as the availability and performance of the systems, are monitored from any remote or local location.
Medford added, "These rooms are critical to the performance of organizations but are difficult to monitor and control." He said his company's "economically priced monitoring bundle will reduce costly downtime, improve efficiency and improve overall awareness of systems performance."
The company's asset management and environmental monitoring solutions for data centers provide live data to many data center infrastructure management (DCIM) platforms, acting essentially as an overlay to these DCIM systems as opposed to a competitor of/alternative to DCIM. RF Code's offerings also enable automated facilities management through integration with building management systems.
The company also provides solutions to markets including industrial, where, as RF Code explains, "companies depend on real-time visibility of assets and must ensure that fluctuating conditions throughout a supply chain do not destroy products."
---
Fiber blower for enterprise and FTTH installs
Condux's Gulfstream 200 micro fiber-optic cable blower can be used in enterprise and fiber-to-the-home installations. The blower "provides lightweight, single-hand operation for installation of micro fiber from 0.88mm to 5.5mm in diameter, in micro duct ranging in size from 3mm to 12.7mm," the company said. It can be powered by a small compressor, at a 175-psi maximum.
"Electronic controls, powered by a small rechargeable battery, help protect the fiber during installation," Condux added, "providing push force, distance and speed control adjustments. The unit's machined aluminum construction provides a lightweight profile with long life and durability," the company said. ::
More CIM Articles

View Archived CIM Issues