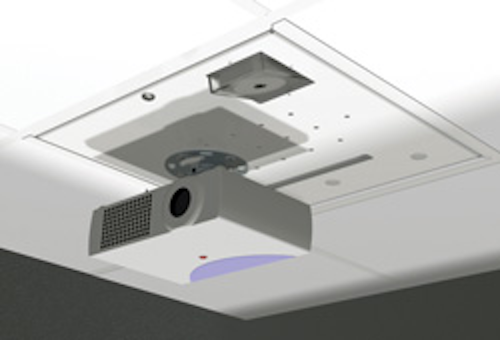 From the August, 2013 Issue of Cabling Installation & Maintenance Magazine
Ceiling-tile telecommunications enclosure
The Model 1074-PROJ is a locking 2x2-foot ceiling-tile telecommunications enclosure designed for mounting multimedia projectors and gateways, such as the Apple TV, in a ceiling. The enclosure also can secure other AC-powered in-building audio/video, networking and wireless components, including WiFi access points, distributed antenna system remote access units, smaller access switches, and optical network terminals. The Model 1074-PROJ has attachment points for an included universal projector mount, and brackets for rack-mountable networking components. Oberon says the aesthetic, white powder-coated aluminum enclosure has openings in the door for antennas and projector cabling, as well as a plastic insert for the multimedia gateway.
Oberon
www.oberonwireless.com

Optical splice, distribution enclosure
The LightLink 580 Optical Splicing and Distribution Enclosure from AFL is a solution for organizing, splicing and interconnecting fibers in a variety of broadband, distribution and commercial applications, the company says, including Metro Ethernet/business service applications and cell backhaul. The LL-580 can adapt to a variety of outside plant applications, AFL says, and a full complement of sealing options are available on interchangeable top and bottom entry plates, allowing the enclosure to be used with water-tight conduit fittings or a direct seal against fiber cables with a grommet system.
LGX adapter plates within the enclosure allow for splitter or WDM-based modules to be installed alongside interconnect adapter plates that express through or originate cable drops from the enclosure. For hard-spliced solutions, a universal splice tray allows for up to 60 single-fusion or 288 mass-fusion splices to be organized and stored.

X-Series server and network cabinets
Belden's X-Series cabinets are designed for high-density hosting of servers and switches in data centers, and are available in modular and scalable options that allow enclosure systems to host multiple generations of IT equipment. The air seal around the front-mounting rails allows optimal separation between cold supply air and hot return air, which is key in high-density hosting, Belden points out. Additionally, a chimney containment system—either passive or fan-assisted—maximizes energy efficiency.
The networking-switch enclosure is available with switch-specific configuration for simple and fast deployment, Belden says, and the cabinets are available with dual swing doors for unobstructed access to networking and power cables. High-perforation doors combine with flexible cable-management options to allow for low-resistance airflow.
Belden
www.belden.com

Wireless point enclosures
The PanZone Wireless Point Enclosures from Panduit are designed to protect a variety of Aruba Wireless access points from tampering, vandalism and theft, in compliance with industry standards such as FIPS (Federal Information Processing Standards), HIPAA (Health Insurance Portability and Accountability Act), NIST (National Institute of Standards and Technology)and PCI DSS (Payment Card Industry Data Security Standard). As Panduit explains, failure to comply with these standards may result in a loss of customer data, such as credit card information or user login, and in some cases may result in monetary fines.
The enclosures can be mounted directly to a hard ceiling or wall, or can be configured to replace a 2x2-foot ceiling tile with the use of a ceiling-mount bracket kit. Each enclosure has an RF-transparent cover that allows full transmission for internal-antenna models of wireless access points. When mounted per installation instructions, the enclosures are certified to UL 2043 for plenum spaces.
Panduit
www.panduit.com

12U H-Series enclosure
The CablExpress 12U H-Series enclosure is designed to replicate 64-port, high-density storage area network director-class switches, which, CablExpress explains, allows users to fully replicate their director-class switches in a main distribution area, as recommended in the TIA-942 data center standard.
The 12U offers increased spacing between ports compared to other options, CablExpress says, providing optimal usability and manageability. Other features of the 12U include low-loss components for improved performance, the manufacturer says, along with a design that allows fiber to remain secure as well as a slide-out labeling tray with one-to-one port mapping. The enclosure features stable spring couplers to minimize vibration, and molded, angled MTP brand couplers to facilitate rear cable management. The 12U H-Series enclosure is also available with 48- and 32-port modules to offer full port replication for any density.
CablExpress
www.cablexpress.com

F-Series TeraFrame
With the cabinet being an integral part of today's data center architecture, Chatsworth Products Inc.'s newest generation of F-Series TeraFrame features improvements that keep pace with modern enterprise data center environments, the company says. The F-Series TeraFrame Gen 3 is available in a range of standard sizes and configurations, and features an enhanced frame design, new sizes and panels, easier equipment-rail adjustment than previously available, and smarter airflow management, the company says.
TeraFrame Gen 3 also meets the new UL 2416 listing—which was developed specifically for data center cabinets—with standardized testing of 3,000 pounds and tested to four times weight capacity.
Chatsworth Products Inc.
www.chatsworth.com

Heavy-duty nonmetallic enclosures
Nonmetallic enclosure boxes from Arlington protect and secure power backups, security devices and other equipment in a debris-free environment, the company says. Made from UV-rated material, the boxes are available in three sizes—12x12x4 inches, 11x11x3.5 inches, and 7x8x3.5 inches.
The enclosures have multiple locking options. A knockout on the box's front can accommodate an optional cam lock. And a latch accommodates a padlock. The box also includes one-half- and three-fourths-inch knockouts on its top and bottom.
Arlington
www.arlingtonlowvoltage.com

12U industrial wall-mount enclosure
Tripp Lite's 12U Industrial Wall-Mount Rack Enclosure comes with a NEMA-12 rating, protecting equipment from falling dirt, dust, drips and splashes, the company says. It accommodates up to 12U of standard 19-inch rack equipment, and includes four intake fans to help pull air through the enclosure. This industrial rack enclosure has front and side panels with ventilating louvers, a sealing gasket around the door frames, and cable ports that allow cables to pass through while blocking the area around the cables to maintain the NEMA-12 protection. It comes fully assembled, which the company says enables quick installation.
Tripp Lite
www.tripplite.com
More CIM Articles

View Archived CIM Issues