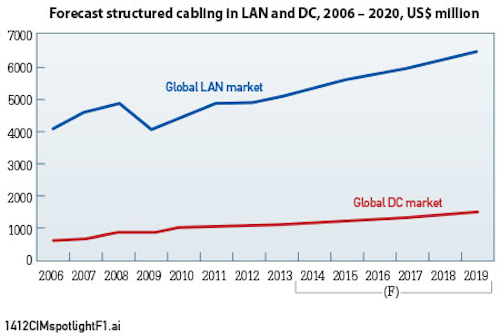 Drivers that push and pull the cabling industry are doing just that, making a future with both challenges and opportunities.
by Patrick Mclaughlin
Gaining a comprehensive perspective on the cabling industry's economic future is an ambitious task. The forces that push and pull the marketplace in any direction-up, down, even sideways-are many and varied. The construction of new data centers (mega or otherwise), churn and speed upgrades within enterprise networks, the placement of traditionally offline building systems onto data networks, and of course overall global economic forces all factor in.
It might be said that the market can be examined in "3D," looking at its direction (growing, shrinking, or plateauing), its drivers (the technological and economic forces pushing it in one direction or another) and its dynamics (what's taking place within the industry from technological and business standpoints).
Examining the cabling market
The market-intelligence operation of BSRIA (www.bsria.co.uk) has been making just such 3D examinations of the industry for approximately 15 years. BSRIA undertakes an annual review and forecast of the global structured cabling industry, and the research for its 2014 review/2015 forecast is underway as this issue is going to press. In early 2014 BSRIA presented its preliminary numbers for 2013 and looked ahead to forecast the current year. It said then that total global economic growth for 2013 was 2.4 percent, and pointed out some components of that growth that could be encouraging signs for structured cabling. For example, global real estate investment was increasing, with all regions of the world reporting growth. BSRIA forecast that the 2014 global economy would grow 3.6 percent, adding that in the United States, modest economic growth (2.8 percent total growth forecast for 2014) would continue in the housing and manufacturing sectors.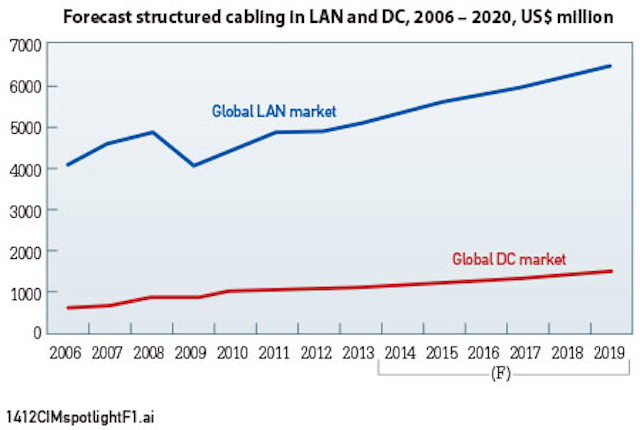 In late 2013 BSRIA published a forecast projecting the global structured cabling market will surpass $8 billion by 2020. Growth lines from that forecast for enterprise LANs (blue) and data centers (red) are shown here.
After laying that groundwork, BSRIA provided data on the global structured cabling markets for 2013. Cabling for enterprise local area networks (LANs) experienced growth of between 1 and 2 percent last year, while cabling for data centers grew 3.5 percent, according to BSRIA, for a total global growth of 2 percent. "Developing markets like India, Russia, Southeast Asia and Brazil suffered in 2013," the organization explained. "Structured cabling in data centers was stable, but LAN cabling decreased" in these geographies. China was the notable exception, it pointed out. Elsewhere, most mature markets around the globe experienced flat to moderate growth for 2013.
In late 2013 BSRIA published a study that charted the global structured cabling market through the year 2020, in which it concluded that by then the total market will exceed $8 billion. When announcing the study's availability, BSRIA said, "The structured cabling market is facing a turbulent time. Structured cabling in data centers continues to move toward the use of fiber. The number of smaller data centers that will use copper will decline as the penetration of cloud services increases and outsources become more prevalent."
Within that study, BSRIA said that in the time period covered, through 2020, businesses will increasingly shift from buying IT products to purchasing infrastructure-as-a-service and software-as-a-service. Both trends will increase the need for storage, and increase the demand for data center capacity. Additionally, the expected significant growth in WiFi traffic will mean more structured cabling used to wire access points. Convergence also will result in more cabling needed for Internet Protocol (IP) cameras, building management systems, access controls and other applications.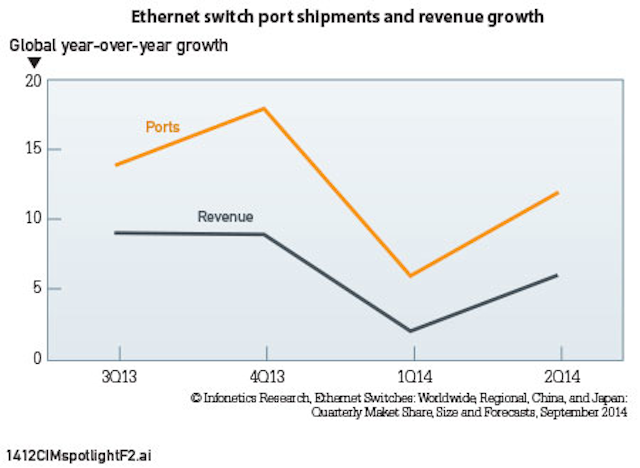 In a September 2014 report, Infonetics Research revealed that Ethernet switch port shipments are growing at twice the pace of revenue.
Enterprise markets face headwinds in that the number of outlets per desk, and overall number of workstations will decline, BSRIA reported. Additionally, for most enterprise-LAN cabling purchases, price will be a key factor. But those headwinds will be accompanied by enterprise-market tailwinds including growth in emerging markets, as well as the use of Ethernet networks to connect and even power other devices.
In May 2014 research firm IHS (technology.ihs.com) produced a report titled "Network Cabling - North America - 2014," in which it forecast 4.5-percent growth for the cabling market in this geographic region for the current year. The firm said the growth will be "driven by the movement to fiber in data centers and sales of newer Category copper." The study looks at copper and fiber cable and connectivity. Analyst and report author Sarah McElroy said two main product-mix shifts would affect this year's overall revenue growth: "Within both the copper and fiber markets, growth of older cable types is slowing or declining as customers transition to the newer technologies. And then in addition to that, there is also a very gradual shift that continues to occur from copper products to fiber products. Essentially, the market is evolving in two ways." In both transitions, consumers are transitioning to higher-priced products, IHS pointed out, which will support revenue growth.
When announcing the study's availability, IHS explained, "The North American copper market remains more than twice as big as the fiber market, but we forecast fiber to grow faster than copper in 2014, with growth rates of 6.2 percent and 3.8 percent respectively. While fiber solutions continue to be more competitive, manufacturers and standards boards continue developing copper solutions that provide increased quality and speeds.
"Data centers will continue to be the application with the largest penetration of fiber products," the firm said, echoing BSRIA's
earlier findings about the global cabling market. "Although IHS estimates that the LAN market for network cabling is about 1.4 times the size of the data center market, revenue from fiber products going into data centers has well surpassed revenue from fiber products going into LAN applications."
Directions and dynamics
While BSRIA and IHS produce market-intelligence information directly addressing structured cabling markets, other research and analyst firms dive deeply into some of the networking technologies and trends that are drivers of structured cabling consumption. Data center environments as well as a couple different wireless technologies are among those drivers, and are examined more closely herein.
Dell'Oro Group (www.delloro.com) analyzes several networking technologies, and in mid-October published its 2014 Data Center Disruptors Advanced Research Report. When publicizing the report's availability, the firm released and commented on some of its findings. "The Ethernet switch market is undergoing a technological transformation in the data center, driven by changes in data center networking," said Alan Weckel, a Dell'Oro Group vice president.
"It is clear that by 2020, data centers will look significantly different from today's. How users access data centers will be forever changed, as will the way enterprises deploy and manage them, and the vendors that operate in this market. The evolution towards 10 GE [10 Gigabit Ethernet] in the enterprise and 25 GE in the cloud is an opportunity for data center vendors and providers to garner an increased amount of IT spending, with vendors and providers that understand and embrace the technology change to virtualized data centers running at 10 GE or higher speeds having the opportunity to see their shares of IT spending increase and their market positions improve in the next several years."
Infonetics Research (www.infonetics.com) also recently reported on the market for Ethernet switches-including unmanaged, web-managed, and fully managed fixed and chassis switches by port speed-which it does quarterly. The firm's directing analyst for enterprise networks and video, Matthias Machowinski, commented when releasing its 2Q 2014 report, "The Ethernet switch market recovered in the second quarter of 2014 after a slow first quarter, but revenue growth remains challenged as vendors compete aggressively against each other, white-label solutions gain greater traction, and large data center operators negotiate more favorable terms. So while overall switching demand remains healthy, revenue is growing at only half the rate of port shipments."
Infonetics and Dell'Oro also both study the wireless LAN market, which as stated previously is likely to drive the need for cabling "backhaul" to support high speeds. Like it does with Ethernet switches, Infonetics reports quarterly on wireless LAN equipment and WiFi phones, and its 2Q 2014 report was the most recently published as this article was being written. Infonetics' Machowinski once again reported mixed results for the quarter: "Despite access point shipments reaching record levels, revenue growth in the wireless LAN market has been relatively weak so far this year due to temporary declines in service provider and K-12 spending, 802.11ac failing to lift average selling prices, and the rise of lower-cost solutions, including controller-less solutions.
"That said, we expect the wireless LAN equipment market to accelerate in 2015 as spending by service providers and education comes back, 802.11ac reaches critical mass, and Wave 2 products enter the market."
Infonetics pegged total global wireless LAN equipment spending at $1.2 billion in 2Q 2014, which was up 4 percent from the year-ago period.
Dell'Oro's quarterly report indicated similar growth, although slightly rosier. Chris DePuy, vice president of wireless LAN research with Dell'Oro, summarized, "In their fifth quarter of shipments, enterprise-class 802.11ac access point revenues nearly doubled versus the prior quarter. Cisco leads with 54 percent of 802.11ac enterprise-class revenues, followed by Aruba with 20 percent and a near dead-heat between Aerohive, Meru and Xirrus for third-place revenue share. Interestingly, the SOHO market is experiencing a slower uptake of 802.11ac while the enterprise-class market is adopting it faster."
Overall Dell'Oro reported 6-percent year-on-year revenue growth for 2Q.
The other wireless
As we have covered multiple times in various forms, distributed antenna system (DAS) networks are a developing technology providing new opportunities for the installation of cabling in customer-owned facilities and campuses. ABI Research (www.abiresearch) is one of several firms that tracks the enterprise DAS market, and recently published two documents analyzing it.
In mid-September ABI released "DAS Rises to the Small Cell Challenge," in which it said "active DAS challenges small cells on the road to 5G." When announcing the report, ABI said, "There is fierce competition between DAS and small cells vendors for coverage and capacity in the US$8.5-billion enterprise in-building wireless systems market, with each vendor having distinct strengths and weaknesses."
DAS technology is challenging that of small cell "by building on their inherent advantages of neutral host and macrocell parity, and adding features such as traffic steering and multiple network convergence on the same in-building backhaul," the research firm noted. "They also challenge small cells by tackling one of the main drawbacks-cost per square foot of installation and opex needed for system cooling and operation."
Nick Marshall, research director for networks with ABI Research, commented on the emergence of hybrid systems, which merge characteristics of DAS and small cell. Marshall said, "These systems centralize the baseband function like DAS but use cloud RAN techniques to distribute signals over dedicated fiber to remote radio heads in the building. Innovations such as these are laying the groundwork for in-building 5G."
In mid-October ABI published "Next Generation In-Building Wireless: Converging, Virtualizing and Balancing the Road to 5G," a companion to its previous document that the firm says "continues the discussion of innovations in DAS, distributed radio systems, and small cell architectures for medium to large building verticals."
Marshall said, "In order to be included with the features inherent in the progression of 3GPP [3rd Generation Partnership Project] standards, ABI Research asserts that in-building wireless systems of the future will deliver high-bandwidth backhaul and fronthaul to accommodate the very high data rates inherent in LTE and LTE-Advanced. We also expect that DAS and small cells will virtualize as a means of partitioning architectures to accommodate available transport and reduce system complexity."
This article has taken an overview-style look at the landscape of global economic and technological factors influencing the extent to which the cabling market will grow, and those within it may prosper. Several drivers, some within and some outside of the cabling industry, ultimately will shape its future.
---
Patrick McLaughlin is our chief editor.