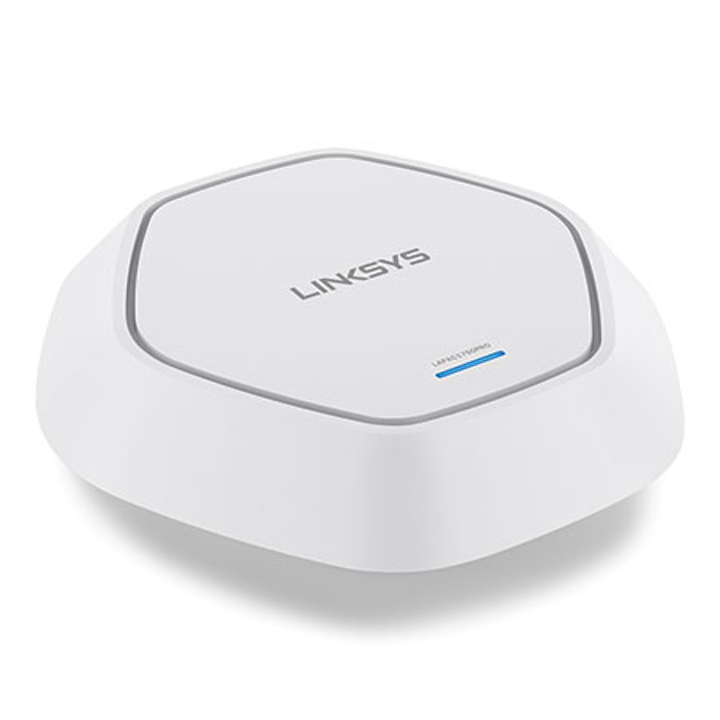 802.11ac access point for SMBs
The Wireless-AC Dual Band Access Point (LAPAC1750PRO), part of Linksys's Pro Series, "offers advanced features to equip small and medium businesses with more management capabilities and better performance at an affordable price point," the company said. "The new model supports cluster management to simplify management of multiple access points from a single interface, and a fully customizable captive portal for businesses to welcome visitors in a branded environment."
This and other Pro Series access points provide features specifically beneficial to small and medium businesses, LinkSys pointed out, including branded hotspots, redundancy and increased throughput with two Gigabit Ethernet ports, simplified management support clusters for up to 16 access points, connectivity supporting 802.11ac technology, and advanced security features.
With an MSRP of $499.99, the LinkSys Pro Series Wireless-AC Dual Band Access Point is available through distributors and resellers.
LinkSys, www.linksys.com
Lync-qualified 802.11ac APs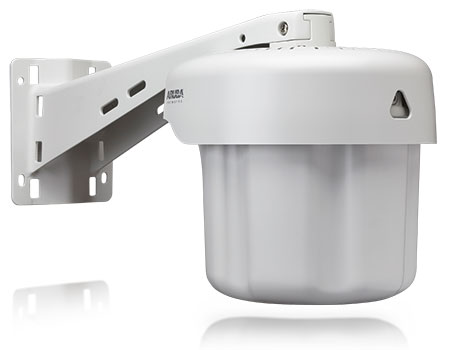 Aruba's indoor and outdoor 802.11ac access points have been qualified under the Microsoft Lync Server WiFi qualification program, Aruba recently announced. "The qualification program ensures that products conform to Microsoft's stringent guidelines for end-user voice and video quality," Aruba said. "With this qualification, enterprises of all sizes can now leverage the speed and reliability of Aruba gigabit WiFi to ensure predictable unified communications experiences."
The company added that its AP-200, AP-210, AP-220, and AP-275 series 802.11ac access points "are ideal for enterprises seeking cost-effective, reliable and high-performance wireless solutions on which to run Lync unified communications." The AP-275 is pictured.
Aruba Networks, www.arubanetworks.com
Articulating AP and antenna wall mount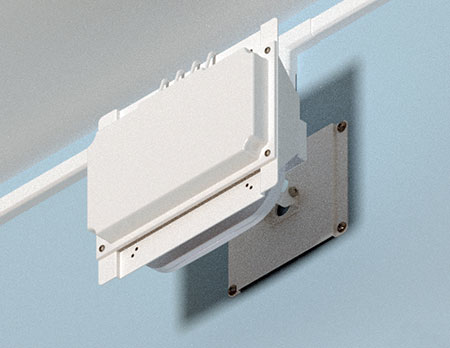 This two-axis articulating wall-mount bracket from Oberon Inc., Model 1013-00, can be placed directly over a data outlet. The access point and directional antenna are attached to the articulating wall mount, and the antenna can be pointed in any direction to achieve the desired wireless coverage. It is designed for Cisco and Aruba Networks access points, as well as those of several other vendors, Oberon said, adding that the mount is ideal for classrooms, auditoriums and stadiums where directional coverage is required.
Oberon explained that the Model 1013-00 can be used to mount the access point and directive (patch) antenna, from most manufacturers, on a wall or pillar. The mount can swivel on two axes to provide down-tilt and azimuth coverage as desired. The product can be mounted over a telecommunications outlet; it is textured, with white powder-coated steel construction. The mount is 11x9x6.25 inches and weighs 4.75 pounds.
Oberon Inc., www.oberonwireless.com
Handrail antennas for large public-venue WiFi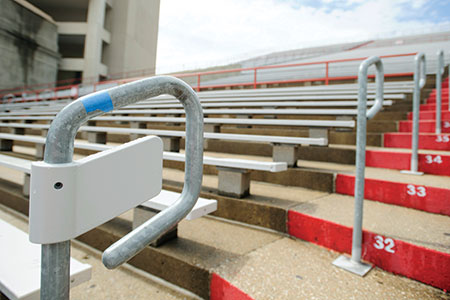 This new TerraWave antenna "can dramatically improve coverage and capacity in open stadiums and areas with high ceilings where antenna installation can be challenging," said its manufacturer Ventev. "The new Handrail Antenna provides connectivity to users for several surrounding rows," continued the company, which makes WiFi products and systems that can be used with most wireless access points.
"The tiny Handrail Antenna is a dual-band, 3dBi antenna with a 60/90-degree beamwidth," Ventev explained. "It is secured with a compact, water-tight polycarbonate enclosure that attaches to most handrails with a pipe mount and stainless-steel fasteners. It includes four low-loss cables to connect to the access point. To install, cables are inserted through a hole that is cut into the rail, and routed under the floor to connect to the AP."
Ventev, www.ventev.com/infra