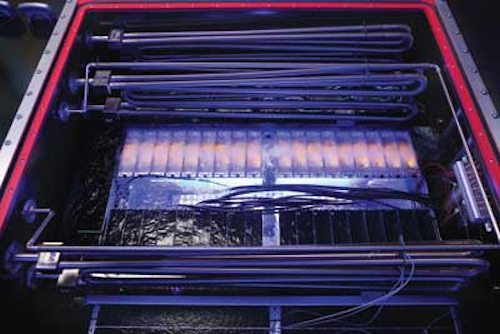 From the June, 2014 Issue of Cabling Installation & Maintenance Magazine
Compiled by Matt Vincent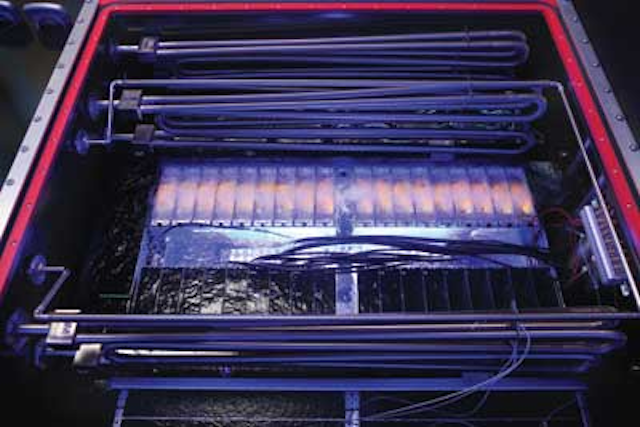 In collaboration with Intel and SGI, 3M recently announced its implementation of a fully functional supercomputer that uses its advanced two-phase immersion cooling technology, as pioneered by the company.
In a recent proof-of-concept demonstration, the SGI ICE X, the 5th generation of the world's purported fastest distributed memory supercomputer, and the Intel Xeon processor E5-2600 hardware are placed directly into 3M's Novec engineered fluid. The companies contend that the demonstrated technology leads to a smaller environmental footprint with optimal computing power. SGI's high performance computing technology, coupled with Intel's energy efficient processors, complement 3M's immersion cooling technology, which significantly reduces energy and water use and may set the stage for the future of data centers.
The companies note that, as the growth of the Internet of Things (IoT) spikes, so does the growth of data traffic in the cloud, which requires data centers to deliver more performance and storage with less energy consumption.
"We are thrilled with the work that our collaboration with SGI and Intel has produced," comments Joe Koch, business director for 3M Electronics Markets Materials Division. "We applaud them for their leadership in helping us find better ways to address energy efficiency, space constraints and increased computing power in data centers. These advancements are a significant stepping stone in accelerating industry-wide collaboration to optimize computer hardware design."
The 3M Novec fluid is an efficient dielectric that keeps the hardware in the demonstration cooled with minimum additional energy, maximum performance and better reliability. 3M claims that its two-phase immersion cooling technology can reduce cooling energy costs by 95 percent and reduces water consumption by eliminating municipal water usage for evaporative cooling. Heat can also be harvested from the system and reused for heating and other process technologies such as desalination of sea water.
This technique has been shown to require 10x less space than conventional air cooling, claims 3M, and eliminates air cooling infrastructure and equipment associated with conventional liquid cooling, making it cost effective for large-scale data center hubs. According to 3M, the technology also enables much tighter component packaging, allowing for greater computing power in less space and easy access to hardware with no residue. In fact, the company claims the system can enable up to 100 kilowatts of computing power per square meter.
In the "data center of the future" the SGI ICE X system can scale seamlessly from tens of teraflops to tens of petaflops, and across technology generations, while maintaining uninterrupted production workflow, asserts the company. It also minimizes system overhead and communication bottlenecks that can inhibit efficiency and scalability for a wide range of applications and customer needs.
"Through this collaboration with Intel and 3M, we are able to demonstrate a proof-of-concept showcasing an extremely innovative capability to reduce energy use in data centers, while optimizing performance," says Jorge Titinger, president and CEO of SGI. "Built entirely on industry-standard hardware and software components, the SGI ICE X solution enables significant decreases in energy requirements for customers, lowering total cost of ownership and impact on the environment. We are delighted to work with Intel and 3M on this demonstration to illustrate the potential to further reduce energy in data centers, something imperative as we move to a more data-intensive world."
By investing in advanced cooling technologies, companies such as Intel and SGI say they can explore hardware designs without the heat transfer constraints of traditional cooling, and with greater degrees of both cost and operational efficiency. The demonstrated installation is designed to prove the viability of the two-phase immersion technology using Novec fluids, and to validate open and futureproof platform designs.
"As the backbone of the data economy, modern data centers must increase the raw performance they deliver, but also do so efficiently by containing power consumption and operating costs," concludes Charles Wuishpard, vice president, data center group and general manager, workstation and high-performance computing at Intel. "Intel is continually innovating and improving microprocessor technologies to meet today's data center demands and is working with companies like 3M and SGI to explore advanced cooling technologies that improve energy efficiency in data centers, while also containing operating costs."
In-depth data acquisition and evaluation of the installation is currently underway. Additionally, the companies say they are working with the Naval Research Laboratory, Lawrence Berkeley National Labs and APC by Schneider Electric to deploy and evaluate an identical system with the intention to demonstrate the viability of the technology at any scale.
---
ICC adds rack-, wall-mount fiber-optic enclosures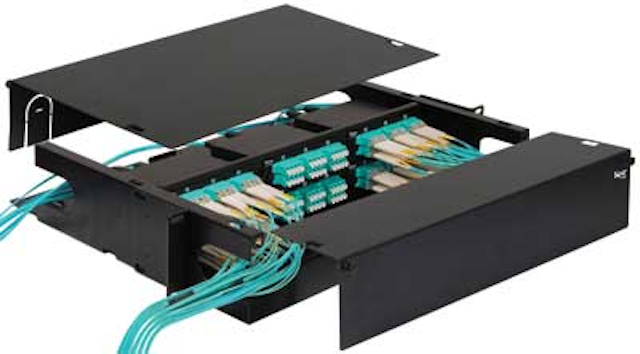 ICC has introduced a new "value line" of rack- and wall-mount fiber-optic enclosures, designed to suit budget-conscious projects without sacrificing important features. Built with powder-coated, heavy gauge steel, the enclosures are designed to protect fiber-optic cabling patched in data centers or telecommunication rooms. Each enclosure fits the maximum number of industry-standard adapter panels possible in a small footprint, says the company.
The rack-mount enclosures have removable front and rear covers, along with a sliding tray for quick access to service connections. They fit distribution racks with 19-inch widths; extension brackets are available to fit 23-inch cabinets. The enclosures come in versions for 1U (fits 3 adapter panels), 2U (fits 6 adapter panels) and 4U (fits 12 adapter panels). The wall-mount enclosure includes a lock and key on the front cover for security and fits 4 adapter panels.
All models allow multiple openings for cable entry and exit. Cable management spools are included for organizing cable slack. Optional splice trays are available for protecting delicate spliced connections. The enclosures are available from ICC distributors nationwide.
---
TIA developing Category 6A patch-cord test specification
The Telecommunications Industry Association's (TIA) TR-42.7 Engineering Committee on Telecommunications Copper Cabling Systems has initiated work on standards document TIA-568-C.2-2, which has the initial title "Balanced Twisted-Pair Telecommunications Cabling and Components Standard, Addendum 2: Additional Considerations for Category 6A Patch Cord Testing." According to a call-for-interest posted by the TIA, Addendum 2 to the 568-C.2 standard will introduce Category 6A patch-cord test requirements to allow test heads that are qualified to IEC 61935-2, to be used to qualify a patch cord to TIA 568C.2 Category 6A compliance.
The TIA explained, "TIA C6A test heads and ISO C6A test heads used for measurement of patch cords have slightly differing requirements. These differences cause negligible difference to measured patch-cord results, however they create a situation where a patch cord test head cannot be both TIA- and ISO-compliant. This causes practical difficulties in both laboratory and field measurements of cords. This addendum is intended to address these challenges by harmonizing compliance between the two sets of standards."
The TIA is actively seeking participation in this project; its call for interest indicated stakeholders may include network designers, installers, building owners, building tenants, field-tester manufacturers, patch-cord manufacturers, connecting-hardware manufacturers, laboratory test-equipment manufacturers, and cabling installers. Anyone interested in participating can email standards@tiaonline.org.
---
Westell Technologies acquires DAS, in-building wireless expert Cellular Specialties
Westell Technologies, a supplier of intelligent site and outside plant systems, announced that it has acquired Cellular Specialties, Inc. (CSI), a specialist in the design and development of in-building wireless solutions including distributed antenna systems (DAS) products and small cell connectivity equipment. The all-cash purchase price in the deal was $39 million.
CSI is known as a developer of in-building wireless connectivity solutions for 3G/4G cellular services. The company's ClearLink brand of high-performance, low-PIM in-building products is designed for DAS and small cell deployments. The CSI ClearLink products also include its Universal DAS interface trays (UDiT) line, as well as passive DAS interface units, system components, and antennas.
"Cellular Specialties is a great complement to the Westell solutions portfolio and an ideal fit for our corporate growth strategy," comments Rick Gilbert, chairman and CEO of Westell Technologies. "CSI excels in creating innovative products to continually move the in-building, distributed antenna systems, and small cell marketplace forward. Additionally, they have an effective management team and great relationships with customers, which will help Westell achieve our stated strategic and financial goals."
CSI's portfolio also includes digital repeaters and E911 and location-based enhancement solutions for wireless networks. The company had revenues of approximately $37 million for the 12 months ended December 31, 2013.
"Joining Westell enables us to become part of a team with a common growth strategy, ultimately benefiting our customers and employees," concludes Scott Goodrich, who will continue on as president of Cellular Specialties, Inc. "As part of Westell, we now have the opportunity to expand our market and, more importantly, our solution offerings, to provide a more-comprehensive DAS portfolio. The ability to intelligently monitor and manage the entire DAS infrastructure by integrating Westell's products into our wireless connectivity solutions will propel our customers to the network availability their clients demand."
---
Panduit's fiber-optic cabling aligned with Cisco's new 40G transceiver
Panduit announced that its Signature Core fiber-optic cabling system enables Cisco's 40G BiDi optical modules to reach 150 meters, and is the only multimode fiber that allows Cisco to achieve this capability today.
Cisco recently launched the new 40G Ethernet bidirectional optical module, dubbed BiDi, providing another option in addition to the 40G Ethernet QSFP+ optical modules. The 40G BiDi optical module supports 40G Ethernet over one pair of multimode fiber while allowing 40G Ethernet to be deployed using the exact infrastructure as 10G Ethernet (10GBase-SR). The 40G BiDi conforms to the QSFP+ Multi-Source Agreement (MSA).
According to the companies, using the Signature Core fiber-optic cabling system with Cisco's 40G BiDi optical modules gives data center network architects and managers another option for deploying 40G Ethernet in addition to 40GBase-SR4. Panduit notes that its Signature Core system compensates for both modal and chromatic dispersion to provide verified optical performance and signal integrity beyond 10/40/100-Gbit/sec Ethernet and 8/16-Gbit/sec Fibre Channel standards requirements.
Cisco contends that the BiDi modules reduce the cost of deploying 40G Ethernet by over 60 percent versus 40GBase-SR modules and do not require expensive components for their infrastructure to migrate to 40G Ethernet. When used with the modules, Panduit's Signature Core fiber-optic cabling is intended to provide a lower-cost alternative to the more-expensive singlemode fiber 40GBase-LR links within the data center.
The Signature Core Fiber Optic Cabling System includes trunks, patch cords, cassettes, and harnesses, which are all available now. "Panduit is proud to be part of Cisco's BiDi ecosystem," concludes Jack Tison, chief technology officer at Panduit.
---
Bluetooth-controlled LED outdoor lighting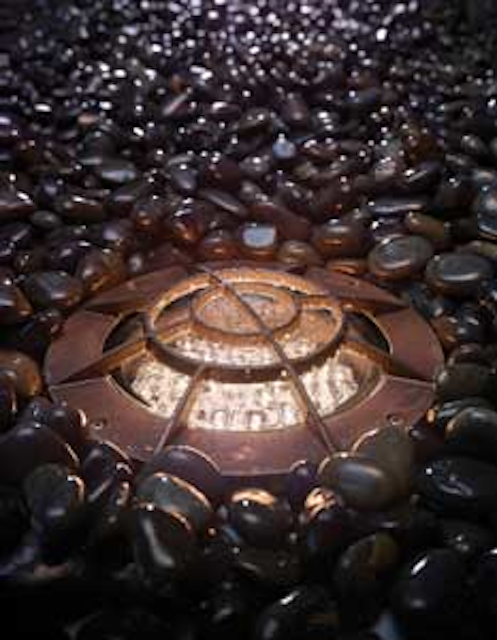 Hubbell Lighting announced the launch of Kim Lighting's LightVault 8, billed as the first outdoor LED luminaire controlled using Bluetooth wireless technology. The solid brass fixture, which features LED optics, uses high-speed Bluetooth technology to enable field aiming and dimming while offering control from a user's iPhone, Android or tablet device.
The LightVault 8 LED luminaire runs cool to touch (less than 40 degrees C); its LEDs have a life in excess of 100,000 hours. In addition to custom dimming and aiming using a Bluetooth-enabled iOS or Android device with Kim Lighting's LightVault 8 app, the light distribution can be customized using optional hex louver, prism lens and spread lens filters. The in-grade luminaire moves 15 degrees in any direction and offers variable dimming to 20 percent in 1-percent increments.
The LightVault 8's Bluetooth connectivity has allowed Kim Lighting to keep the LED light engine completely sealed from the ingress of water, dust, mud and debris. The luminaire is available in different versions to support spot, wall-wash and narrow flood in-grade applications. Other features include: multiple color temperatures; up to 2,500 lumens output; and flat-lens, half-shield, eyeball, rock guard and directional marker-style housings.
---
802.11ac Gigabit WiFi access points are optimized for enterprises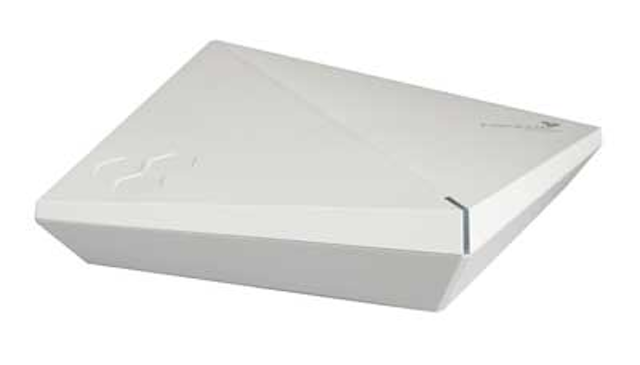 Aerohive Networks has launched its AP230, a dual-radio 802.11ac/n Gigabit WiFi access point (AP) offering enterprise features for 802.11ac and existing 802.11n networks. By combining the latest in 3x3, three-stream 802.11ac Gigabit WiFi technology and advanced security and control features together into an economical package, Aerohive says the AP320 allows enterprises to efficiently deploy 802.11ac WiFi into every part of a network infrastructure, from the corporate headquarters to remote branches and outlets.
As the latest standard for WiFi technology, 802.11ac offers an unprecedented increase in data rates to beyond one Gigabit per second. However, Aerohive maintains that enterprise IT departments have as yet only sparingly deployed 802.11ac, held back by cost limitations and new power requirements for 802.11ac products, as well as a reluctance to invest in the time and resources necessary to re-architect their wireless infrastructure. At a U.S. list price of $799 for a three-stream AP, Aerohive contends that its AP230 "sets a new price and performance standard for 802.11ac."
"Only 20 percent of respondents in a recent survey indicated that they were in the process of deploying 802.11ac," asserts Bob Laliberte, senior analyst at ESG. "However, the majority-72 percent-are planning to, actively investigating or are interested in the move to the latest standard. Enterprises also reported this change was being driven by the need for improved performance, supporting new apps/workloads, and better coverage/availability. Solutions that don't strain the budget and which can be seamlessly deployed amongst existing wireless investments will be key to accelerating adoption."
Aerohive further notes that its AP230 delivers full functionality with existing Power over Ethernet (PoE) infrastructure, allowing it to be smoothly integrated with customers' networks, without requiring costly and disruptive switching or power upgrades. This capability eliminates IT roadblocks to implementing an all-802.11ac network, the company adds. Whereas many organizations have existing PoE infrastructures based on the 802.3af PoE standard, and require an infrastructure upgrade to higher power PoE+ to support full functionality with their 802.11ac access points, Aerohive says the AP230 is especially designed to allow organizations to get the most from their IT budgets by removing all requirements to upgrade backend network devices or controller appliances.
As part of Aerohive's Cooperative Control architecture, the company states that its AP230 does not require the purchase of any controller appliance of any kind. "Just as 802.11n transformed the WiFi landscape, the performance and visibility requirements of 802.11ac will do the same as it exposes the scalability, performance, and functionality shortcomings of WiFi controllers," comments David Greene, chief marketing officer at Aerohive Networks.
Additionally, Aerohive says its distributed intelligence architecture enables out-of-the box application visibility and control, and that the AP230 extends these capabilities to 802.11ac. The company suggests that "the onslaught of mobile clients in the enterprise has forced organizations to manage network traffic at an application level to ensure high quality of service for mission-critical applications and to maximize user productivity. Managing applications on every user's device at 802.11ac Gigabit WiFi data rates causes performance challenges on legacy network architectures; most currently installed controllers cannot support this functionality."
Aerohive contends that its distributed architecture allows for application visibility and control on every device without overwhelming any single part of the network. The result is a more reliable mobile application experience for end users. "With this [product] announcement, enterprises are empowered to take full advantage of the 802.11ac and the best advances in WiFi," concludes Aerohive's Greene.
---
OKDoor provides physical access control via Google Glass
Brivo Labs, a business unit of Brivo Systems LLC, recently unveiled OKDoor, an application that integrates with Brivo's Social Access Management (SAM) API to provide physical access control via Google Glass.
OKDoor provides notification to a person inside a building that someone outside needs to gain access. First, an outdoor camera pushes a snapshot of the individual to the Google Glass wearer. The wearer is then presented with the ability to allow or deny entry. The OKDoor user can remotely unlock the door and allow the visitor inside.
According to Brivo Labs, its SAM API "can authenticate visitors and associate several forms of secure credentials to access physical devices. Social authentication and provisioning of access is implemented by connecting with leading social network platforms. SAM also provides developers with the resources to perform data analysis, manage devices, authorize schedules, get access to hosted IP video and offer real-time device control with remote automation."
Lee Odess, vice president of marketing with Brivo Systems, commented, "We are excited to reinforce our leadership position in the social access management space and show innovative examples of how we merge current technologies with traditional security and access control. OKDoor is a prime example of the convergence of these two areas."
Brivo Labs describes its business as "enhancing the everyday experiences of entering physical places with products and services that allow people to interact with the physical world."
---
Cat 5e, 6 cables achieve HDBase-T certification
ICE Cable Systems recently announced that its Category 5e and Category 6 cables have achieved HDBase-T certification, meeting the specifications established by the HDBase-T Alliance. The HDBase-T connectivity standard for residential and commercial distribution of uncompressed HD multimedia content features the trademarked 5Play technology, "a feature set that converges uncompressed full HD digital video, aduio, 100Base-T Ethernet, power-over-cable and various control signals through a single LAN cable," ICE Cable Systems explained when it announced its cables' certification.
The company's president, Brian Izzo, explained, "With HDBase-T, installers are running video, audio, Ethernet, control and power all on one cable, all of which requires equipment 'handshakes' on each end. We want to help installers do it right the first time so they can move on to other areas of the job."
The company's HDBase-T-certified Category 5e and Category 6 cables are sold in 1,000-foot cartons that incorporate Reelex II payout technology. The cable is UL-listed, ETL-verified and RoHS-compliant, ICE Cable Systems says.
---
Grounding clamp for raised-floor pedestal
A new grounding-clamp connector from Burndy accommodates round and square pedestals used in raised-floor applications.
The GP64528G1 "can be used to connect one or two cables of wire range #4 Sol. (25 mm2 sol.) to 4/0 Str. (95 mm2 sol.) cables," the company explains. "It can be used to ground three-fourths-inch to one-inch round pedestals, or three-fourths-inch to seven-eighths-inch square pedestals. The connector, made of bronze, is supplied with Durium U-Bolts, nuts and lock washers."
The connector meets UL467 Grounding and Bonding Equipment, and can be used to provide a low-impedance ground path for raised-floor data centers.