From the July, 2014 Issue of Cabling Installation & Maintenance Magazine
Compiled by Matt Vincent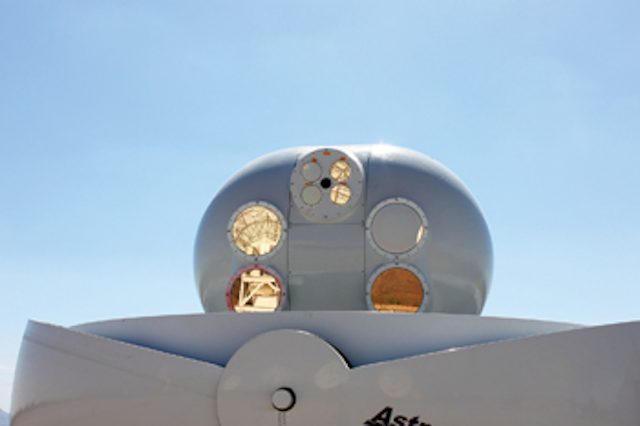 If future generations were to live and work on the moon or on a distant asteroid, they would probably want a broadband connection to communicate with home bases back on Earth. They may even want to watch their favorite Earth-based TV show. That may now be possible thanks to a team of researchers from the Massachusetts Institute of Technology's (MIT) Lincoln Laboratory who, working with NASA last fall, demonstrated for the first time the existence of a data communication technology that can provide space dwellers with the connectivity we all enjoy here on Earth, enabling large data transfers and even high-definition video streaming.
At the recent Conference on Lasers and Electro-Optics (CLEO: 2014, held June 8-13), the team presented new details and the first comprehensive overview of the on-orbit performance of its record-shattering laser-based communication uplink between the moon and Earth, which beat the previous record transmission speed last fall by a factor of 4,800. Earlier reports had stated what the team accomplished, but have not provided the details of the implementation. "This will be the first time that we present both the implementation overview and how well it actually worked," commented Mark Stevens of MIT Lincoln Laboratory, leading up to CLEO: 2014. "The on-orbit performance was excellent and close to what we'd predicted, giving us confidence that we have a good understanding of the underlying physics," he added.
The MIT/NASA team made history last year when its Lunar Laser Communication Demonstration (LLCD) transmitted data over the 384,633 kilometers between the moon and Earth at a download rate of 622 Megabits per second, faster than any radio frequency (RF) system. They also transmitted data from the Earth to the moon at 19.44 Megabits per second, a factor of 4,800 times faster than the best RF uplink ever used. "Communicating at high data rates from Earth to the moon with laser beams is challenging because of the 400,000-kilometer distance spreading out the light beam," Stevens explains. "It's doubly difficult going through the atmosphere, because turbulence can bend light-causing rapid fading or dropouts of the signal at the receiver."
To outmaneuver problems with fading of the signal over such a distance, the demonstration described in researchers' CLEO presentation uses several techniques to achieve error-free performance over a wide range of optically challenging atmospheric conditions in both darkness and bright sunlight. A ground terminal at White Sands, NM, uses four separate telescopes to send the uplink signal to the moon. Each telescope is about 6 inches in diameter and fed by a laser transmitter that sends information coded as pulses of invisible infrared light. The total transmitter power is the sum of the four separate transmitters, which results in 40 watts of power.
The reason for the four telescopes is that each one transmits light through a different column of air that experiences different bending effects from the atmosphere, Stevens says. This increases the chance that at least one of the laser beams will interact with the receiver, which is mounted on a satellite orbiting the moon. This receiver uses a slightly narrower telescope to collect the light, which is then focused into an optical fiber similar to fibers used in terrestrial fiber-optic networks. From there, the signal in the fiber is amplified about 30,000 times. A photo detector converts the pulses of light into electrical pulses that are in turn converted into data bit patterns that carry the transmitted message. Of the 40-watt signals sent by the transmitter, less than a billionth of a watt is received at the satellite-but that's still about 10 times the signal necessary to achieve error-free communication, notes Stevens.
Titled Overview and On-orbit Performance of the Lunar Laser Communication Demonstration Uplink, the MIT/NASA team's CLEO: 2014 presentation also described how the large margins in received signal level can allow the system to operate through partly transparent thin clouds in the Earth's atmosphere, which the team views as a big bonus. "We demonstrated tolerance to medium-size cloud attenuations, as well as large atmospheric-turbulence-induced signal power variations, or fading, allowing error-free performance even with very small signal margins," Stevens says. While the LLCD design is directly relevant for near-Earth missions and those out to Lagrange points (areas where the forces between rotating celestial bodies are balanced, making them a popular destination for satellites), the researchers predict that it's also extendable to deep-space missions to Mars and the outer planets.
---
Wireless Ethernet link offers large-scale perimeter protection for facilities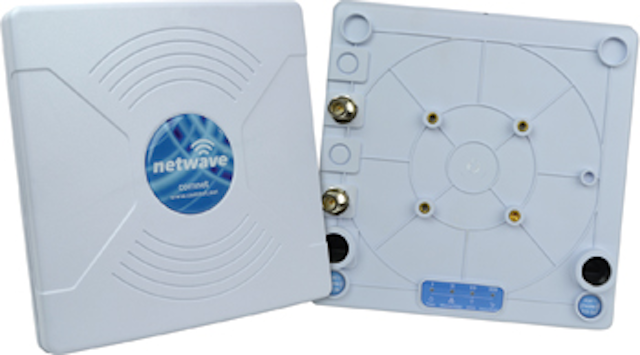 ComNet has introduced its NetWave NW8 wireless Ethernet link, designed to support redundant ring and "drop-and-insert" functionality on a wireless network. The company positions the product as a solution for providing large-scale perimeter protection and IP surveillance for facilities such as airports, border patrol and other large facilities where a wired infrastructure is cost-prohibitive. The NW8 models feature dual Gigabit Ethernet ports that support up to two IP connections and allow for multiple IP cameras to be aggregated onto the wireless network. The NW8 also supports optional IEEE802.3at PSE (Power Sourcing Equipment) for powering PoE connected devices, such as IP PoE cameras and simplifying installation.
The product is a dual-radio version of the company's recently introduced NW series of environmentally hardened wireless Ethernet products. With the introduction of NetWave wireless Ethernet products, ComNet notes that it has become a single-source provider of transmission solutions over all media types. "Our goal has always been to be a one-stop resource for all our customers, offering transmission solutions over copper, optical fiber and now wireless," comments Skip Haight, ComNet's vice president of marketing.
---
Customizable data center rack PDUs streamline outlet, cord plug configurations

Power management specialist Eaton has announced new customization capabilities for its ePDU third-generation (G3) platform in the Americas. Building on its existing portfolio of rack power distribution units (PDUs), Eaton says its customizable ePDU G3 models are designed for fast turnaround of outlet and cord plug configurations, providing the flexibility for data centers and colocation facilities to quickly address their specific power distribution needs.
The ePDU G3 is built with an aluminum chassis that is strong and lightweight; network connected ePDU G3 models can daisy chain with other PDUs, so that four devices can share one network port and IP address, reducing network connection costs by 75 percent. Additionally, the ePDU G3 features a new patent-pending IEC outlet grip designed to eliminate the common and often costly problem of plugs falling out of IEC outlets due to bumps or vibrations. The company maintains that this feature can protect data center and information technology (IT) managers from incurring additional expenses related to purchasing special power cords or cable trays, which can increase PDU costs up to 50 percent.
The Eaton ePDU G3 models EMI319-10 and EMI320-10 offer customization capabilities for 400-volt power distribution, ideal for optimizing energy efficiency in three-phase data centers and colocation facilities. Engineered for smaller data center deployments and medium-to-high-density IT equipment in computer rooms, Eaton ePDU G3 model EMI200-10 offers 120- and 208-volt distribution from the new Eaton 9PX SP split-phase uninterruptible power system (UPS).
According to a news release, the company has invested in three-axis routing and laser etching equipment to streamline the manufacturing of ePDU G3 custom-built models, which are built at Eaton's facility in Youngsville, NC. Eaton's manufacturing platform also includes new automated test equipment that provides 100 percent functional testing to all ePDU G3 models, which is designed to eliminate human error and ensure quality and reliability. With an advanced blueprint to facilitate easy and efficient customization, the company says the platform is engineered to condense the order-to-installation timeline and increase agility for customers.
"Many data center managers are constantly expanding and transitioning to new equipment, which requires implementing power distribution solutions with the flexibility and speed to meet diverse requirements," comments Hervé Tardy, vice president and general manager of Eaton's distributed power quality division. "Combined with Eaton's engineering innovation and fast turnaround, the latest custom-built ePDU G3 portfolio provides flexibility and drives business value for customers."
---
Legrand unveils Mighty Mo 20 rack, cable management system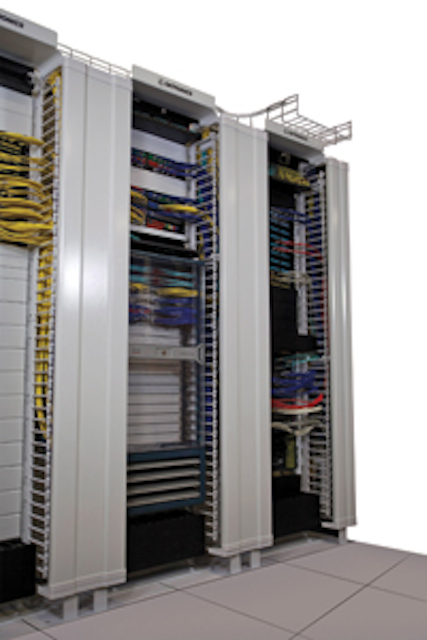 Legrand recently unveiled its Mighty Mo 20 rack system, designed to accommodate both copper and fiber cabling and to support any combination of network equipment. The company says the newest member of its Ortronics product line is designed for any size LAN, SAN or data center. In an industry first, according to the company, the Mighty Mo 20 rack system is now also available with an all-white rack and matching cable management components, as well as in standard black. Like all Ortronics solutions, Legrand contends that the Mighty Mo 20 rack system incorporates elements of flexibility, efficiency and superior design.
Flexibility: The Mighty Mo 20 system features a wide selection of products designed to provide complete flexibility for data centers and enterprise networks, including any size, any media and any equipment. Each rack is designed to protect permanent installations where cables have been pulled, terminated and tested in the back, while the front provides easy access to connections that need to be changed regularly. There are 26 new racks, including 12 channel racks with hex perforations and 14 four-post racks. There are also 20 new vertical finger managers-11 with slam latch doors and 9 with split covers-18 new lightweight airflow baffles, and 4 economy managers with latches. Some 50 new accessories round out the Mighty Mo 20 line.
Efficiency: The Mighty Mo 20 system also offers unparalleled efficiency and performance, says Legrand. Deeper vertical managers with up to 40 percent more room and channel rack depths up to 30-in. provide improved capacity. Two-in. deeper fingers support higher-density networks while bend limiting clips provide 180-degree protection. Mounting brackets accommodate both Cablofil cable trays and ladder-style cable runways. An enhanced hex pattern on all channel racks increases airflow and simplifies cable installation. Larger vertical managers increase efficiency by reducing patch cord congestion. A universal cable trough, zero-U horizontal managers, speednuts, washerless components and improved rack spacer bars also contribute to installation efficiency.
Design: The company claims that the Mighty Mo 20 rack system bears over 120 different innovations, many of which were suggested by end-users. "The design of the physical support infrastructure maximizes network performance by minimizing signal loss caused by improper cable support," comments Lars Larsen, director of physical support products for the data communications division of Legrand. "What's more, this design guarantees the flexibility necessary for future technology and growth and increases cooling efficiency through proper airflow management."
This year marks the 20th anniversary of the Mighty Mo product family, hence the new product's name. "We believe the Mighty Mo 20 meets the needs of IT managers, designers and consultants who want to know that it will perform today and over the long term," concludes Legrand's Larsen.
---
Netgear launches dedicated WLAN products for educational, hospitality, assisted living facilities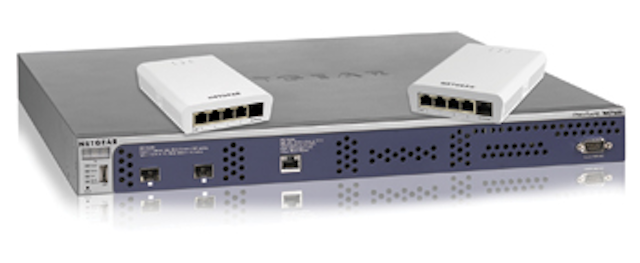 Netgear has expanded its ProSAFE business-class wireless platform with two new products designed specifically to offer easy-to-deploy access for mid-sized hospitality facilities, K-12 schools, colleges, senior centers, assisted living centers, and other multi-tenant sites. The two new products enable such venues to leverage wider BYOD (Bring Your Own Device) adoption, while hospitality sites such as small- and medium-sized hotels and motels can better support new wireless connectivity applications. Netgear says the expanded product family is designed for the special requirements of these markets-built with high performance, flexibility and ease-of-use in mind, while offering the best cost-performance solution on the market today.
"We have listened to our customers in hospitality, education and healthcare, and they have told us that they are looking for solutions that enable them to add more users to the networks very quickly and easily, in denser deployment scenarios," comments Peter Newton, senior director of product management for Netgear's commercial business unit. "They want flexibility in access point placement and in subscription options." Newton continues, "To address this need, we've designed our stackable WC7600 wireless controller to make it easy to manage more access points for denser deployments, and the new ProSAFE WN370 wall-mount access point offers more placement options. Our licensing model enables customers to pay only for the licenses they need now, with the option to add more as they grow. Moreover, the WC7600 wireless controller is 802.11ac wireless-ready, providing investment protection for future applications or devices."
Netgear says the ProSAFE WN370 single band 2.4 GHz Wireless-N wall mount access point is designed specifically for in-room coverage for wired and wireless access for small and medium-sized hotels and dormitories in educational facilities. Featuring Power over Ethernet (PoE) capability, the ProSAFE WN370 offers a compact form factor specifically designed to enable wired and wireless connectivity in mid-sized multi-tenant sites, reducing the cost of running multiple Ethernet cables to each room. The WN370 has a sleek, elegant, and compact design that enables the access point to be deployed in an inconspicuous manner and to be installed quickly even by non-technical personnel. Powered via PoE with a 1-Gbit/sec uplink and 4 (100-Mbit/sec) Ethernet data ports, plus an additional voice port for connectivity to digital phones, the WN370 is centrally managed by the new ProSAFE WC7600 wireless controller, and offers automatic RF and power tuning with guest captive portal and comprehensive wireless security.
According to Netgear, the new ProSAFE WC7600 Premium wireless controller supports centralized management for the complete range of Netgear's business-grade ProSAFE managed access points, including single-band and dual-band products, with 2x2 and 3x3 options, as well as the newly announced WN370 wall-mount access point. The WC7600 is billed as a scalable, secure mobile access solution that can support a small organization with dozens of users, with up to several thousand concurrent clients across 150 access points in a stacked arrangement. Further, via Netgear's Ufast protocol, the WC7600 delivers ultra-fast access point discovery, Layer 2 and Layer 3 fast roaming, a captive portal for guest access, a fully distributed architecture, and ease of configuration and management. A pay-as-you grow licensing model of ten access point licenses ensures that the organization only pays for what is needed.
---
Halogen-free flame retardant polymer additives boost communications wire, cable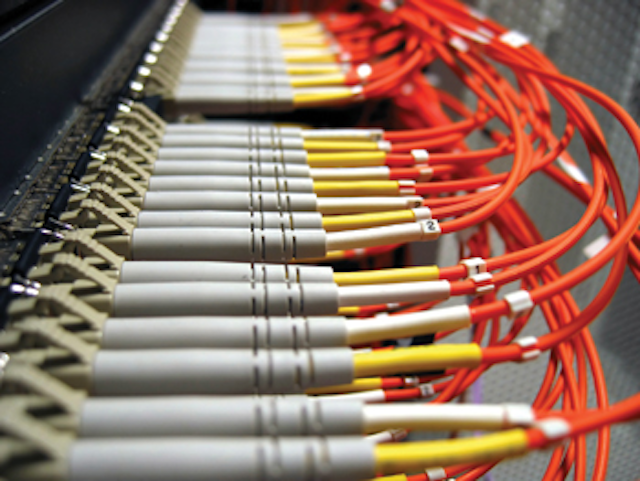 At the recent Chinaplas 2014 tradeshow in Shanghai, the polymer and rubber supplier Addivant announced three additions to its Polybond polymer modifier product line. The Polybond 3249 and 3349 coupling agents use halogen-free flame retardants (HFFR) that allow wire and cable compounders to optimize physical polymer properties.
The Polybond 3249 and 3349 coupling agents are optimized to offer superior physical property retention and melt flow stability. When used in conjunction with Mg(OH)2 or ATH halogen-free flame retardants, Addivant says its Polybond 3249 and 3349 coupling agents allow wire and cable compounders to focus on physical property optimization while achieving excellent flame retardant dispersion and melt flow stability. Applications include building wire, communications cable and automotive wire and cable applications. The company says that both new grades offer compounders a choice of performance and, depending on final design requirements, the option to select the Polybond grade that delivers the most synergy in their overall system.
Addivant contends that its Polybond polymer modifiers offer a wide range of benefits to polyolefin customers, in many applications, including: increased efficiency of natural-fiber fillers; improved strength and impact performance in glass-filled applications; enhanced adhesion properties in polypropylene film applications; and more uniform dispersion of fillers and increased adhesion in many composite structures. When combined with the company's portfolio of antioxidants and UV stabilizers, wire and cable producers can also leverage Addivant's expertise across much of their formulation, adds the company.
"Addivant's polymer modifier business is continuing to focus on the needs of the polymer market and our customers, as seen in our new capacity investments, extensive recruitment to support our accelerating growth and innovation and in new product development across all our business units," comments Adam Watson, Addivant's business development manager for polymer modifiers. "These [new] Polybond coupling agents represent the beginning of a planned series of new product launches in our polymer additives business," Watson concludes.
---
Panduit acquires thermal-management monitoring and control firm SynapSense
Panduit Corporation has acquired SynapSense Corporation, a Folsom, CA-based company that specializes in thermal risk management and cooling-energy savings for large enterprise, colocation, and cloud-computing service providers. The SynapSense data center solution "consists of a unique and highly reliable secure wireless mesh networking technology, airflow optimization services, and manual or automated cooling control," Panduit explained when announcing the acquisition. The company is now known as SynapSense, a Panduit company.
Tom Donovan, Panduit's president and chief operating officer, commented, "The SynapSense team has a proven track record of success, helping data center managers reduce energy costs, unlock stranded capacity, and sustain savings over time. This has resulted in strong, trusted partner relationships with leaders in the banking, ISP/hosting, retail, corporate and government sectors. SynapSense is a service-oriented technology company that will bring tremendous value to our customers."
Bart Tichelman, formerly president and chief executive officer of SynapSense and now vice president of SynapSense, a Panduit company, added, "The synergy between the broad portfolio of Panduit physical infrastructure hardware, services, and data center infrastructure management (DCIM) software, and SynapSense solutions, will provide our customers with unparalleled capabilities in environmental monitoring, energy management, power and cooling control, device and network asset management, and capacity management. We now have the most-comprehensive suite available and are very proud to be part of the Panduit family."
Currently SynapSense systems are available in North America and, through Panduit's partner organization Stulz, they also are available in Australia. Panduit said it will launch the solution globally in the coming months.
---
Graybar marks $1.3B sales record
Graybar recently reported record net sales of $1.3 billion for the first three months of 2014, a 2.3 percent increase compared to the same period last year. The distributor added that its net income for the quarter was $11.3 million-a 42.5-percent increase from the first quarter of 2013.
"I am pleased with our strong start to the year as we overcame the severe winter weather to drive positive results," commented Kathleen M. Mazzarella, chairman, president and CEO of Graybar. Graybar is one of North America's top distributors of electrical, communications and data networking products and related supply chain management and logistics services.
Mazzarella added, "We continue to invest in our business by opening new locations, expanding our sales organization and enhancing our e-commerce capabilities. We have a strong footprint in the marketplace, and our long-term growth efforts remain focused on working to our customers' advantage."
---
Survey: SMBs say WiFi is 'better than candy'
A recent survey of small-business IT decision makers and entrepreneurs, sponsored by Comcast Business and carried out by Bredin Research, "found that offering free WiFi works better at keeping customers happy than common waiting-area conveniences like candy, water or magazines," Comcast said when announcing the survey's results. Comcast refers to the 1- to 10-employee companies surveyed as "Main Street businesses"; 602 principals and IT decision makers from these companies participated in the survey.
"These Main Street businesses that offer WiFi- coffee shops, bars, restaurants, retailers, doctor's offices and others-are leveraging the service to attract new clientele, improve customer loyalty and raise their profile within the community," Comcast said. "Respondents who indicated they do not currently offer WiFi also understand the benefits of offering the service in their location, and overwhelmingly their intention is to offer it in the near future." Specifically, 61 percent of those not currently offering WiFi either plan to offer it soon or would consider providing it, the survey found.
Comcast Business's president Bill Stemper commented, "Main Street businesses and entrepreneurs of all types recognize that wireless Internet access is a must for their patrons, and that providing free WiFi can give them a competitive edge. More and more, we are seeing that if a business provides WiFi now to its employees for business purposes, extending access to its customers is a logical next step that is a way to keep them coming back in the future. Given the challenges that small businesses face in today's uncertain economy, we are encouraged that technologies like WiFi will help sustain growth."
Business growth was indeed a recurring theme in the survey results, as can be seen in the following data reported by Comcast.
• Main Street business owners say that WiFi is equally or more effective at making patrons feel welcome than other amenities such as magazines (94 percent), community bulletin boards (91 percent), candy (90 percent), or water (86 percent).
• 79 percent say WiFi helps keep customers happy while they wait; 65 percent report it has encouraged repeat business, and 55 percent say it has brought in new customers.
• More than half-55 percent-of businesses providing WiFi believe it has resulted in higher sales per customer visit.
• Businesses that expected increased revenues in 2013 are more likely to promote the WiFi they offer (64 percent) than those that expected decreased revenues (38 percent). "In turn, customers are more likely to promote these businesses through their social media channels," Comcast noted.
• Fears of tech support (33 percent), employee distraction (33 percent) and costs (32 percent) are reasons cited for not offering WiFi to patrons.
• Respondents recognize the benefits of offering WiFi, including raising their company profile (cited by 41 percent of respondents) and keeping up with the competition (cited by 38 percent). "Of those Main Street businesses that currently don't offer WiFi to patrons, 61 percent plan to offer it soon or would consider providing it," Comcast reiterated.
• Close to 20 percent of those surveyed promote themselves as "community hubs," such as a meeting place for church groups, sports clubs or other community groups.
• Two-thirds-67 percent-of businesses that offer WiFi to their customers expect revenue growth. Of the businesses that do not offer WiFi, 50 percent expect revenue growth.
Separate from offering WiFi to patrons, respondents' employees use WiFi for business purposes such as accessing corporate resources (49 percent), tracking inventory (36 percent) and holding conferences with business partners and customers (35 percent). Ninety-three percent of these businesses believe that WiFi enhances productivity.
---
Bel Fuse makes two acquisitions combining for more than $200M
Bel Fuse recently announced it has agreed to make two acquisitions-one for $98 million and the other for $117 million.
Emerson has agreed to divest its Connectivity Solutions business unit to Bel Fuse in a $98-million transaction that is expected to close before the end of the fiscal year. Currently a part of Emerson's Network Power business, with 2013 revenue of more than $80 million, Connectivity Solutions is based in Bannockburn, IL. The business offers fiber-optic, radio-frequency and microwave-coaxial technologies that safeguard network reliability, with brands including AIM-Cambridge, Johnson, Midwest Microwave, Semflex, Stratos, Trompeter, Viewsonics and Vitelec.
"Although the business no longer aligns with our long-term strategy to strengthen our core global franchises, it offers Bel attractive growth opportunities and is consistent with its strategic direction," comments Jamie Froedge, Emerson's vice president, acquisitions and development. "We will work closely to ensure a smooth transition for customers and employees."
Bel Fuse Inc. also announced that it has entered into a definitive agreement to acquire the Power-One Power Solutions business of ABB Ltd. Bel will pay approximately $117 million in cash to acquire the Power Solutions business, which had 2013 revenue of approximately $251 million.
Headquartered in San Jose, CA, and with manufacturing facilities in Slovakia and China, Power Solutions is a provider of high-efficiency and high-density power conversion products for server, storage and networking equipment, industrial applications and power systems. The company offers a premier line of standard, modified-standard and custom designed AC/DC, DC/DC and other specific power conversion products for a variety of technologies in data centers, telecommunications and industrial applications.
---
CCCA elects officers, executive committee
Eric Lawrence of Berk-Tek, a Nexans company, recently was elected as the next chairman of the Communications Cable and Connectivity Association (CCCA). Lawrence is joined by fellow officers and executive-committee members Bill Kloss of OFS (secretary), Scott Brown of General Cable (treasurer), Kevin Ressler of TE Connectivity (executive committee member), and George Pruce of Dupont (executive committee member).
Lawrence said, "I look forward to serving as CCCA's next chairman and building on the successes of past chairmen who guided CCCA to where it is today. My goal is to continue a tradition of growth by broadening our membership base and supporting CCCA initiatives that strengthen the quality and integrity of our industry. In particular, we must continue our anti-counterfeit efforts and educational programs to stem the infiltration of low-quality cable and connectivity products, which present a serious public safety hazard."
The CCCA said its anti-counterfeit initiatives "are resulting in greater international awareness on how to spot and avoid counterfeit cable. The association's education on counterfeit cable made with non-compliant copper-clad aluminum has enabled contractors to identify these cables and voluntarily suspend their installation or re-cable projects with compliant solid copper cables."
The association's executive director, Frank Peri, noted, "Eric has participated in CCCA since the very beginning. He is committed to CCCA's continued contribution to making a difference in our industry. I'm confident he will do a great job in leading our association, and I look forward to working with him and the executive committee."
---
TIA revising 607 grounding and bonding standard to 'C' version
The Telecommunications Industry Association's (TIA) TR-42.16 Engineering Committee on Premises Telecommunications Bonding and Grounding recently issued a call for interest for the third revision of the grounding and bonding standard-document TIA-607-C-which is initially titled "Generic Telecommunications Grounding (Earthing) and Bonding for Customer Premises."
According to the TIA, the TIA-607-C update will address the fact that "today's large telecommunications facilities are built on one level." The bonding backbone system specified in the current, 607-B, standard exhibits a vertical layout, the association explained. "This will be updated in the TIA-607-C release, which will introduce a horizontal bonding backbone topology to address this type of building. The new revision will also specify requirements for a generic telecommunications bonding and grounding infrastructure and its interconnection to electrical systems and telecommunications systems."
Mark Harger, president of Harger Inc. and TR-42.16's chair, commented, "For the past several years, the TR-42.16 subcommittee has done an excellent job updating TIA's bonding and grounding standard. Since the first revision of ANSI/TIA J-STD-607-A, we have developed two annexes and one revision [607-B], and are now close to updating yet again to 607-C. Once completed, this standard will be more closely harmonized with international bonding and grounding practices as well as being more current with today's construction practices."
The revision also will harmonize the international and domestic standards, thereby reducing confusion within the market. When announcing the call for interest, the TIA commented, "Domestic and international codes and standards groups have been working on correcting terminology regarding bonding and grounding for approximately 10 years. Where there is confusion with bonding and grounding, electronic systems can fail. The improper grounding of separately derived systems can lead to equipment malfunction and other data issues. Once this new revision is completed, it may also be used as a guide for the renovation of existing systems."
When issuing the call for interest, the TIA said stakeholders may include, among other professionals, architects, installers, building owners, electrical inspectors and electrical contractors. The association is actively seeking participation in this revision effort, and encourages interested parties to email Germaine Palangdao at standards@tiaonline.org.
---
Modular sliding door for data center containment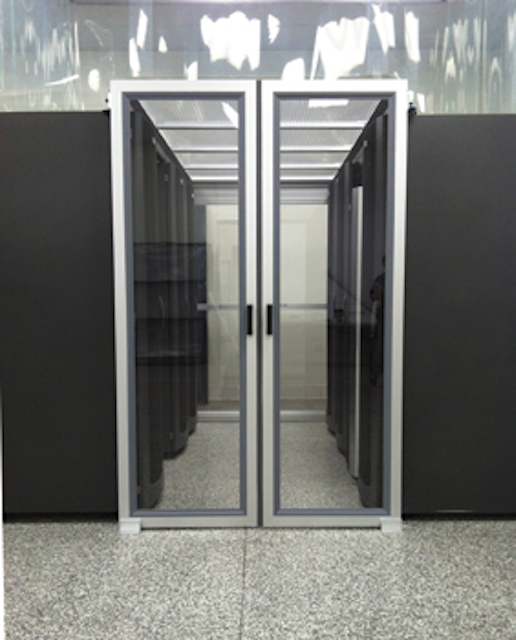 The header and track assembly in Simplex's new AirBlock Pro-Glide Modular Sliding Door are concealed; the company describes them as "tucked away from view when the doors are either closed or open." A self-sealing magnetic gasket holds the doors together "for a 100-percent closure, eliminating air loss," the company says. "This is augmented by sweep seals and perimeter gasketing for maximum containment in your data center."
Simplex adds that the pre-hung door "installs in minutes. The framework is made from extruded anodized aluminum in either clear or black finish. Inserts range from polycarbonate to flexible vinyl materials, including PolySim and FlexSim-exclusive Simplex materials that are NFPA and ASTM fire-rated."
The AirBlock Pro-Glide is available as a single door up to 48 inches wide, and as a double door up to 72 inches wide. Custom designs are available also.
---
Driver drill has 18V Lithium Ion battery
The model DS18DGL driver drill from Hitachi Power Tools is the first product in the company's 18V Lithium Ion DGL series. As the company explains, the driver drill "is powered by a powerful Lithium Ion slide-type battery for fade-free power, less weight and three times the total battery life of typical Ni-Cd batteries. Hitachi has optimized the design thanks to the slide-type Lithium Ion battery pack that eliminates the vertical cell battery chamber. This permits the handle to be ergonomically designed, resulting in improved comfort and greater control. The feel of the tool in hand reflects Hitachi's detailed attention to balance, grip and pressure points, making this tool extremely comfortable to use."
It delivers 400 in/lbs of torque, and its 22+1 clutch delivers 22 torque settings, the company says. Its two-speed gear setting enables the user to match the appropriate speed to the application, Hitachi adds, such as running a cable down a wall. It contains a half-inch keyless chuck as well as an LED light that points upward from the base, illuminating the bit tip and avoiding shadows. The 3.7-pound driver drill features a responsive variable-speed trigger.
Hitachi further explains, "The battery charger will charge 18V Lithium Ion slide-type batteries in about 35 minutes or less. The technology in the charger provides the Lithium Ion battery with overload and over-discharge protection so it won't overheat or lose power, lending to the battery's longer overall life."
---
SignalTEK CT tests copper cabling's ability to carry GbE data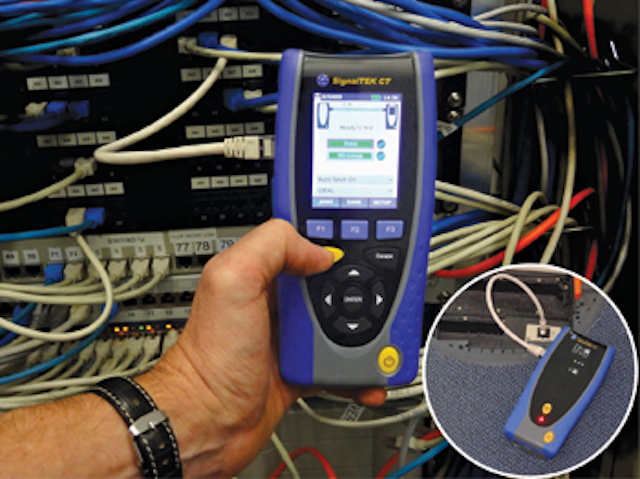 Ideal Industries recently launched the SignalTEK CT, a data-cabling transmission tester that the company explained "is designed for installers and network owners who need to prove that copper cabling has been installed correctly and is capable of supporting Gigabit Ethernet applications to the international standard IEEE 802.3ab."
Dan Payerle, Ideal business unit manager, explained, "In today's networking market, data cable installers are looking for proof of performance. After thorough research Ideal has developed an easy-to-use tester that is rugged, durable, and delivers proof confirming that the installed links run at Gigabit Ethernet transmission rates."
The company further described SignalTEK CT as "a new generation of tester that is a cost-effective alternative to LAN cable certification. It carries out two primary tests via its autotest function-a wiremap test and a data transmission test." The wiremap identifies and locates crossed pairs, opens, shorts, and split pairs using time-domain reflectometry (TDR), Ideal explained, while the data transmission test performs at either 100 or 1000 Mbits/sec, providing 100-percent load on the link from both sides. "This offers us a clear reading if the link really can support the desired Ethernet speed," the company said. "These tests perform to the IEEE 802.3ab standard by measuring if all the frames arrive at the other end of the cable, and is achieved by having two handsets, which also allows for one-person testing." A pass/fail result is displayed on screen and can be saved to a USB memory stick.
The company further detailed the SignalTEK CT's position within the market for test instruments: "Historically, contractors installing data cabling or carrying out moves, adds or changes to an existing network have used a cable certifier to guarantee compliance to international cabling standards such as ISO/IEC 11801. However, it has long been known that this level of testing is not always required. Installing networks for smaller business premises or residential properties often simply requires proof that the copper cabling has been installed correctly and can support the Gigabit Ethernet applications that are intended to be run over the network.
"The data cable transmission tester has been developed to essentially bridge the gap between verifiers and full-blown certifiers, enabling a more-affordable method of testing installations, while ensuring the work is defect-free and documented to meet end-customers' expectations of quality and reliability."