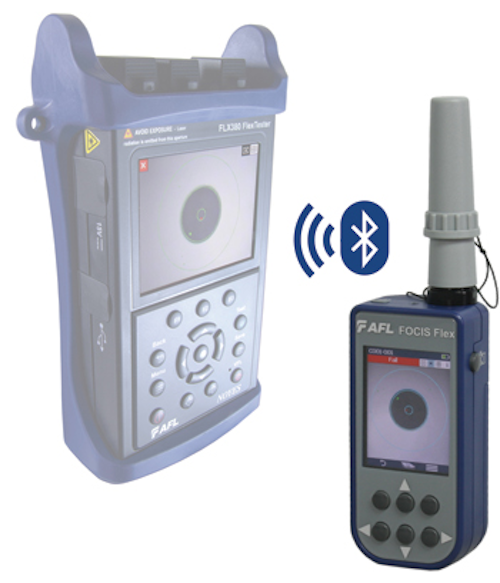 From the October, 2014 Issue of Cabling Installation & Maintenance Magazine
---
AFL has expanded its connector inspection product line with the launch of its FOCIS Flex system, billed as "a self-contained, tether-free, compact and handheld" connector inspection probe. According to the company, at the click of a button, the FOCIS Flex probe auto-focuses, captures, centers and analyzes connector endface images to easily display, transfer or store pass/fail results within seconds.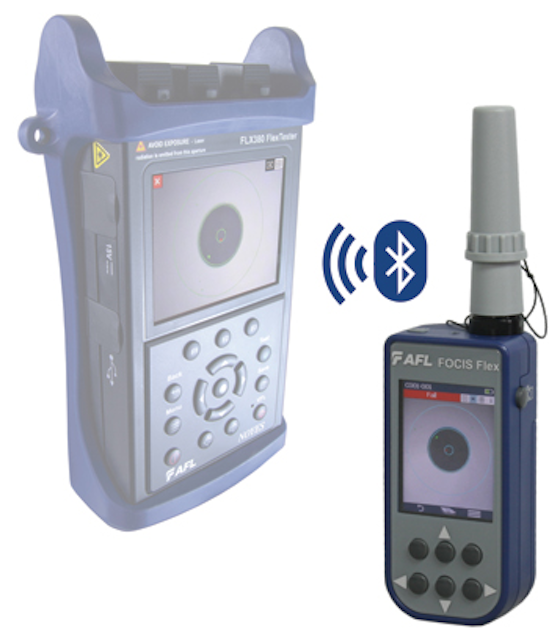 Significantly, with its rechargeable battery and integrated display, the probe can be used completely independent of an OTDR or display unit, allowing technicians to easily view, analyze and save thousands of results internally. Additionally, technicians can pair the FOCIS Flex with the company's FLX380 or OFL280 FlexTester ODTRs via Bluetooth to effortlessly view and save images and pass/fail results on those devices.
The FOCIS Flex probe is available with a wide range of interchangeable adapter tips to support the inspection of a variety of patch cords and bulkhead-mounted connectors with either PC or APC polished endfaces. The FOCIS Flex system is offered as a standalone kit or can be bundled with a FLX380 or OFL280 in FlexTester Complete2 or PRO2 packages.
"As networks move to higher data rates, operators are increasingly concerned about loss and reflections due to dirty or damaged connectors," notes Michael Scholten, product marketing manager at AFL. "With the addition of FOCIS Flex, AFL offers the broadest line of connector inspection solutions, from low-cost viewing scopes to WiFi video scopes with automatic pass/fail analysis for smartphones and tablets, and now an untethered, completely automatic Bluetooth video scope."
---
All-in-one optical field tester includes OTN mapping feature
Anritsu has introduced its MT1000A Network Master Pro, an all-in-one optical field test instrument that the company says "redefines transport testing" by having the ability to conduct Optical Transport Network (OTN) mapping of all client signals as well as multi-stage mapping in a lightweight, small portable package that is easy to use.
The MT1000A Network Master Pro is billed as the first compact, all-in-one OTN tester that provides users with the capability to measure with Ethernet and SDH/SONET client signals, making it easier for technicians to install and maintain mobile and fixed-access, metro, and core transmission networks.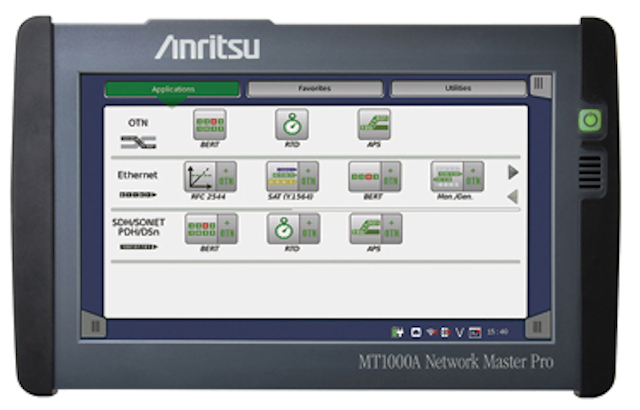 According to the company, the MT1000A Network Master Pro, together with the MU100010A test module, provides all the capabilities required for field testing an OTN. It supports the new OTN features ODU0 and ODUflex, as well as Ethernet, Fibre Channel and SDH/SONET at rates up to 10 Gbits/sec. Legacy PDH and DSn interfaces can also be measured with the MT1000A Network Master Pro. Field technicians can use the instrument to quickly and accurately locate and solve problems in the transport network without having to contact a remote network operations center.
"Modern networks are utilizing enhanced packet optical transport technology such as OTN to support robust, fault-tolerant transport of native Ethernet- and TDM-based clients over optical meshed networks. Additionally, Fibre Channel has grown significantly to meet the demand for data center connectivity and storage area networks (SANs). Anritsu has developed the MT1000A to support the network operator, administrator, engineer, and technician who must measure existing client traffic as stand-alone native signals, as well as encapsulated clients in OTN transport," said Pete Alexander, PhD, vice president and general manager of Anritsu Company.
Designed with dual ports at 10 Gbits/sec, the MT1000A Network Master Pro can test at all supported interfaces and rates, adds the company. The two ports can be used independently, effectively providing field technicians with two instruments in a single solution that improves test time and simplifies measurements while reducing cost-of-test. Two-port testing can also be used for in-service bidirectional monitoring of live traffic links, providing a new ability to maintain and optimize existing networks and test networks while in operation. The result is the ability to pinpoint problems faster and reduce network downtime. All test results can be converted into .pdf or XML reports for documentation and record-keeping.
Anritsu says it designed the MT1000A Network Master Pro specifically to address today's field testing requirements. A large, nine-inch touchscreen makes results easy to read and simplifies using the tool's intuitive GUI. The small form factor makes the instrument easy to transport, even in confined spaces. Battery-operated, the MT1000A Network Master Pro can operate for up to three hours before needing to be recharged. Offering WLAN, Bluetooth and LAN connectivity options, the MT1000A Network Master Pro can also be operated remotely.
---
Aruba Networks deploys wide-area 802.11ac WiFi for Black Hat USA 2014
Aruba Networks announced that it designed, deployed and operated a secure wireless LAN (WLAN) infrastructure for the recent Black Hat USA 2014 Conference in Las Vegas (August 2-7), protecting thousands of attendees' laptops and mobile devices from dozens of pervasive and new security threats.
Aruba reports that the wireless network, which covered the nearly one million square foot convention facility in the Mandalay Bay Convention Center, was quickly deployed in less than one day. Wireless hardware infrastructure consisted of 130 Aruba AP-225 802.11ac wireless access points, Aruba 7200 Series controllers, and Aruba S-Series Ethernet switches.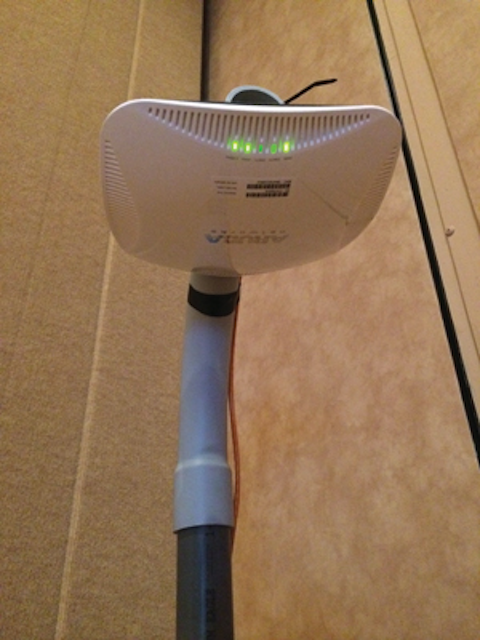 Black Hat USA returned to Las Vegas for its 17th year to bring together what it bills as "the world's largest gathering of networking professionals and hackers for a week of security education, networking and skill building." This year's conference marked the fifth time that Black Hat has selected Aruba as the conference's official WiFi provider.
Aruba notes that its ability to safeguard network infrastructures against wireless security threats was put to the test at this year's event. The company created multiple, parallel WiFi networks to deliver both an open and secured network option for attendees. To deliver unmatched security and network visibility, Aruba deployed its AppRF technology and Aruba AirWave Network Management.
According to the company, AppRF provides network operators with a real-time snapshot of how the network is being utilized and offers fast and simplified drill-downs that show more detailed application usage information. Aruba says that AirWave "efficiently manages an entire network, from a single site to across the world, through a single pane of glass, making it easy to keep service level agreements on track."
In addition to protecting conference attendees from malicious attacks, Aruba provided WiFi speeds in excess of 550 Mbits/sec when downloading, a speed that is more than 55 times greater than the average bandwidth speed in the United States, claims the company.
---
TE Connectivity orients FlexWave, InterReach DAS products for 4G upgrade deployments
TE Connectivity announced an initiative to orient its FlexWave Prism and InterReach Spectrum distributed antenna systems (DAS) platforms for 4G upgrade services, allowing customers currently using 2G and 3G service to deliver more capacity in their networks. Using techniques such as multiple input/multiple output (MIMO), resectorization, and adding new frequencies, including 700 MHz and 2100 MHz AWS, TE maintains that the product lines are optizmized to drive new levels of capacity and service in stadiums, hospitality venues, subways, major enterprises and universities.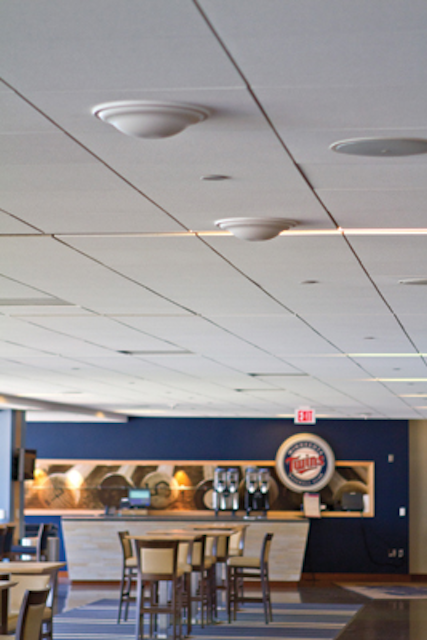 The company notes that MIMO is proving to be a popular upgrade in high-density user venues because it doubles network capacity today and provides a high-performance foundation for future upgrades such as 5G. Venues in the U.S. adding MIMO to their networks with TE equipment include: FedEx Field, Sports Authority Field, Target Field (pictured), Austin and Anaheim Convention Centers, Dow Chemical, UCLA, Purdue University, and hospitality venues such as MGM's Las Vegas resorts, the New York Hilton, the New York Palace Hotel, Palisades Mall and Walt Disney World.
Via a company press release, TE adds that its "DAS solutions are ideal for 4G upgrades because they use technology-agnostic electronics to distribute mobile signals. This means that mobile operators and venue owners can simply add a new base station interface to the DAS head-end and that signal is automatically distributed to remote antennas placed around the property. Venues offering MIMO service can upgrade by adding a base station for the second MIMO path and a second antenna at each location to deliver the service. Creating redundancy and optimizing capacity does not require an overlay system with additional cabling and DAS electronics."
"TE's DAS products make it easy for our customers to stay up to date with ongoing changes in wireless infrastructure by upgrading with technologies such as MIMO," comments Peter Wraight, president of TE's wireless business unit. "Our all-digital solutions provide a robust and cost-effective upgrade path for mobile operators and venue owners who want to continue to bring the highest quality of service to their subscribers and guests."
---
Ole Miss tackles stadium WiFi in time for 2014 college football season opener
With the 2014 college football season at hand, Ole Miss [University of Mississippi] fans will be flocking to the school's Vaught-Hemingway Stadium with smartphones and other connected devices in hand to capture and share the experience with friends and family. To meet growing demand by tech-savvy fans for Internet access on their smartphones and tablets before, during and after games, wireless broadband provider C Spire and the school's athletic department have installed a new, state-of-the-art stadium WiFi network in the 60,580 seat-capacity venue.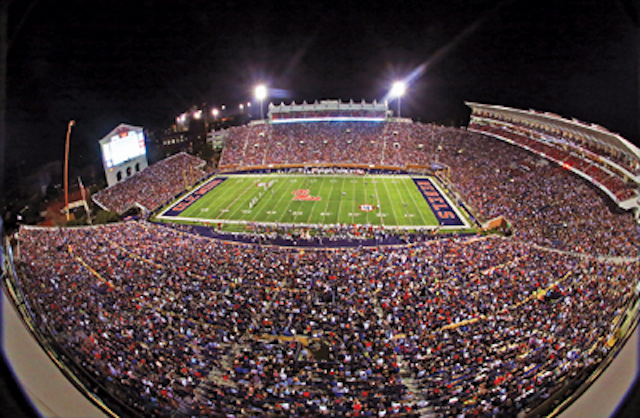 Officials planned to have the network ready for use in time for the Rebels first home game on Sept. 13 against Louisiana-Lafayette. C Spire and Ole Miss planned to use the school's first two home football games this fall to test and optimize the network. Connectivity was provided at no cost to any fan choosing to access the network during the Sept. 13 and Sept. 27 games. Beginning with the SEC home opener against Alabama, C Spire said it will provide free network access for its customers who attend the game. Fans with service from other wireless providers will also be able to access the network for a $4.99 fee each game.
The high-capacity network features the latest in WiFi and fiber-optic technology, says the provider, with over 700 access points strategically located throughout the stadium. With mobile technology now an integral part of the game-day experience, fans expect to use their smartphones to talk, text, share photos and video, access social media, listen to audio files and surf the mobile web, notes to Hu Meena, president and CEO for C Spire. "As a leading telecommunications and technology services provider, we know firsthand how important these devices are to an entire generation of consumers," Meena said. "That's why we've partnered with Ole Miss to identify and implement an infrastructure solution that over time will deliver a world-class in-game experience for fans."
Ole Miss Athletics Director Ross Bjork said the network will provide additional capacity this season and position the school and C Spire to deliver an unmatched game experience using technology in future years. "For years, Ole Miss has been known as a 'bucket list' game-day destination and it is our responsibility to improve the ultimate fan experience for our customers year in and year out," Bjork said. "We welcome feedback on everything we do and our extensive fan research has helped us identify a current and future need and there is no better partner than C Spire to deliver this connectivity to our fans."
Meena said the stadium network uses a state-of-the-art engineering design that will provide more bandwidth, faster speeds and higher quality to help support the school's digital engagement initiatives in the coming years. Bjork said school officials understand that as technology improves, fans expect to have more memorable and immersive game-day experiences using connected devices. "We want to keep the game-day experience new and fresh - so finding partners like C Spire who are committed to continuous improvement is crucial to the success of our innovation efforts," he added.
---
Sumitomo appoints new marketing VP, focusing on enterprise, data center market growth
Optical fiber and connectivity specialist Sumitomo Electric Lightwave announced the appointment of Kevin Mistele, effective June 1, 2014, as its vice president of marketing, a newly created position within the company.
Mistele now oversees Sumitomo's product management, marketing, and product development functions, with a focus on supporting the growing demand and increased product development needs of customers within the markets for fiber-optic networking infrastructure and tools. He will also manage the company's growth and increased market penetration in the data center and enterprise markets.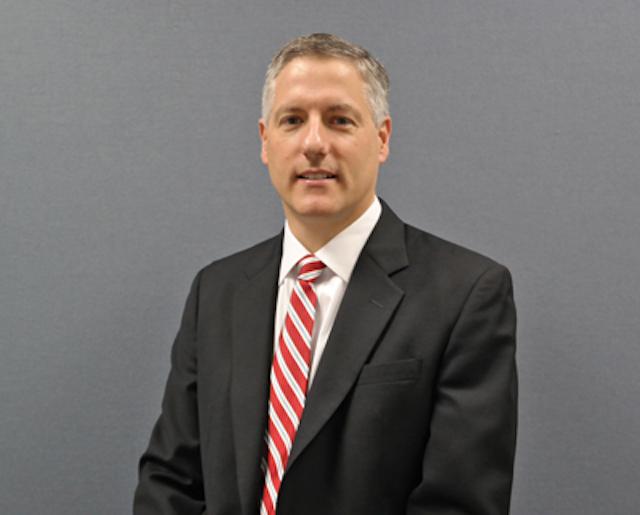 Mistele brings to Sumitomo nearly 25 years of experience in the enterprise and data center markets, in areas including business strategy, product management, technology road mapping, strategic marketing, operations and logistics. He is charged with using these skills to refine and direct the execution of the company's marketing and business growth objectives, the better to achieve, within the data center and enterprise segments, the similar industry-leading recognition that the company holds in the telecommunications market.
"Kevin provides our company with strong data center and enterprise network expertise. He will drive both our continued expansion in the markets and customer bases we currently serve, as well as define and execute those segments and customer bases that we need to penetrate more deeply," said Fred McDuffee, president and CEO at Sumitomo Electric Lightwave. "His command of the markets, segments, and technology, as well as his strong customer-focus, provides our company with yet another competitive advantage in offering customers the most advanced technologies, industry-first innovations, and leading-edge solutions in the achievement of their respective network visions."
When asked about his new company and its position in the market, Mistele remarked, "As a member company of the Sumitomo Electric Group, Sumitomo Electric Lightwave can provide a wide array of technologies and product solutions to data center and enterprise network customers, adding value like few of our competitors are able."
The company notes that its new ISO 17025 certified 4th Level Lab, the latest addition to Sumitomo's product development capabilities and R&D facilities, is a prime example of its commitment to continuous innovation. The state-of-the-art lab offers OBR connector analysis, encircled flux (EF) compliant measurement, and environmental testing, among numerous other capabilities, to ensure that data center and enterprise product innovations meet or exceed industry standards for quality and reliability.
Mistele added, "Resources, new products, solutions, and technological capabilities have [recently] been added by the company in direct support of its customers. These additions, coupled with the continued expansion of the company's sales channels, will enable Sumitomo Electric Lightwave to accelerate the broadening of its market footprint and growth of business in the enterprise and data center markets."
---
Crew of 30 U.S. sailors overhauls cabling aboard aircraft carrier Dwight D. Eisenhower
As part of a planned maintenance project, a crew of 30 United States Navy sailors completed a large-scale cabling removal and installation project aboard the aircraft carrier U.S.S. Dwight D. Eisenhower. "Ike," as the Navy referred to the vessel when describing the cabling project, currently is undergoing docking planned incremental availability (DPIA) period projects.
The ship's cableway improvement team comprises 30 people-3 first-class petty officers, 8 second-class petty officers, 13 third-class petty officers and 6 E-3 and below sailors. They completed their cabling project on June 16, the Navy said.
"The cableway team removed 6,450 dead-end cables from the cableways throughout the ship, which is equivalent to 225,700 feet (48.4 miles) of cable," reported the ship's public affairs spokesman, mass communications specialist 3rd class Jermaine M. Ralliford. "They pulled 188 of those cables to assist VT Milcom with the Consolidated Afloat Networks and Enterprise Services (CANES) installation. The cableway team completed all its DPIA jobs ahead of schedule and without any need for rework."
CANES is the Northrop Grumman project that the company says "will consolidate and modernize shipboard, submarine and shore-based command, control, communications, computers and intelligence network systems to increase capability and affordability across the fleet."
Chief electronics technician Gregory Reno is the cableway team leader. Reno said, "We were the ones tasked with removing dead-end cables and going through the whole ship inspecting it in preparation for [the Board of Inspection and Survey] (INSURV)" ship qualification process. "I think my team performed outstandingly. There were some rough spots where we had to work a little longer than others, but we had to get the job done. They worked hard, and I give all the credit in the world to them."
Information systems technician 1st class Francis Bartoszak, a cableway team member, added, "Our team did a lot of good. Together we pulled more than 200,000 feet of cable. I feel good knowing we had a good group of people who could bring the ship back into standards for INSURV."
Bartoszak and another team member created a database to track all the cableway jobs the team performed ahead of the inspection. They used the database to track the number of hours worked and help schedule outstanding maintenance. The team shared the database with the cableway team aboard the aircraft carrier U.S.S. Harry S. Truman, which is scheduled to join the carrier Eisenhower at the Norfolk Naval Shipyard later this year.
Reno concluded, "I couldn't have asked for a better team."
---
Survey: Majority of electrical contractors work on communication systems' structured wiring, cabling
A recent survey by Electrical Contractor Magazine (ECM), a publication of the National Electrical Contractors Association (NECA), reports that 70 percent of electrical contractors worked in power quality, communications systems/connectivity and/or CII automation/controls, while 61 percent performed communication systems/connectivity work, with structured wiring/cabling mentioned most often.
Significantly, the magazine's biennial reader survey, the "2014 Profile of the Electrical Contractor," also shows that while 92 percent of such contractor firms work in traditional electrical/power distribution, that category now accounts for just 44 percent of total firm revenue; that figure is down from 69 percent in 2004, and 56 percent in 2010. The magazine's editors contend that this steady decline demonstrates an increase in electrical contractors' ever-expanding scope of services.
According to the survey, other significant boosts in types of work performed since 2012 include power quality (70 percent vs. 62 percent), green/sustainable building elements, communications systems and/or green/sustainable technology/alternative energy. Rapidly growing work also includes Leadership in Energy and Environmental Design (LEED) projects and non-LEED energy-efficiency upgrades, electrical vehicle charging stations, energy audits (thermal imaging) and smart or net metering. The 2014 survey also introduced three new project types: daylighting/shading systems, troubleshooting/maintenance of low-voltage systems, and microgrids.
Additional highlights of the survey include the following.
• 75 percent of electrical contractors plan to take formal job and skill training across 31 different categories.
• More than 75 percent of specs indicate a variation of multiple brands, while the remainder indicated a single or proprietary brand.
• 60 percent of electrical contractors said they both specify and install lighting fixtures and control systems.
• 70 percent of firms performed design/build or design/assist work in the previous year.
• 80 percent of electrical contractors say they receive plans and specs that are incomplete 46 percent percent of the time - where their firm is responsible for completing the design documentation.
• About 20 percent of electrical contractors say they now get involved earlier in design collaboration.
• Almost 25 percent now use building information modeling (BIM), rapidly growing since 2012.
Finally, the survey, which polled more than 2,700 owner- and top-management level U.S. electrical contractors, reported a high influence in electrical design and brand specification, maintaining a steady gain over the past decade. According to ECM, more than 80 percent of electrical contractors now report a medium or high ability of a brand to influence the overall electrical system design.
---
Triplett adds Byte Brothers cable testing products via company acquisition
Jewell Instruments, LLC, supplier of the Triplett Test Equipment product line, announced that it has acquired the assets of Byte Brothers Inc. Included in the purchase are several patents and trademarks for the Byte Brothers products and technology for an advanced line of test equipment for cable and devices.
Jewell says the acquisition will position both Triplett and Byte Brothers products groups to provide a more complete line of test equipment and tools. The continued development of the Byte Brothers cable testing technology will also allow both Triplett and Byte Brothers products to expand into new markets and territories, adds the company.
Along with the Triplett and Byte Brothers-brand test equipment and tools, Jewell Instruments is a specialist in the manufacture and distribution of sensors and controls, as well as meters and avionics instruments. Byte Brothers is a designer and manufacturer of handheld cable test and certification equipment for the computer, datacomm, audio/video and security marketplaces.
Although Byte Brothers is best known as the maker of handy tools such as the Web-upgradeable Low Voltage Pro and the Real World Certifier, which tests the speed parameters of a cable plus stores 250 test reports, the company says it has brought similar creativity to its Power Panel instrument for VoIP and IP camera installers; its ProTone Wire Locator with illuminated tip; its TVR entry-level LAN tester; its Camera Wizard CCTV tester with Vpp display; and other powerful, yet affordable, testers.
"The Byte Brothers brand is known for having a creative approach to testing, with tools that do more and cost less," commented a representative for Jewell Instruments.
---
Security and safety design manual gets updated
BICSI recently released the 4th edition of its Electronic Safety and Security Design Reference Manual (ESSDRM). When announcing the new edition's release, BICSI said, "The security of life, property and assets is a subject of great interest and importance. With the first IP-enabled video camera in the late 1990s, the security industry has continued to innovate and expand system capabilities designed for protection. The speed of change and innovation has increased, incorporating concepts and technologies that have recently arisen."
The association added that the ESSDRM's 4th edition addresses these principles, and is a reference for both the information and communications technology (ICT) designer, and the security professional. "Today's ICT projects require the knowledge of ESS and its principles, and security designers are required to become more knowledgeable of the ICT infrastructure required for ESS systems," BICSI added. "The updated ESSDRM describes how these systems have been transformed into elements of a larger security solution, where information and infrastructure are shared. This sharing allows personnel to focus attention on a wider, broader level, while systems manage the monitoring and initiating of alarms when, and even before, an incident occurs."
Michael Collins, RCDD, CCDA, NCE, BICSI's president, commented, "The fourth edition of the ESSDRM is an essential reference for all those involved in the design and implementation of ESS systems. Information and trends specific to the security industry are captured in the manual, including network storage, integration of wireless transmission, and the basic tenets of cloud computing and software-as-a-service. The new ESSDRM continues to bridge the gap between the ICT and security industries to ensure a harmonious effort to protect us now and in the future."
---
Report: Need for 'smart city' communications infrastructure growing rapidly
Worldwide shipments of communications nodes for "smart city" networks will grow from 16.3 million annually in 2014 to 54.8 million in 2020, according to a recent report from market research firm Navigant Research. Ubiquitous and embedded communication services lie at the heart of the innovations in energy, transportation, and the efficient delivery of public services associated with smart cities, Navigant says. Without the underlying communication infrastructure, the smart city vision cannot be realized, the research firm points out.
"Growth in smart city communications systems is being driven largely by innovations in the core elements of the urban environment, including energy, water, transportation, buildings, and public services," says Eric Woods, research director with Navigant Research. "The grand vision is of a multi-layered, multi-application network that will support rapid innovation at the edge while also providing a robust and scalable backend infrastructure for data transmission and overall network management."
While some common communications technologies are used across sectors and departments, there is significant variation in ownership of the communications infrastructure, notes Navigant. Municipalities and other public agencies, utilities, private contractors, and communications service providers all have a role to play, finds the report. The diversity of ownership is a major factor leading to fragmentation in the communication infrastructure, Navigant asserts. That fragmentation must be overcome, according to the report, for smart cities to achieve their full potential.
The report, "Smart City Communication Networks", analyzes the challenges and opportunities for smart city communication networks, with a focus on the five main sectors: smart energy, smart transportation, smart water, smart buildings, and smart government. The report explores the market issues and dynamics associated with smart city communications and covers the viewpoint of communication service providers, communication infrastructure vendors, IT vendors, and city governments.
Global market forecasts for communication node shipments, infrastructure revenue, and service revenue, segmented by region, sector, communication type, and network layer, extend through 2020. The report also examines the key communication technologies related to smart city communication infrastructure, as well as the competitive landscape.
---
Network installer BlueStream absorbs Tempest Telecom's DAS, small cell services division
BlueStream Professional Services, a national provider of planning, implementation and maintenance services for wireless and wireline communications networks, announced that it has purchased select assets of Tempest Telecom Solutions' distributed antenna systems (DAS) and small cell division.
The Tempest Telecom Solutions DAS and small cell assets identified in the agreement will be integrated into the BlueStream Professional Services portfolio of wireline and wireless services. The terms of the agreement will allow BlueStream Professional Services to execute certain existing projects and contracts as assets are transferred.
"This is an exciting time for BlueStream Professional Services as we continue to focus on growing wireless capabilities and services and further strengthen our position as a leading provider of professional services," commented Trevor Putrah, president of KGP Companies, BlueStream's parent company. "This acquisition provides us with the opportunity to increase our scale, while further diversifying and extending our market coverage for DAS and small cell services."
The integration of the Tempest DAS and Small Cell division will augment the current BlueStream services while further enhancing its expertise, scale and capabilities. Darlene Braunschweig, former president of Tempest's DAS and Small Cell Division, will assume the role of general manager for the BlueStream DAS and Small Cell business unit.