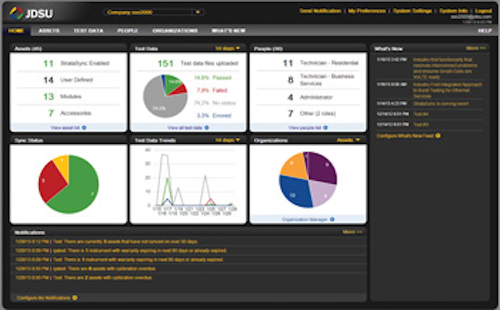 From the April, 2014 Issue of Cabling Installation & Maintenance Magazine
Cloud-based storage means confirmation and analysis of test results are no longer beholden to the tester's location.
By Patrick McLaughlin
Several providers of test equipment used in the telecommunications and cabling industries now offer platforms through which test results are stored in the cloud. Each company points to numerous advantages gained--by technicians, project managers and the ultimate network owners--as a result of this cloud-storage capability.
Wow Insites LLC announced the upcoming availability of its WowClowd (www.wowclowd.com) tester and platform last fall. WowClowd uses mobile devices like smartphones and tablets "to gain access to real-time test results, project-management tools and customer floorplans," the company explained. "Using Bluetooth wireless technology, the WowTester app connects to your mobile device. The app is able to initiate and run cable tests, allowing onsite technicians to view test progress and results in real time on their mobile devices."
Carey Gille, vice president of product with Wow Insites, explained that the use of familiar mobile devices to conduct tests eliminates traditional testing-related hassles like scroll buttons. And, she explained, that is just the beginning of the benefits. "Our mobile cloud capability significantly improves productivity, information access and profitability as owners, project managers, supervisors, field personnel and clients will now have real-time access to the cloud where test results, project-management tools, customer floor plans and other project documentation are collected, time-stamped, stored and backed up. Because test results will feed immediately to the cloud, data is instantly accessible rather than delayed awaiting manual transfer or even worse, accidentally lost when testers are shared, misplaced or stolen.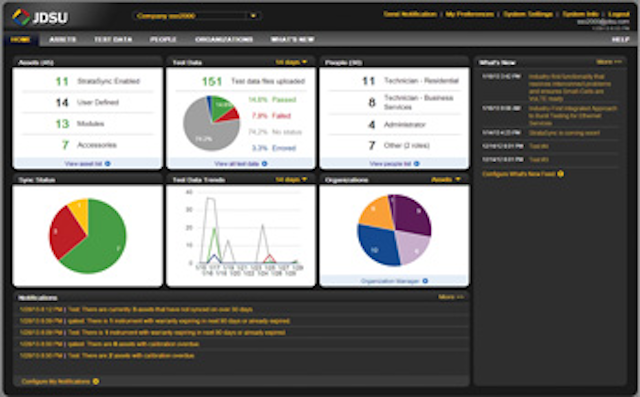 StrataSync, a capability built into new JDSU test equipment and available for download onto existing equipment, provides this dashboard view of test-data analytics.
"This solution optimizes client retention as clients can also be granted cloud access with preset permissions to view real-time project information including status, test results and floor plans influencing them to return to the solution provider to access this information for future projects."
She stated the system "will revolutionize and transform the cable-testing industry." Indeed, when Wow Insites demonstrated WowClowd at BICSI's Fall Conference in September 2013 and its Winter Conference in February 2014, it was the first time many observers had seen such a concept.
Professionals involved in the commissioning of service-provider networks, however, already may have seen some of these capabilities--particularly related to cloud-based storage of test results. In January 2013 JDSU (www.jdsu.com) announced StrataSync, a system that the company says "provides network operators with an agile and centralized way to manage and analyze data from thousands of deployed JDSU test instruments directly from the cloud. StrataSync will help network operators manage and optimize their networks in a more efficient and cost-effective way, empower their technicians with real-time data, and help to improve customer service."
David Heard, president of communications test and measurement with JDSU, commented, "Moving more network monitoring to the cloud with new solutions like StrataSync helps ensure that our customers get the best value out of their network assets while letting them focus more time on providing high-quality service."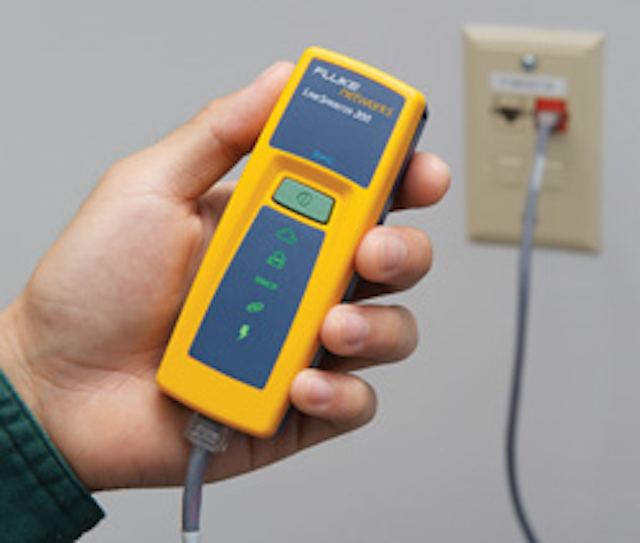 Fluke Networks' LinkSprinter offers one-button testing of five network-connection characteristics and immediate cloud storage of test results.
Stan Hawthorne is JDSU's director of workforce efficiency and cloud enablement. In an interview with us, he explained, "JDSU made a commitment to cloud enablement, and StrataSync is a first step." The platform, he emphasized, provides visibility into the behaviors of test technicians as well as connectivity of those in the field to the home office and access to resources they may need. "The cloud is a natural place to enable that connectivity," he said.
A quantifiable advantage is the use and analysis of information that comes from test equipment. If the availability of that data prevents one truck roll, the benefit is self-evident.
Turning once again closer to the premises and enterprise cabling trade, a recently introduced test product and platform from Fluke Networks (www.flukenetworks.com) is cloud-based. In mid-March the company introduced LinkSprinter, which is available in two versions, both of which send detailed test data to the cloud. Both versions--LinkSprinter 100 and LinkSprinter 200--conduct one-button autotests on power (Power over Ethernet), link, switch, Dynamic Host Configuration Protocol (DHCP), and gateway connections. The 100 model, considered a network-validation tool, displays results in color-graded LEDs (green, yellow or red) and automatically reports results to the cloud. It can be battery- or PoE-powered. The 200 model has all the capabilities of the 100 as well as a built-in WiFi hotspot and Web server. Additionally, it delivers diagnostic details to a user's mobile device.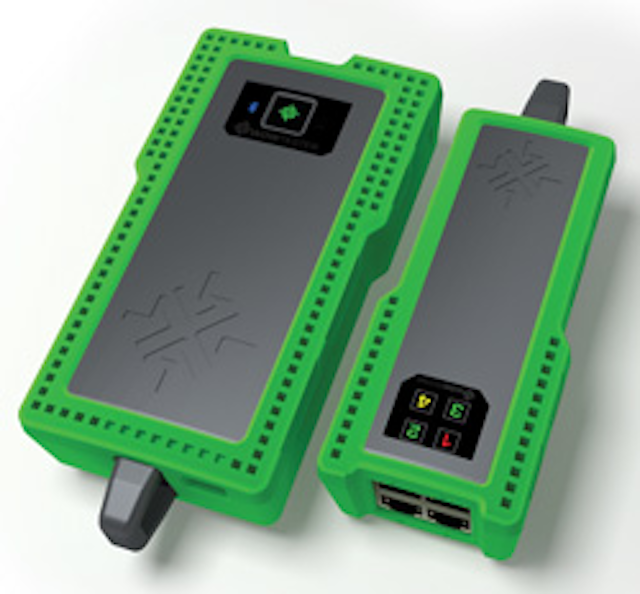 The WowClowd test system includes main and remote units that are essentially "faceless" because the tests are initiated via the WowTester app on the user's mobile device.
When introducing the product Fluke Networks explained, "The cloud management system tracks test results, providing a dashboard viewable from any remote location or smartphone. The user can even receive an email of the test results. No standalone application is required, as an embedded WiFi hotspot [in the 200 model] allows any device with WiFi and a browser to access detailed test results."
The mobile nature of test technicians makes it logical that they are the first industry-workforce subset to use cloud services in their everyday tasks. It's likely that other subsets will soon follow.
Patrick McLaughlin is our chief editor.
More CIM Articles
Archived CIM Issues