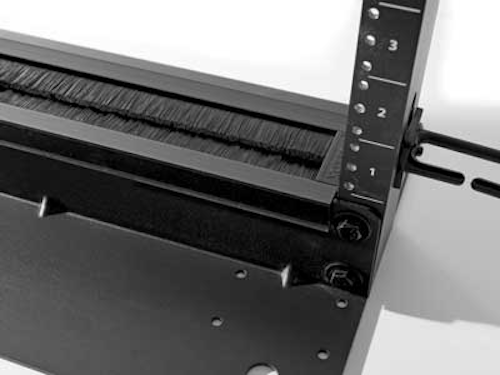 From the February, 2014 Issue of Cabling Installation & Maintenance Magazine
Compiled by Matt vincent
Data center post rack grommet's design eliminates bypass airflow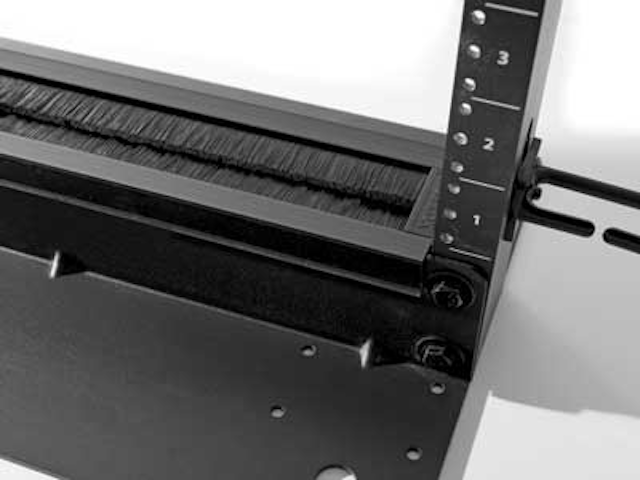 Upsite Technologies has introduced its KoldLok 2 post rack grommet, optimized to advance energy efficiency in the data center through proper airflow management. The easy-to-install grommet prevents bypass airflow by sealing off the rectangular area in the 2 post structure of the data center cabinet, while promoting clean data center best practices by preventing dust and other debris from getting trapped in hard-to-reach areas.
According to Upsite, key features of the KoldLok 2 post rack grommet include: a split design to allow for retrofit installation; a design that works with variations in rack material thickness; an installation that requires no cutting, modifying or tools; and RoHS compliance.
Upsite notes that it recently conducted a review of numerous data centers throughout the country, finding that only thirteen-percent were maximizing their cooling capacity, highlighting a vast opportunity for airflow management (AFM) best practices. "The KoldLok 2 Post Rack Grommet is an easy-to-install airflow management product that gives data center managers the ability to realize instant efficiency gains," asserts John Thornell, president, Upsite Technologies.
---
Corning touts Thunderbolt optical cabling at CES 2014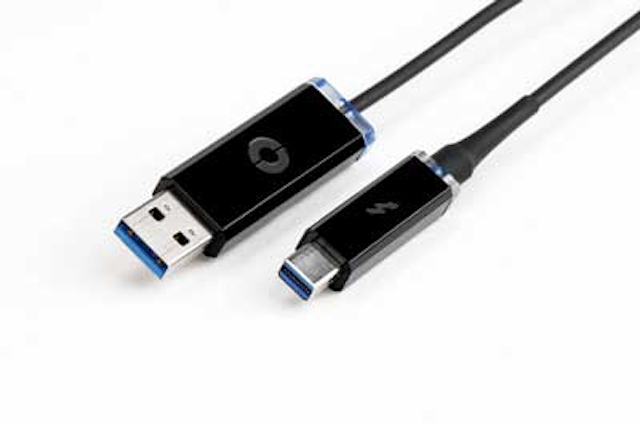 At the 2014 Consumer Electronics Show (CES) in Las Vegas, Corning's optical cables division showcased video and data transfers enabled by the company's all-optical fiber cables for use with Intel's Thunderbolt technology. The CES exhibit from Optical Cables by Corning demonstrated a Thunderbolt 2/4K workflow transmitting at speeds up to 20 Gbit/sec and spanning more than 200 feet over optical cabling. The 2014 CES also featured a daily industry session from Corning, presented by Gary Adcock, a noted Thunderbolt authority and post-production and workflow expert. Entitled "Changing the Future of Production and Post," the sessions explained how Corning's optical Thunderbolt cables fit into this future.
---
MU-MIMO chipset to drive new 802.11ac WiFi devices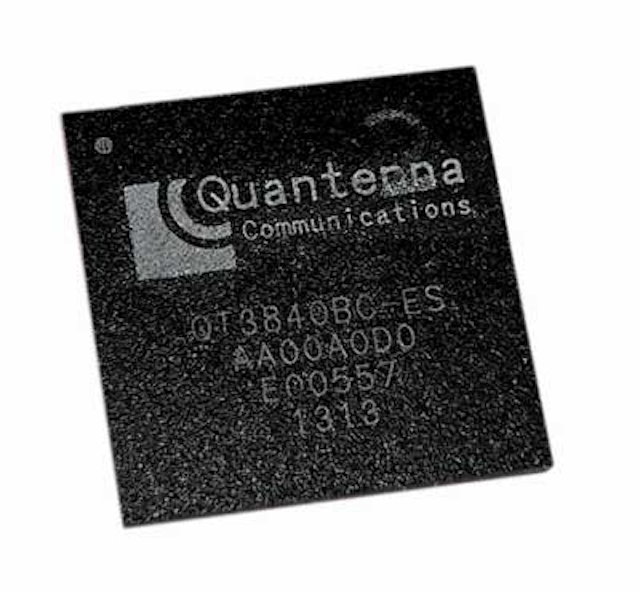 At the 2014 International CES in Las Vegas, WiFi networking specialist Quantenna Communications and Asus announced that Quantenna's QSR1000 4x4 Multi-User Multiple Input Multiple Output (MU-MIMO) chipset will power the Asus RT-AC87U, a 2nd generation 802.11ac home router. "With the increasing number of bandwidth-intensive activities occurring at once in the average home, consumers put great value in knowing that their WiFi will deliver the wire-like reliability they need," commented Dr. Sam Heidari, CEO of Quantenna. "We are pleased to partner with Asus to bring the first 802.11ac wave 2 home router to market."
The Asus RT-AC87U employs Quantenna's 4x4 MU-MIMO chipset to deliver up to 7-Gbit/sec data throughput speed for the 5-GHz band. Additionally, Quantenna says its superior digital beamforming technology will ensure whole home coverage when streaming rich multimedia, giving consumers the best WiFi experience available.
"Our customers value high-performance WiFi and know the impact a reliable wireless connection has on their ability to stream bandwidth-intensive data, including video content," remarked Tenlong Deng, associate vice president of the Networking & Wireless Devices business unit for Asus. "As wireless devices in the home continue to increase and consumers' reliance on keeping connected at all times to live their daily lives is the norm, the importance people are putting on a great WiFi experience is vastly elevated. That's why we are so pleased to create this latest flagship router product with Quantenna."
Quantenna says the QSR1000 chipset will ultimately enable best-in-class wireless broadband capabilities for a host of bandwidth-intensive retail and consumer electronics applications, including wireless routers, access points, and high-end consumer electronics devices.
---
Wireless for HDMI 60-GHz extender delivers near-zero latency 1080p HD video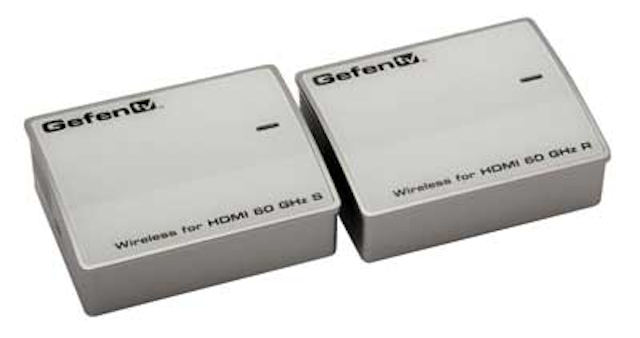 Gefen's new Wireless for HDMI 60-GHz extender is designed to enable transmission of 1080p HD video up to 33 feet (10m). The plug-and-play extender can deliver 3DTV and supports all audio formats including the new lossless High Bit Rate (HBR) 7.1 channel Dolby True-HD and DTS-HD Master Audio.
"This extender uses the best technology currently available for an impeccable method of wireless extension that takes full advantage of the WirelessHD specification, which is based on the 60-GHz EHF [Extremely High Frequency] radio band," commented a representative for Gefen. "This high-quality method of extension eliminates the need to run cables, making it a great solution for retrofits or any environment that wants to streamline cabling."
The ability to pass through uncompressed video, lossless audio and 3DTV is unique for high performance commercial or residential installations, contends the company. Due to its in-room transmission and use of the uncluttered 60-GHz frequency band, the new extender can perform seamlessly alongside other wireless devices in adjacent rooms with zero interference. It is billed as very easy to install, requiring a connection of the video source to the sender and of the display or projector to the receiver. Content is transported wirelessly at 4 Gbits/sec from source to display.
Gefen notes that the editors of Electronic House magazine gave a formal nod to the Wireless for HDMI 60-GHz extender by awarding it a Product of the Year award for 2014. Announced on January 7, 2014 at the International CES in Las Vegas, the GefenTV Wireless for HDMI 60-GHz extender was selected as best in the judging's A/V cables and interconnects category, joining an exclusive group of products deemed most noteworthy.
---
Targeting home security systems, Netgear launches Ocuity wireless IP cameras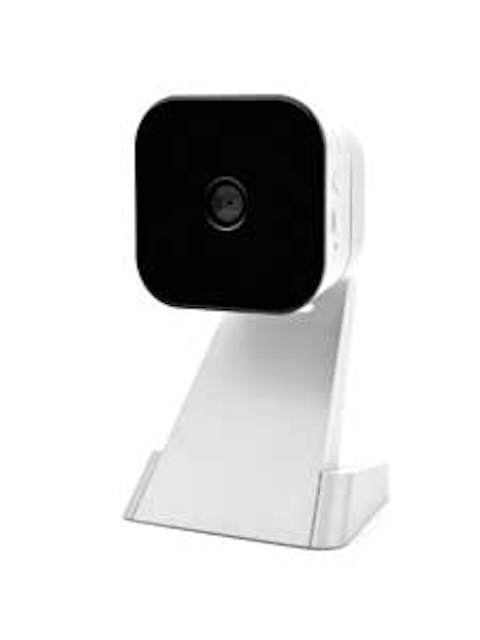 At the 2014 International CES tradeshow in Las Vegas, Netgear announced its new product family of advanced wireless IP cameras. Available in both basic and advanced editions, the company says its Ocuity Wireless IP Camera offers home security systems providers an enhanced security and home automation solution optimized for their subscribers.
The Ocuity 100 Wireless IP Camera (HMNC100) offers high-quality 720p resolution HD video and leverages selectable dual-band 802.11n WiFi technology. Along with flexible mounting options, it offers a discreet, compact form factor and print-to-customize skins to blend into home décor. The Ocuity 500 Wireless IP Camera (HMNC500) offers the same networking and HD capabilities as the Ocuity 100, but also features the MagnaFast magnetic mounting system for a broad range of modular mounting options.
According to Netgear, what makes Ocuity 500 a standout among home monitoring devices is that it is the industry's first camera designed to combine high-quality HD video with breakthrough multifunction sensing and monitoring algorithms. This innovation in technology enables advanced motion detection capabilities combined with reliable audio detection capabilities, to enhance security and even support communication with the homeowner.
"Netgear is using data analytics to extend the capabilities of its high-definition WiFi camera by converting unstructured audio and video streams into a high-quality motion and glass-break sensor," asserts Tom Kerber, director of research on Home Controls & Energy with Parks Associates, a market research and consulting firm focused on residential product and service segments. "Multi-function sensors will play an important role within the connected home, enhancing the capabilities of energy management, security, home health monitoring, and safety systems."
Both Ocuity camera models will become available in the first quarter of 2014 through major security and home automation service providers. End pricing will vary depending on the service provider offering, says Netgear. "We leveraged our core competencies in home networking-ease of use and high-end design-to offer capabilities in Ocuity Wireless IP Cameras that go beyond video," comments Michael Clegg, senior vice president and general manager for service provider business at Netgear. "The Ocuity Family expands our product portfolio so we are better able to address the needs of service providers who are looking for a complete, integrated home monitoring solution to offer their subscribers."
---
L-com adds 802.11ac antennas for Gigabit WiFi transmissions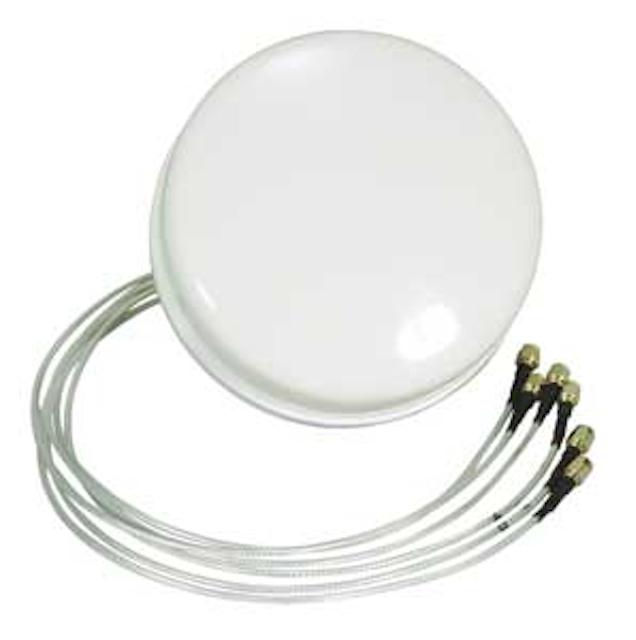 L-com announced that it will support the latest IEEE wireless standard 802.11ac with a series of indoor ceiling mount and outdoor panel style WiFi antennas that feature 2.4-5.8 GHz operation. 802.11ac offers up to 1-Gbit/sec wireless transmissions and the ability to support up to eight MIMO spatial streams as well as 80 MHz channel bandwidth.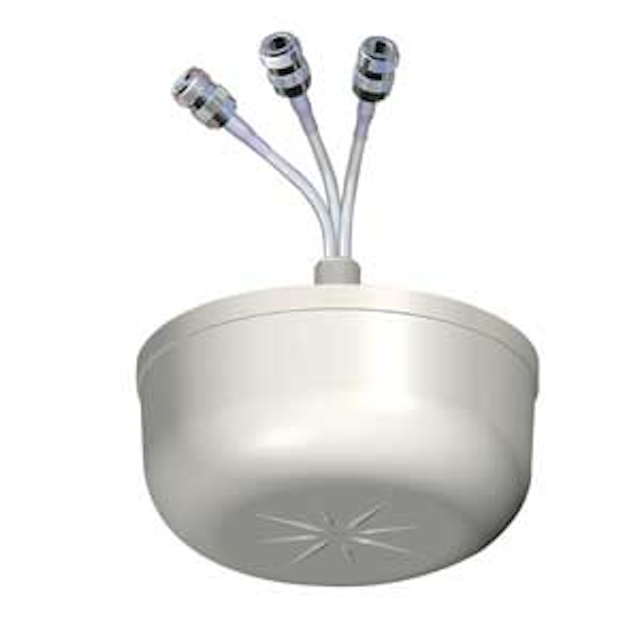 The HG2458-4SDC-6 series ceiling mount 802.11ac MIMO antennas feature 4 dBi of gain and six independent spatially diverse antennas in a single package. Three are designed to operate at 2.4 GHz and three are designed to operate at 4.9 to 5.8 GHz. The HG2458-3SDC-3 series ceiling mount antennas feature spatial diversity between three independent/integral antenna ports providing better wireless reception in areas susceptible to the effects of multi-path interference.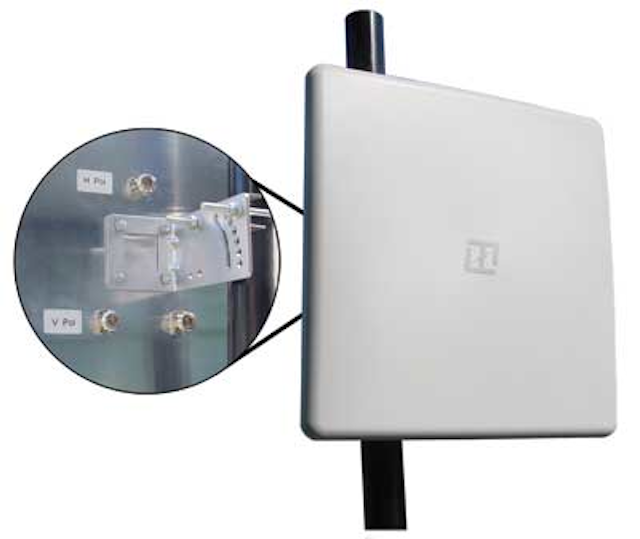 The HG2458-14DP-3NF outdoor rated panel antenna features three independent 14 dBi antennas with two vertical and one horizontally polarized element. Other features include a heavy-duty UV-resistant plastic radome ideal for all-weather indoor or outdoor operation and a tilt and swivel mast mount kit which allows for quick installation at various degrees of up/down tilt.
"We strive to offer our customers support for the latest technologies. Our new 802.11ac antennas provide high speed wireless connectivity as well as high quality construction which are a hallmark of L-com's products," comments Ken Burgner, wireless product manager.
---
Superior Essex being spun off of parent company
LS Cable & System, the Korean-based parent company of Superior Essex, recently announced plans to spin off that company as well as other interests.
LS Cable & System announced that its president and chief executive officer Jaeun Koo "called a board meeting [last October] during which it was decided to separate the overseas investment division of Cyrpus, a U.S. subsidiary, and its domestic real estate development division. The two units will be combined to form a new company tentatively named LS I&D...LS I&D will focus its management capacities on improving corporate value by accelerating the performance and structural improvement of Superior Essex Inc, a subsidiary that LS Cable and System acquired in 2008."
The announcement from LS Cable & System also stated that through the move it "plans to improve its global competitiveness by focusing only on the company's core businesses, namely submarine and extra high-voltage cables. In addition, LS Cable & System anticipates that the spinoff will strengthen the company's investment capabilities for future growth while improving its financial soundness and profitability by reducing its debt ratio." Addressing the financial climate, the company added, "In the U.S. the demand for winding wire, communication cables and power cables-the core businesses of Superior Essex-is expected to improve due to the increased demand for big data communications networks and the automotive industry recovery."
It concluded, "The key to this spinoff is to create a business structure for LS Cable & System with which we can break through the difficult situations the cable industry is facing at the moment, and also for each subsidiary to focus on their fields of expertise."
---
AFL unveils sub-unitized premise fiber-optic cabling for data centers
AFL has announced the availability of its high-performance sub-unitized MicroCore data center cables. Optimized for high density infrastructures, the new small-diameter cable can allow facilities to realize significant savings in both space and fiber management, claims the company. The new product's 2.0 mm sub-cables are designed for direct termination and support both single fiber and multi-fiber architectures.
The sub-unitized MicroCore cable can be used in headend terminations to a fiber backbone, termination of fiber rack systems, multi-floor deployments where select fibers are used at each floor, intra-building backbones, and MTP/MPO or MTP to break-out terminations. Available in 12 to 144 fibers, the sub-unitized MicroCore cabling is compliant to RoHS/REACH directives and NFPA 262 plenum-rated.
"Each sub-cable is independently qualified and is suitable for individual routing paths with the rack or panel architecture," explains Doug Baker, commercial manager for AFL's premise and black jacket cables. "This enables a flexibility of design and deployment not available in comparable high density designs."
---
Mellanox launches online certification and training for InfiniBand, Ethernet
Mellanox Technologies has launched its Mellanox Online Academy, an online learning and certification platform designed to meet the growing worldwide need for IT managers trained on high-performance interconnect technologies for data center servers and storage systems. The company says the program supports information technology professionals of all levels who need to educate themselves on Mellanox's RDMA-based InfiniBand and Ethernet products and related data center technologies, paving the way for professional career growth.
The Mellanox Online Academy platform includes various courses and videos focused on best practices in high-performance interconnect technologies. The program's learning plan is flexible and offers a variety of content to allow students from around the world to acquire the knowledge at their own pace, with 24/7 availability, to improve their personal and organizational performance.
"As more RDMA-based systems are deployed in new markets, IT professionals and network engineers are now required to learn and be certified to support and ensure the network is running at optimal levels," comments Lior Ofer, senior director of global support and services at Mellanox Technologies. "We are pleased to launch this new educational platform to the IT community and provide them with an online learning program that enables them to further their career and become critical players in their businesses' growing high-performance infrastructure needs, whether it be InfiniBand or Ethernet."
Mellanox notes that InfiniBand, the de-facto interconnect for today's leading high-performance supercomputers, back-end storage appliances and databases, is quickly becoming the interconnect of choice for cloud computing, Web 2.0 and front-end storage infrastructures. The company contends that application performance and system efficiency gained through using InfiniBand or Ethernet with RDMA over Converged Ethernet (RoCE) allows businesses to take full advantage of their data center infrastructure and use it as a competitive edge.
---
CommScope expands partner program to include DCIM, building-performance lighting
CommScope announced that it will expand its PartnerPRO Network-entering its second year, and boasting more than 2,100 active partners in 87 countries-to include two new programs for offering intelligent building-performance lighting solutions and data center infrastructure management (DCIM).
To answer growing demand for scalable enterprise intelligence and efficiency, the company recently acquired DCIM developer iTRACS and energy-efficient building systems lighting provider Redwood Systems. CommScope partners who want to provide these products to their customers can now apply via the PartnerPRO Network to receive designations as an iTRACS CPIM Accredited Integrator or a Redwood Installation Partner. "CommScope partners can bring more to the table than ever before," said Stephen Kowal, vice president, global partners, CommScope. "With quality solutions that now include DCIM and intelligent lighting, our partners can offer their customers new ways to take advantage of an array of benefits that help lower operating costs and gain crucial analytics to plan for the future."
iTRACS provides a broad range of open, enterprise-class DCIM capabilities via its Converged Physical Infrastructure Management (CPIM) software suite. CPIM provides a holistic view of the entire physical ecosystem and dynamically understands how a change or failure of a single device affects the performance of all other devices and conditions in the data center. From asset management to power management to capacity planning, the platform enables users to see, understand, manage and optimize these dynamics continuously in a real-time visualized 3D environment. Redwood Systems is a specialist in light emitting diode, or LED, technology that helps facilitate lower cost and higher-performing workplaces.
"We are thrilled to offer to partners and customers an expanded program after a very successful first year," concludes CommScope's Kowal. "I'm confident that the addition of DCIM and intelligent lighting capabilities will make for an even more robust program and provide greater benefits."
---
TIA developing bulletin to address noise caused by flexing cables
The Telecommunications Industry Association's (TIA) TR-42.7 Engineering Committee on Telecommunications Copper Cabling Systems recently issued a call for interest as part of its work to develop a Telecommunications Systems Bulletin (TSB) that will address cable impulse noise. TSB-5008 has the working title "Internally Generated Cable Impulse Noise Characterization, Detection and Mitigation."
TR-42.7 is developing the document, TIA explains, "because application developers have noted that certain cabling systems exhibit internally generated impulse noise when flexed."
The TIA further explained that TSB-5008 "will describe the impulse events associated with flexing cables; will include example test results showing the pulse amplitudes, bandwidth, variability and time delay of the observed behavior; and will describe testing methodologies to characterize the impulse noise of a cabling system. These are provided together with guidance to end users to avoid potential transient bit errors due to this effect."
By issuing the call for interest, TR-42.7 is actively seeking participating in the TSB's development. The association noted, "The stakeholders may include, but not be limited to: cable manufacturers, IT professionals, datacom equipment designers, datacom equipment manufacturers."
Anyone interested in participating in this or any other standard-development activities of TR-42 can get more information by emailing Germaine Palangdao at standards@tiaonline.org.
---
BICSI, CCCA take anti-counterfeiting message to international law enforcement
During Europol's Awareness and Knowledge Building Conference on Counterfeit Household Products and Fake Automotive Parts, held November 4-6, 2013, BICSI's president Jerry Bowman presented on research and activities carried out by the Communications Cable and Connectivity Association (CCCA) to fight counterfeiting and substandard cabling. The conference included speakers from the European Union, world law enforcement and customs officials such as Europol, Interpol and World Customs Organization. It also included presentations from private-sector experts from household, industry and automotive brands.
Commenting about the overall topic of counterfeiting and about his presentation in particular, Bowman said, "All ITS industry stakeholders are affected by counterfeit and substandard products. Everyone in the supply chain has a duty of care to ensure that the product they are purchasing or installing conforms with safety and quality standards and regulations. When a counterfeit product is installed it's more than a performance issue; it can threaten the safety of the workplace and put the consumer at risk."
Bowman continued, "CCCA has made significant strides in educating the ITS consumer and U.S. law enforcement in order to ensure the consumer is not deceived into buying cabling that is counterfeit or does not meet advertised standards. While the work of CCCA is outside of BICSI's charter, CCCA member cabling manufacturers and distributors have banded together to serve as the industry watchdog for these quality and safety issues. I am proud to have represented both organizations in educating the European law enforcement and customs officials about the roles of BICSI and CCCA in ensuring safety and quality of the ITS infrastructure."
CCCA's executive director Frank Peri added, "This is an excellent example of CCCA and BICSI leadership working together to educate international law enforcement on counterfeit cables that threaten a global industry and risk public safety. When the layers of protection to assure that cables meet essential transmission and fire-safety requirements are circumvented by counterfeits, end users and the entire supply chain suffer. We are proud to collaborate with BICSI in an ongoing effort to protect legitimate brands, quality cable and connectivity products and public safety."
---
SMF break-out cable splits 40G switch, router ports in data centers
Germany's Cube Optics has released what the company claims is the first singlemode fiber break-out cable that pairs with 40GBase-LR4 and ER4 optical transceivers. The cable enables data center operators to split 40G switch and router ports into four separate 10G connections for applications that require longer reach than the 300 m supported by multimode fiber. Thanks to the use of an integrated 40G CWDM multiplexer, the cable can support runs of 10 or 40 km, depending upon the optical transceiver used.
Data center operators use 40G switches to increase port density, as the switches support the configuration of each 40G port to act as four individual 10G ports. However, although the switch port is configured as if it were virtually four 10G ports, it physically remains one port. Such ports typically conform to the QSFP+ standard, for which only 40GBase-SR/LR/ER optical interfaces exist. In multimode applications, the transceiver already features four duplex fiber input/outputs, so only a cable or connector adaptation is required.
Singlemode versions are based on four different wavelengths that are multiplexed (and de-multiplexed at the other end), into one fiber output/input. For these applications, the break-out cable needs to not only adapt to different connectors but also feature the matching optical multiplexer inside the cable to mux and demux the four lambdas, Cube Optics points out. The new break-out cables have such a capability, based on Cube Optics' proprietary compact multiplexer/demultiplexer technology.
---
HellermannTyton introduces HelaNet fiber-optic product line
HellermannTyton recently introduced a fiber-optic solutions line called HelaNet. The company announced, "In addition to a new offering of wall- and rack-mount fiber enclosures and accessories, HelaNet fiber solutions include jumpers, inserts, adapter plates, connectors, trunk cables and tools, to provide all of the essential elements for high-performance field terminated fiber applications."
The company further noted that its HelaNet solutions "are designed to provide the installer with high-quality products that meet all ANSI/TIA specifications for fiber-optic performance. Manufactured to meet specifications required for next-generation applications and futureproof networking, the HelaNet products meet customer needs, both economically and technically, with high-performance and value-driven products for applications in data centers, education markets and enterprise-level organizations."
The product line includes the HelaNet keyed LC fiber jumpers, connectors and adapter panels, which are offered in eight color-coded mating configurations that feature a tamper-proof design to reduce unauthorized connections. The fiber offering also includes many GSA-compliant products that meet TAA (Trade Agreement Act) requirements for use in U.S. government projects.
---
Ciena offering free Carrier Ethernet certification/training to U.S. Armed Forces veterans
High-speed networking infrastructure specialist Ciena announced a new program with the U.S. Department of Veterans Affairs to offer qualified honorably discharged, retired and active duty service members for all five branches of the U.S. Armed Forces access to Ciena´s technology certification programs, free of charge. The training will provide qualified veterans with applicable certification in emerging technologies for a wide variety of jobs that are needed across different disciplines including telecommunications, IT and cybersecurity. Spots will be reserved for veterans in each of Ciena´s industry-recognized Carrier Ethernet (CE) certification and optical communications associate level classes, which are offered at more than 50 accredited colleges throughout the world.
---
Allied Telesis brings FTTH to U.S. service members in Japan
Allied Telesis is delivering Gigabit Ethernet connectivity to U.S. Armed Forces personnel in their residences at Japan's Misawa Air Base using fiber to the home (FTTH) technology.
The Army Air Force Exchange Service (AAFES) contracted Allied Telesis to deploy the FTTH connections to approximately 3,300 residential units at Misawa Air Base, which is located in Misawa City, about 400 miles north of Tokyo. In addition to Gigabit Ethernet, Allied Telesis uses the FTTH connection to provide IP telephone service. Each telephone subscriber can select a number with one of 50 U.S. area codes so U.S.-based friends and family don't have to incur international calling charges when communicating with their friends and loved ones at the base.
The fiber-optic network deployment expands Allied Telesis's existing contract to provide television service to the base, in which service members can view U.S. television shows transported from an Allied Telesis headend in Wisconsin. Now that it has rolled out FTTH for Internet and VoIP, Allied Telesis is a triple-play service provider at Misawa Air Base.
In what Allied Telesis describes as "a testament to the density and performance" of its networking equipment, just one Allied Telesis SwitchBlade x8112 and two Allied Telesis SwitchBlade x3112 chassis-based switches are sufficient to support the entire Misawa Air Base deployment. Allied Telesis AT-iMG2524 intelligent Multiservice Gateways for IP triple-play services connect individual residences, and the x900 Series advanced Gigabit Layer 3+ expandable switches complete the deployment.
"Providing the comforts of home when it comes to communications services makes for happier and more productive service members overseas," said Keith Southard, CEO of Allied Telesis Capital. "Our world-leading Internet connectivity, along with VoIP and television services, give service members at Misawa Air Base an unbeatable level of communications capabilities, whether they're e-mailing, downloading movies, watching an American TV program, or simply phoning home."
The Misawa deployment adds to the existing Allied Telesis military base networks in Japan that include Yokota Air Base, Camp Zama Army Post, Kadena Air Base, the U.S. Embassy complex in Tokyo, New Sanno Navy, Kanto Lodge, Navy Gateway Inns, and Air Force Inns.
More CIM Articles
Archived CIM Issues