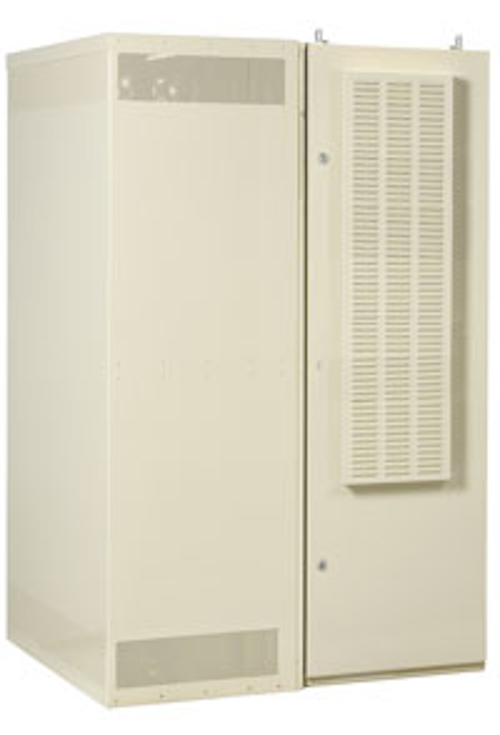 From the May, 2014 Issue of Cabling Installation & Maintenance Magazine
Compiled by Matt Vincent
---
CommScope unveils hydrogen fuel cell cabinets for enterprise backup power
CommScope recently unveiled its hydrogen fuel cell solution, designed to provide reliable backup power for small-to-medium enterprises in North America. The new outdoor cabinet fuel cell can provide up to 16 hours of reliable, environmentally-friendly backup power to enterprise core business computing systems. The system is enabled through CommScope's existing partnership with Hydrogenics Corporation, a global specialist in designing, manufacturing, building and installing industrial and commercial hydrogen systems.
"Natural disasters, such as hurricanes, have shown us that traditional backup power generators can be unreliable when put through the test of time and exposure to the elements," comments George Brooks, senior vice president, enterprise product and market management, CommScope. "These generators are commonly powered by fossil fuels and emit greenhouse gases including carbon dioxide. As fuel prices continue to fluctuate, businesses are searching for an alternative that is more reliable and has less of an impact on the environment."
CommScope says its hydrogen fuel cell solution converts chemical energy directly into electrical energy without any combustion. The system is designed to provide highly efficient, reliable and uninterrupted backup power for commercial building systems without the need for costly regular maintenance. It does not emit any greenhouse gases and the only by-products are heat and a small amount of water, notes the company. The proton exchange membrane hydrogen fuel cells are housed inside an outdoor environmentally secure cabinet, about the size of a phone booth--a smaller footprint than other solutions currently available on the market, claims CommScope.
"This is a smart fit for businesses, such as banks, large retailers and other commercial buildings needing something they can count on to keep their business systems operational, without interruption, anytime there is a loss in power," Brooks adds. "Hydrogen fuel cell technology not only has a lower total cost of ownership, but provides an opportunity to meet sustainability goals through an alternative power solution that is clean, quiet and runs on an abundant resource. Hydrogen is safer than fossil fuels and I'm confident we will see more uses for it in the coming years."
Last year, CableLabs, the non-profit research and development consortium for the cable television industry, deployed the CommScope fuel cells to provide 16 hours of reliable, environmentally friendly backup power to its headend and cable modem termination system at its headquarters in Louisville, CO. In 2011, the Society of Cable Telecommunications Engineers (SCTE) deployed a similar hydrogen fuel cell system to provide backup power to its data center at its headquarters in Exton, PA. Those fuel cells were called into service during Hurricane Irene in 2011 and Hurricane Sandy in 2012. During the severe weather, the fuel cell provided sufficient backup power until normal power was restored.
CommScope said it will also be expanding its PartnerPRO network to include partners who will assist customers with site planning, installation, commissioning and ongoing maintenance of the backup power solution.
---
Linksys adds WiFi access points geared for business networking
Linksys has expanded its offering of business networking products with the addition of the first of its business-grade wireless access points. The Wireless-N300 Access Point with PoE (LAPN300) operates over a single band with speeds up to 300 Mbits/sec. The Wireless-N600 Dual Band Access Point with PoE (LAPN600) supports dual band (2.4 GHz and 5 GHz) operation with speeds up to 300 Mbits/sec + 300 Mbits/sec.
Both Linksys Business Wireless-N Access Points use the widely adopted 802.11n wireless technology to provide a fast and highly reliable wireless network, and support advanced features such as Power over Ethernet (PoE) for flexible placement, plus Rogue AP Detection and 802.11X supplicant for enhanced security. The company says the new access points are geared for businesses who seek to deploy a fast, highly secure and reliable wireless network or to upgrade an existing wireless infrastructure. Both models can be deployed as an access point or range extender to connect notebooks, smartphones, tablets, and other WiFi devices to the network and the Internet; they are suitable for desktop use or mounted to a wall or ceiling.
"WiFi is far more crucial to businesses these days, and is being deployed for many reasons," notes Steven Lin, director of product management for Linksys Business. "In office environments, wireless enables employees to work anywhere, have fast and free access to the web on mobile devices, and enables new experiences such as Voice over IP and video conferencing. At the same time hotels, retail stores and restaurants use WiFi for hospitality purposes and in production, and in logistics facilities it is used to connect handheld devices for real-time inventory control."
The Linksys Wireless-N300 Access Point with PoE (LAPN300) is being offered at an MSRP of $199.99; the Linksys Wireless-N600 Dual Band Access Point with PoE (LAPN600) bears an MSRP of $299.99. The new WiFi access points complement a variety of new switches, VPN routers and IP surveillance products that the company also recently added to its Linksys Business line of networking products.
---
Senko intros LC-HD connector for high-density applications
Senko Advanced Components has introduced its new LC-HD high density LC connector. The Senko LC-HD's design utilizes a flexible "pull-tab" allowing for the connector to be disengaged easily from densely loaded panels without the need for special tools. The company notes that the overall height of standard LC connectors requires a small vertical space above and below the LC adapters. The low-profile Senko LC-HD, by virtue of its pull tab, allows LC adapters to be stacked while taking up absolutely no vertical space. According to Senko, because the LC-HD connector can be removed via its simple pull tab, the design eliminates the need for finger access to the LC connectors' latch mechanism; therefore, LC adapters can now be mounted much closer together.
---
Report: $8.5B to be spent on carrier WiFi equipment over next 5 years
Infonetics Research released its latest "Carrier WiFi Equipment" report, which tracks WiFi equipment deployed by operators in public spaces for wireless internet access.
According to the research, globally, revenue for carrier WiFi equipment, including wireless access points and WiFi hotspot controllers, totaled $338 million in the first half of 2013. Carrier WiFi revenue had already surpassed 2/3 of total revenue for the prior year, says the report. The majority of carrier WiFi access points are also WiFi hotspots, notes Infonetics.
"Over the 5 years from 2013 to 2017, operators will spend a cumulative $8.5 billion on carrier WiFi equipment, led by mobile operators using carrier WiFi for data offload," reveals Richard Webb, directing analyst for microwave and carrier WiFi at Infonetics Research. "This strong growth will gain additional impetus from the proliferation of small cells with integrated WiFi over the coming years."
The data finds that North America has consistently dominated carrier WiFi revenue share since 2007, though by 2017 a regional share shift to Asia Pacific and EMEA is expected. As the carrier WiFi market evolves and more operators launch carrier WiFi services, Infonetics also expects fluctuations in vendors' market share, with the top 5 positions--currently held by Cisco, Ericsson, Huawei, Ruckus, and Alcatel-Lucent--potentially shuffled.
---
TE Connectivity's DAS products deployed to NBA, NHL arenas
TE Connectivity announced that its distributed antenna system (DAS) products are helping National Basketball Association (NBA) and National Hockey League (NHL) arena owners and service providers across the U.S. to deliver 3G and 4G mobile services for capacity crowds throughout their seasons. TE's InterReach Spectrum and InterReach Fusion DAS products have been or soon will be deployed to upgrade mobile coverage at NBA and NHL arenas in major cities across the country. Arenas newly outfitted with the TE DAS gear include: Bradley Center, home of the NBA's Milwaukee Bucks; Barclays Center, home of the NBA's Brooklyn Nets; Pepsi Center, home of the NBA's Denver Nuggets and the NHL's Colorado Avalanche; and the Prudential Center, home of the NHL's New Jersey Devils.
---
Schneider Electric acquires prefab data center provider AST Modular
Schneider Electric recently announced its acquisition of AST Modular, a Barcelona, Spain-based provider of prefabricated data center modules, services, manufacturing expertise and project-engineering support. Schneider said that with the acquisition, it adds capabilities to its position in the prefabricated data center solutions market.
"With projects deployed in over 30 countries, AST Modular has successfully executed over 450 data center projects worldwide," Schneider Electric noted in a statement. "AST Modular is considered an innovator in the prefabricated data center space, evolving and improving their solutions with every new generation. Expansions to AST Modular's portfolio have included non-ISO modules, multi-module designs and modular data center rooms, as well as a broad portfolio of cooling options optimized for the prefabricated IT space."
Henry Daunert, chief executive officer of the acquired company, commented, "It has always been AST Modular's goal to offer the best and most innovative prefabricated data centers. Schneider Electric's global presence, world-class power, cooling and data center infrastructure management solutions, backed up by an excellent service network, will be a major benefit for our customers."
"AST Modular's capabilities and experience complement Schneider Electric's strategy to provide global prefabricated solutions and support to meet customer demands in this fast-growing segment," added Kevin Brown, Schneider Electric's vice president, data center global offer and strategy. "The acquisition of AST Modular strengthens our regional capabilities in Latin America, Europe, Middle East and Africa, with factories and custom-engineering staff located in Barcelona, Spain and Miami, Florida. We look forward to expanding our library of reference designs and integrating AST Modular's solutions into our portfolio to create the most-comprehensive offer in the industry."
---
Emerson offering financing options for data center infrastructure
Emerson Network Power has announced a new data center financing option for customers purchasing the company's power, thermal management and monitoring equipment, including its Smart Solutions infrastructure offerings. Available through First American Vendor Finance, specialists in simplifying complex equipment acquisitions, the financing program offers 24- to 72-month fixed-rate data center infrastructure leasing options with what Emerson says is "one of the most lessee-friendly master lease agreements in the industry."
According to a press release, the new lease option was designed to allow Emerson Network Power customers the flexibility to upgrade data center infrastructure with low, predictable and manageable monthly payments for equipment, without the burden of a large initial capital outlay.
"Now more customers will have the opportunity to upgrade or expand their data center management needs with rapidly deployable solutions that cost-effectively add data center capacity, improve IT control and increase efficiency to balance the most common data center objectives," comments Jeff Sturgeon, president of sales for Emerson Network Power's Data Center Solutions business in North America. "We're pleased to be able to simplify the process and reduce the total cost of acquisition for mission-critical data center infrastructure."
Features of the financing offering for Emerson customers through First American Vendor Finance include: flexible lease offerings ($1 buyout, fixed buyout, fair market value); end-of-lease flexibility and trade-in opportunities to fit evolving needs; a simplified paperwork package, rapid turnaround and no fees; and an online lease management system to track assets and lease information.
"Emerson is a progressive, customer-focused company," concludes Bill Verhelle, CEO of First American. "We look forward to providing Emerson customers with convenient, cost-effective financing solutions."
---
Belden, exida pact on cyber-, industrial network security
Belden has signed a global agreement with exida, a consulting firm specializing in industrial automation safety and cybersecurity services. The partnership is expected to enable the two companies to combine their areas of expertise the better to offer a single, streamlined source for all of their customers' industrial network security needs.
"We've worked with exida for a number of years, tapping into their best-in-class risk analysis and security recommendations. Now, we've formalized that partnership and when our customers ask, 'How much security do I need?' We can make their next steps seamless," comments Frank Williams, senior product manager at Belden's Tofino Security. "exida's experience in the industrial setting is the ideal match to our existing portfolio of physical and cyber security solutions. Together, we will help ensure the uptime and reliability of our customers' networks are not compromised."
The Belden-exida partnership is intended to provide automation suppliers, system integrators, manufacturers and end-users with a simpler, more efficient process for securing their industrial networks. With a single source coordinating the details, from the initial security assessment to the installation of the solution, customers can thereby optimize their industrial network resources, resulting in maximized uptime and enhanced operational productivity.
Demand for reliable automation control systems, as well as secure delivery of and access to information, continue to be critical issues in business today, notes Belden. The company says it "recognizes the challenge of knowing where to start, how much security is needed, and how to implement the right security measures--and continues to build its end-to-end offering of industrial security solutions through innovation and strategic partnerships.
"While many think of deliberate attacks, like hackers, terrorists and malware, the reality is 80 percent of incidents that bring a network down are unintentional issues, like field configuration changes, malformed traffic, data storms or technician errors," continues Williams. "exida's analysis of the true threats to safety and security will help companies take the proper precautions to protect their network. Companies can directly associate security measures with network reliability."
exida cites as its primary focus the assessing of new or existing control systems, as well as policies and procedures, to help customers identify and correct vulnerabilities. After collecting and analyzing the data, exida can train personnel and contractors to improve their cyber security countermeasures, among other services.
"Our experience is unique in that we understand the devices, systems and applications used by industrial process control and factory automation engineers, as well as the IT side of security," says John Cusimano, director of the cyber security division at exida. "After we perform our assessments or trainings, Belden can step in to address and resolve any security issues we identify. This partnership takes our combined services to the next level to deliver an all-in-one offering."
---
USTechVets endorsed by national technology associations
USTechVets is a new program designed to connect veterans to employment opportunities in the nation's technology community. The program seeks to facilitate veterans' transition to civilian careers, reduce veteran unemployment and provide America's veteran workforce access to jobs within the technology industry. USTechVets.org is an online community powered by Monster.com, designed to connect the one million veterans who are transitioning back into civilian life to employment opportunities within the technology industry.
The USTechVets.org site contains tools and resources for transitioning military personnel and their family members, including a military skills translator to match veterans' skills to civilian jobs, a searchable database of jobs in the technology sector and educational resources to help veterans develop skills to thrive in a private sector career. Veterans can use the military skills translator to match their skills to civilian jobs, access a searchable database of jobs at member companies of the participating technology associations and tap into educational resources to help them develop skills to thrive in a private sector career.
USTechVets is sponsored by the Consumer Electronics Association (CEA), the Northern Virginia Technology Council (NVTC), Monster.com and Military.com, in partnership with several national technology associations. Participating associations include the Custom Electronic Design and Installation Association (CEDIA), Central Station Alarm Association (CSAA), CompTIA, Electronic Security Association (ESA), National Association of Broadcasters (NAB), Professional Services Council (PSC), Security Industry Association (SIA), Telecommunications Industry Association (TIA) and the Wireless Infrastructure Association (PCIA).
DAV, a national veterans advocacy and assistance organization with more than 1.2 million members, is partnering to promote USTechVets to its constituents. Member companies of participating associations get free access to a resume database of over 800,000 veterans, state-of-the-art search tools to find the right potential employee, and other tools to post and manage job openings.
---
OSP specialist Aero Communications acquires wireless expert Mill City TEC
Aero Communications Inc. announced that it has acquired Mill City TEC, a provider of wireless network construction and maintenance services in the upper Midwestern United States. The acquisition is intended to increase Aero Communications' national footprint and expand its capabilities in the telecommunications infrastructure service industry.
Aero, known for providing turnkey outside plant (OSP) construction for broadband network operators, also provides an array of network engineering and construction services to wireless service providers. These services include engineering, design and construction of aerial and underground fiber backhaul, small cells and distributed antenna systems (DAS). Mill City, headquartered near Minneapolis, MN, supplies network construction services to leading wireless network operators and related service partners. The company's capabilities feature civil, electrical and tower construction. In addition, the company also performs project planning and management, line and antenna installation, cellular site audits, cellular network maintenance, technical support, and electrical construction, maintenance and design.
The addition of Mill City's capabilities enhances Aero's offering of network construction services for wireless network operators. "Mill City's team and processes are top-notch. This acquisition gives us the ability to do cell tower work in-house, and expands our geographic footprint," comments Greg McCray, CEO of Aero Communications. "We're enthusiastic about what this means for our business and most importantly, what this means for our customers." The acquired company will operate as Mill City Communications Inc., an Aero Communications company.
Mill City Communications is Aero Communications' second acquisition in the past year. Last August, Aero Communications acquired CableNet Communications, Inc., a Philadelphia-based provider of installation and network services to broadband network operators. "We're extremely pleased that Aero Communications has chosen Mill City to augment their wireless line of business," concludes Matt Cina, CEO of Mill City. "Our customers have been asking us to expand our territory and provide additional services, and working together will enable us to do just that."
---
802.3 Ethernet standards-development projects target PoE, NG-EPON
The IEEE has initiated three new standards- development projects, as well as an 'IEEE Standards Association (IEEE-SA) Industry Connections' activity, all intended to expand the capabilities and relevance of the IEEE 802.3 Standard for Ethernet. According to IEEE, work is underway to amend the base standard in multiple ways so that it is more useful in emerging application areas, while the new Industry Connections activity aims to engage global industry in discussion of the next-generation Ethernet Passive Optical Network (NG-EPON).
The new standards-development projects include the following.
IEEE P802.3br "Draft Standard for Ethernet Amendment Specification and Management Parameters for Interspersing Express Traffic" is being developed to address the market need in emerging IEEE 802.3 Ethernet application areas such as audio/video, automotive, industrial automation and transportation (aircraft, railway and heavy trucking) to cost-effectively converge low-latency and best-effort traffic streams on the same physical connections. Currently, such functionality requires multiple networks with parallel links, but, when completed, IEEE P802.3br would amend the base standard to support interspersed express traffic.
IEEE P802.3bt "Draft Standard for Ethernet Amendment: Physical Layer and Management Parameters for DTE Power via MDI over 4-Pair" is being developed to address the market need for more robust and efficient Power over Ethernet (PoE) capabilities. Applications such as pan/tilt/zoom security cameras, Internet Protocol (IP) videophones, kiosks, point-of-sale (POS) terminals, thin clients, multi-radio wireless nodes and access points, laptop computers, RFID readers and building management have demonstrated need for more power. When completed, the new IEEE 802.3 amendment would be intended to increase the power and efficiency of PoE.
IEEE P802.3bu "Draft Standard for Ethernet Amendment: Physical Layer and Management Parameters for 1-Pair Power over Data Lines" is being developed to extend PoE to data terminal equipment (DTE) via a single twisted-pair IEEE 802.3 Ethernet connection. The availability of power on the single-pair data interface would remove the need for separate power wiring for applications in emerging Ethernet markets such as automotive, transportation and industrial automation.
Also, the IEEE 802.3 Industry Connections NG-EPON Ad Hoc group has been launched to explore the market potential and technology options for an NG-EPON operating at data rates beyond 10 Gbits/sec. EPON is widely deployed for a number of applications, including residential and commercial subscriber access (for voice, video and data) and mobile backhaul. Equipment vendors and network operators, particularly in Asia and North and South America, are interested in exploring the technologies available for the next generation of EPON, notes IEEE.
---
Light Brigade, DTS join to provide new fiber-optic, wireless training courses
Optical training specialists the Light Brigade, which is AFL's education and training division, and Dover Telecommunication Services (DTS), a technical and safety training organization for telecommunications professionals, have announced a partnership through which they will provide new instructor-led and online training programs that cover both fiber-optic and wireless applications.
The agreement will see Light Brigade market and sell technical and safety training courses for the wireless industry, and DTS market and sell fiber-optic training programs from the Light Brigade. The courses will provide best-practice techniques and hands-on skills training for those involved in the design, planning, installation, maintenance, or troubleshooting of fiber-optic and wireless communication networks, the companies say.
"Many companies require associates to keep up-to-date on the latest technology and follow certain safety procedures," comments Dario De Paolis, vice president and general manager of the Light Brigade. "By offering extended services to our respective customers, our customers will receive industry-leading, hands-on training for fiber-optic and wireless applications and our wireless customers will gain required and highly sought- after skills."
---
Marlin Equity to operate Tellabs Access as separate company
Global investment firm Marlin Equity Partners announced that it plans to establish an independent business for the Tellabs Access product portfolio. According to Marlin, this singular focus will allow Tellabs to accelerate its market leadership and growth in the area of optical local area network (OLAN) solutions for enterprises and government agencies, while continuing to provide service providers with excellent residential access products.
In conjunction with this announcement, Marlin appointed industry veteran Mike Dagenais as president and CEO of its Tellabs Access business.
"With deep customer relationships and a strong portfolio of access solutions to build upon, Marlin is fully committed to the success of the Tellabs Access business. The OLAN business requires focus on distinct channels and this separation positions Tellabs Access for continued rapid growth in this sector," commented Doug Bayerd, a principal at Marlin. "We are pleased to have a seasoned executive with deep industry knowledge and expertise in the leadership position of Tellabs Access. We look forward to partnering with Mike and his leadership team as the company strengthens the long-term value proposition for its customers."
According to a press release, over the past 25 years, Mike Dagenais has led organizations in the development of new products focused on service providers, cable operators and equipment providers. These products have been in areas including data networking, cloud computing, optical, access and wireless. Previously, Dagenais served as CEO of Radisys Corporation and as president and CEO of Continuous Computing. Dagenais' extensive experience leading optical and data networking companies through periods of unprecedented growth includes roles as president and CEO of Optical Solutions, Inc. and president and COO of Convergent Networks.
"Fiber-based LANs represent a substantial shift in the way enterprises and government agencies implement robust, secure, and future-proof LANs," comments Dagenais. "With our high-performance team, our top-tier relationships, and leading solution set, we continue to drive product innovation that fundamentally redefines the economics of in-building networks. We are working closely with our customers to help them realize the value of embracing OLAN for their optical solutions."
---
RF Industries adds low PIM Mini DIN adapters for DAS
RF Industries now offers between-series adapters for the 4.1-9.5 (Mini) DIN, 7-16 DIN and N type interfaces. The company notes that advanced wireless systems such as distributed antenna systems (DAS) require RF components that, in addition to being highly efficient in signal transfer, bear low passive intermodulation (low PIM) properties. The company maintains that the N-type interface design is over 70 years old and has been replaced in many wireless site applications with the larger 7-16 DIN interface for better electrical and PIM performance.
For its part, the company adds that the 4.1-9.5 (Mini) DIN is essentially a compact version of the 7-16 DIN with similar electrical performance. All of the new adapters by RF Industries are manufactured with brass bodies in durable non-tarnish tri-metal (white bronze) plating with a PIM rating of less than or equal to -155dBc.
Eight variations of the new adapters are available. They are: 4.1-9.5 DIN male to N female (RFN-1046-4); 4.1-9.5 DIN male to N male (RFN-1045-4); 4.1-9.5 DIN female to N female (RFN-1047-4); 4.1-9.5 DIN female to N male (RFN-1048-4); 4.1-9.5 DIN male to 7-16 DIN female (RFD-1681-4); 4.1-9.5 DIN male to 7-16 DIN male (RFE-1682-4); 4.1-9.5 DIN female to 7-16 DIN female (RFD-1683-4); and 4.1-9.5 DIN female to 7-16 DIN male (RFD-1684-4).
Available from the company's RF Connectors distributors throughout the U.S., Canada and Mexico, all low-PIM products from RF Industries are 100-percent tested to assure performance.
---
Fastback upgrades intelligent backhaul radios to enable wireless multipoint services
Fastback Networks recently announced an expansion of its Intelligent Backhaul Radio (IBR) product line to include support for both multi-point-to-point (M-PTP) and point-to-point (PTP) architectures, along with the company's new Extreme Interference Protection (XIP) features, as well as the launch of the ETSI-compliant device into the European market. Fastback's IBR is an intelligent wireless transport device that enables high-density LTE, LTE-A, and the future LTE and WiFi radio access networks, with what the company claims is an industry-first transport mechanism for wireless delivery of fiber equivalent services in both line-of-sight (LOS) and completely non line-of-sight (NLOS) conditions. This new class of wireless device comprises an integrated carrier-grade switch and radio purpose-built for the requirements of new mobile networks.
According to Fastback, with its new M-PTP feature, the IBR delivers multipoint economic leverage while still preserving a fiber equivalent Service Level Agreement (SLA) on each link, which the company calls "an unprecedented capability" in a wireless backhaul solution. This feature extends the IBR's PTP throughput and latency performance to multiple end points, providing greater coverage with fewer devices for LTE macrocell and small cell backhaul. As well, commercial and wholesale services can aggregate multiple ends points for economic leverage without compromising SLA requirements. Also new to the platform, Fastback's XIP features enable support for usage of unlicensed wireless spectrum. The company notes that requirements for high-performance LTE backhaul require far more spectrum capacity for backhaul, impacting capacity constraints for licensed bands and creating a challenge for mobile operators. In the past, unlicensed bands were rarely used for carrier-grade mobile backhaul because the devices could not effectively mitigate interference.
Now, the XIP feature, incorporating Fastback's patented algorithms for interference mitigation, enables the IBR to sustain the high-throughput and low-latency service requirements of LTE backhaul while simultaneously mitigating even the severe levels of interference common in unlicensed spectrum. According to the company, the XIP feature mitigates the effects of uncoordinated and self-interference to enable new applications of unlicensed spectrum, including LTE macrocell and small cell backhaul. Fastback says the IBR's new interference mitigation capability enables sustained, carrier-grade performance in unlicensed spectrum to a SLA. This functionality establishes new levels of certainty and reliability for use of unlicensed spectrum, along with the advantages of tapping hundreds of MHz of available 5-GHz spectrum to relieve the capacity constraints of licensed bands.
"The IBR assures fiber-equivalent services over wireless, effectively creating fiber fill-in and enabling mobile network operators to extend the reach of the service edge to provide anytime, anywhere access to services," comments Kevin J. Duffy, CEO and cofounder of Fastback Networks. "We continue to expand the features and capabilities of the Fastback product line, providing the new requirements for speed, latency, and SLA assurance critical to LTE interfaces, such as S1 and X2, and essential to enabling emerging high-density mobile networks."
The Fastback solution is currently in trials with Tier 1 and 2 mobile network and services operators in the U.S. and Europe, and deployed in first office application carrying live traffic in the cities of Los Angeles and New York. The ETSI-compliant IBR will be available beginning in the second quarter of 2014. The M-PTP capable IBR will be available in the third quarter of 2014.
---
Molex intros MPO/MTP flexible-boot cable assemblies
Molex has unveiled its FlexiBend MPO/MTP flexible-boot cable assemblies, which the company says are especially designed to optimize cable routing and support low-profile installations where cabinet doors or front panels might interfere with traditional, straight-style, bend-limiting boots. The assemblies feature flexible bend-limiting boots that allow cable exits in varying positions from straight to a 90-degree angle.
The new optical cables are intended for use in datacom, telecommunications, medical, and industrial equipment cabinets and rack-to-rack applications. "Optical cable routing grows increasingly challenging when installing hundreds of fibers in dense optical patch panels," asserts Eve Leal, product manager at Molex. "The FlexiBend MPO/MTP flexible-boot cable assemblies help solve cable routing issues by giving installers the ability to bend and direct the exiting fiber in any direction within tight configurations like equipment cabinets and high-density racks."
Molex says the FlexiBend assemblies are designed with strain-relief boots that use a flexible and durable steel internal wire, which allows an installer to position the boot in place. The "stay-in-place" boot provides strain-relief, but can easily be repositioned without disconnection in order to modify routing requirements while the cable is in service, adds the company. "Manufacturers and installers of high-density hubs, router and server equipment need the right tools to effectively manage cable routing in compact spaces," continues Leal. "Designed to be bent by hand, the round-cable MPO/MTP FlexiBend boots can be positioned as needed--0, 45, 90 degrees--for easier installation and maintenance of cable plant."
Available in 12- and 24-fiber round-cable options, the FlexiBend assemblies are compatible with any MPO receptacle or active QSFP, CXP and CFP modules, says Molex. Singlemode and multimode cables provide options for transmission link distances using Om3, Om4, OS1 and OS2 fibers. Further, the MPO/MTP FlexiBend boot cables have been mechanically tested to GR-1435, Issue 2 specification to ensure product performance over 25 bends in various positions.
---
Handheld fusion splicer incorporates touch-screen, Internet troubleshooting
Sumitomo Electric Lightwave has released its Quantum Type-QH201e-VS handheld fusion splicer, the fourth model in the company's Quantum Splicer product line. The new Quantum Handheld splicer replaces the company's previous TomCatType-25eU/S/M model, adding automated features for user-friendly and high-performance fiber splicing for FTTx, data center, and other communication network connectivity applications.
The new Quantum Type-QH201e-VS handheld's advanced fusion splicing technology incorporates a fully navigational touchscreen interface for maximum user friendliness (a traditional keypad also is included). Further, the new unit's Internet interface ensures 24-7 remote diagnostic and maintenance support capabilities from Sumitomo Electric Lightwave's On-Time Service Center technicians. An included SD port allows for virtually unlimited data storage for software, training, video, and audio uploads/downloads.
"Our goal is to innovate continuously to offer customers the most advanced and reliable fusion splicer technology backed by the most expert and responsive support and service," comments Dwayne Holst, product manager at Sumitomo Electric Lightwave. "As the only company to offer Internet-capable 24-7 remote maintenance and service, this exemplifies our commitment to unprecedented customer support."
Sumitomo claims that, in general, its Quantum Handheld V-Groove splicers boast the industry's smallest footprint (110W x 140D x 76H mm) for maximum portability, as well as the fastest 12-second typical splice time among handheld splicers for improved efficiency in space-constrained work areas, typical with FTTx and data center deployments. The company notes that the small footprint of the Quantum Handheld does not compromise the splicer's rugged design, which complies with the most stringent shock, waterproof, and dust-resistance requirements.
Other features of this RoHS-compliant splicer include an easy-to-use fiber-holder system, extended-life electrodes, built-in help and maintenance videos, and compatibility with Sumitomo's Lynx2 CustomFit Splice-On connectors. The new Quantum Type-QH201e-VS splicer was unveiled at OFC 2014 (March 11-13) in San Francisco, CA.
---
Researchers at IBM send 64-Gbit/sec data over 57 meters of multimode fiber
Calling attention to data they delivered at the OFC Conference and Exhibition in early March, IBM researchers announced they successfully sent data at a rate of 64 Gbits/sec over 57 meters of multimode cable using vertical-cavity surface-emitting lasers (VCSELs).
"The achievement demonstrated that the standard, existing technology for sending data over short distances [multimode fiber] should be able to meet the growing needs of servers, data centers and supercomputers through the end of this decade," the researchers said. They characterized the speed-and-distance accomplishment as "about 14 percent faster than the previous record and about 2.5 times faster than the capabilities of today's typical commercial technology."
To achieve these speeds, the researchers used VCSELs developed at Chalmers University of Technology in Sweden and custom silicon-germanium chips developed at IBM Research. "The receiver chip is a unique design that simultaneously achieves speeds and sensitivities well beyond today's commercial offerings," said Dan Kuchta of the IBM T.J. Watson Research Center in New York. "The driver chip incorporates transmit equalization, which widens the bandwidth of the optical link. While this method has been widely used in electrical communication, it hasn't yet caught on in optical communication."
The researchers used standard non-return-to-zero (NRZ) modulation. Kuchta noted, "Others have thought that this modulation wouldn't allow for transfer rates much faster than 32 Gbits/sec. What we're showing is that's not the case at all. This technology has at least one or two more generations of product life in it." IBM pointed out that some researchers believed achieving higher-than-32-Gbit/sec transmission rates would require turning to more-complex types of modulation.
Kuchta further explained, "Researchers typically rely on a rule of thumb that says the usable data-transfer rate is about 1.7 times the bandwidth. That means that with the VCSEL laser, which has a bandwidth of about 26 GHz, the rate would be only about 44 Gbits/sec. What we're doing with equalization is we're breaking the historical rule of thumb."
IBM maintains that the fast speeds achieved only worked for a distance of 57 meters, so the technology is most suitable for transmitting data within a building. About 80 percent of the cables within data centers and most, if not all, cables used for typical supercomputers are less than 50 meters long, the company further stated.
More CIM Articles
Archived CIM Issues