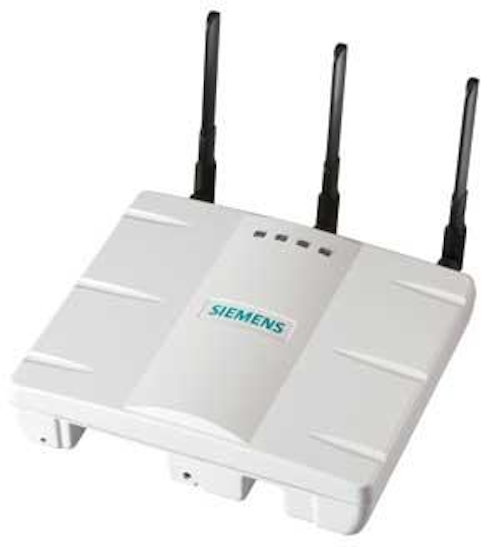 While 802.11n WLAN prom-ises higher speed and improved range to the enterprise, the cost and complexity of enabling an existing network to handle 802.11n has held many companies back. Siemens Enterprise Communications (www.siemens.com), however, says it HiPath Wireless 802.11n solution offers proprietary architecture andpower consumption capabilitiesdesigned to make the migration to fully functional 802.11n networks easier and more cost-effective.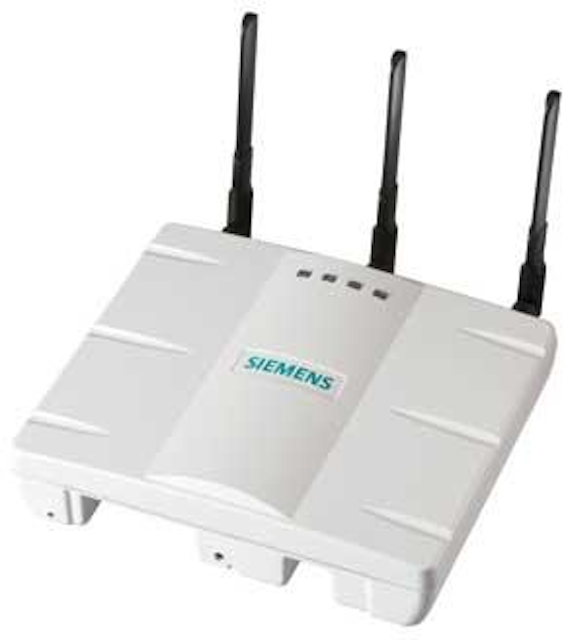 Internal and external antenna wireless access points are included in Siemens" recently introduced 802.11n HiPath Wireless solution.
Click here to enlarge image
"Enterprises are excited about 802.11n and the potential for new, high-performance wireless applications, but so far, they have been hesitant to embrace the new technology out of concern that it will require significant changes to their existing network," says Paul DeBeasi, senior analyst for Burton Group www.burtongroup.com). "Siemens" dual-band, 3x3 MIMO Access Points enable enterprises to deploy an 802.11n networkusing their existing 802.3af-compliant infrastructure."
802.11n offers substantial benefits over previous wireless standards, with speeds up to five times faster than traditional WLANs, greater range, and improved reliability to support high-performance mobile applications, such as HD video, high-resolution imaging, and voice over wireless LAN (VoWLAN). The challenge, however, has been integrating the access points into an existing network, since additional power is required for dual-band 3x3 radios (those functioning in both the 2.4 and 5 GHz bands) to work at optimum performance levels.
Siemens says its HiPath Wireless is designed to provide full dual-band 3x3 MIMO and 802.11n functionality that complies with the 802.3af Power-over Ethernet (PoE) standard.
The company says its tech-nology is unlike comparable 802.11n solutions that use a reduced number of radios or frequency bands, or force users to simultaneously upgrade to a higher-wattage, proprietary non-standard PoE switching infrastructure, resulting in significantly reduced performance and more complex deployments.
A proprietary Virtual Network Services (VNS)architecture provides performance optimization for high-bandwidth applications by intelligently routing network traffic between the edge of the network and the core, depending on the application and available networkcapacities.
Siemens says the architecture wasdesigned to achieve optimal high-bandwidth performance without requiring upgrades to the existing wired network controllers, making it more cost-effective to deploy and integrate across the enterprise.
Georgia World Congress Center(GWCC), one of the world"s leadingconvention, sports and entertainment venues, deployed the previous version of Siemens" HiPath Wireless solution in December 2005 in response to increasing demand from venue users for wireless connectivity. With a campus that includes a3.9 million square foot conference center, the Georgia Dome stadium, and the 21-acre Centennial Olympic Park, GWCC began field trials of the new 802.11n HiPath Wireless solution in January.
"We"ve been very pleased with the functionality and stability of our existing Siemens HiPath Wireless solution, and we"re excited about the potential that 802.11n offers for improved perfor-mance and range," says Sam Brown,director of IT services at GWCC. "Continuing to be a leader in technology in the convention industry is important to us. When we can increase speed, range and relia-bility of our wireless system, we know it"ll be great for our customers."
The entire solution includes internal and external antenna 802.11n HiPath Wireless Access Points, a new version of Wireless Convergence Software (V5 R1) that enables controllers to recognize and manage 802.11n access points, and a new version of Wireless Manager HiGuard that offers advanced management and WIPS security for 802.11n-enablednetworks.