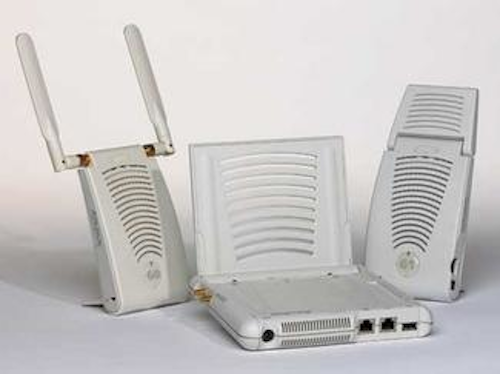 Well-recognized institutions are rolling out the wireless technology far ahead of the specifications' planned finalization.
by Patrick McLaughlin and Fanny Mlinarsky
A good year before the Institute of Electrical and Electronics Engineers (IEEE; www.ieee.org) will have the I's dotted and T's crossed on its 802.11n set of specifications for high-speed wireless local area networking (WLAN), manufacturers of pre-standard 802.11n products are boasting about the deployment of their wares. Several of these high-profile installations are taking place at well-recognized universities.
Most recently, Cisco Systems (www.cisco.com) announced that Duke University (www.duke.edu) plans to deploy more than 2,500 Cisco access points in what a company statement described as "the next phase of its mobility transformation," serving the university's Durham, NC campus of approximately 45,000 students, faculty, and staff.
"Wireless on our campus is absolutely critical for our 24-by-7 population," stated the university's chief information officer, Tracy Futhey. "Universities are an ideal testing ground for new technologies, especially wireless uses and devices, because students are spending their entire day on campus in a mobile manner. They live, learn, work, and play on campus. At Duke, we really have the opportunity to apply innovative wireless technology that can meet the demands of a diverse, mobile user base and enrich their academic and social experience as a result.
Futhey added, "We expect the campuswide 802.11n wireless network to increasingly be the primary mode of connectivity for data access and mobility applications. The value of a technology like 802.11n is about enabling new kinds of uses on our campus, giving our students new opportunities, and enabling faculty to push the limits and try things that were not possible before on previous wireless technologies."
Doubling data rates
Cisco reports that during real-world tests, the university experienced predictable, reliable wireless coverage and consistent average data throughput of nearly130 Mbits/sec with the vendor's Aironet 1250 seriesaccess points. Other tests showed existing 802.11gclients connected to the 802.11n-based access points nearly doubled the data rates they achieved when connected to an older wireless network, Cisco reported.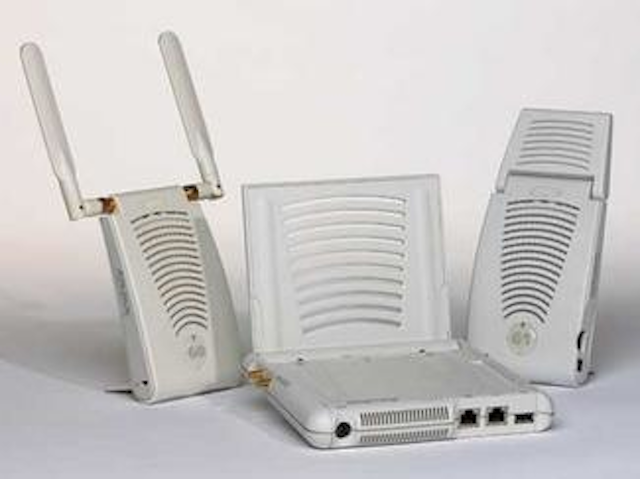 Access points, such as these from Aruba Networks, are found throughout college and university campuses as institutions compete with each other to attract and retain today's tech-savvy and unwired prospective students.
Click here to enlarge image
Duke's ambitious plans for its 802.11n networkinclude expanded deployment of video applications, with streaming audio, video, and high-definition television transmitted over the WLAN. Additionally, course materials (including digital recordings of classes) will be available on demand via the WLAN.
"802.11n is clearly ready for prime time," says Ben Gibson, Cisco's senior director of mobility solutions, "and Cisco continues to deliver a reliable 802.11n solution to meet mobility needs. Duke is one of the first organizations to realize the benefits of a Cisco 802.11n wireless network and what it enables them to do—transform how they learn, live, and play."
The access points are not the only pre-standard technologies set for deployment within the Duke network. Powering theaccess points will be pre-standard IEEE 802.3at Power over Ethernet Plus technology built into Cisco switches.
Cisco's announcement of the Duke installation may be the latest, but certainly is not the only case of an institute of higher learning adopting pre-standard 802.11n networking devices. Late last year, wireless technology provider Aruba Networks (www.arubanetworks.com) announced that Carnegie Mellon University (www.carnegiemellon.edu) is using its 802.11n devices within its academic campus in Pittsburgh, PA.Approximately 10,000 students and 4,000 faculty and staff members have access to Carnegie Mellon's Wireless Andrew program, which began as a research project in 1994 to support the university's wireless initiative, and was later expanded throughout academic and administrative buildings and residence halls. Carnegie Mellon's upgrade to 802.11n products does notinclude residence halls initially.
Dan McCarriar, Carnegie Mellon's assistant director of network services, says, "We're excited to once again be on the forefront of wireless networking in our deployment of a campuswide wireless LAN based on the emerging 802.11n standard. Our involvement in wireless networking since 1994 has given us a good appreciation of the challenges of wireless LAN deployment, especially in the mix of modern and historical buildings we have throughout our multi-acre campus."
McCarriar adds, "We also recognize what an indispensable tool the Wireless Andrew network has become for students, faculty, and staff at Carnegie Mellon. Not only do the products we deploy need to embrace leading-edge standards like 802.11n, they must also provide the best security, scalability, and reliability in our industry."
Weakness becomes strength
The IEEE 802.11n specification will raise the throughput of wireless LANs by a factor of four or higher and guarantees at least 100 Mbits/sec of real data throughput, with data rates reaching 600 Mbits/sec in some cases. IEEE 802.11n owes its high-throughput performance to the latest wireless transmission advancement—multiple-input multiple-output(MIMO). The 802.11n wireless transmission technology is based on MIMO signaling, which turns the long-time weakness of WLANs—multipath—into a strength.
Multipath is common indoors, where the wireless signalreflects from walls, floors, ceilings, furniture, and people.Reflections add together in the air, presenting a challengeto the receiver that has to separate the original transmitted signal from thereflections. While today's 802.11a/b/gradios struggle to separate the signal from this muddle, 802.11n MIMO radios actually take advantage of multipath to send multiple data streams via the available spatial paths.
"Today, we view Wireless Andrew as a complementary network to our campus wired network," says Chuck Bartel, Carnegie Mellon's director of networkservices. "But with the speeds 802.11n will offer, we can start to consider Wireless Andrew 2.0 as a replacement network for some of the applications now used on campus. The goal of the Wireless Andrew 2.0 project will be to provide connec-tivity that will rival the wired con-nections on campus today so that researchers and the rest of the campus community can benefit from the latest technological advances in wireless communication."
Keeri Melkote, Aruba's co-founder and head of products and partnerships, boldly stated, "802.11n is the first wireless technology that can truly displace wired networks, and its MIMO technology also improves the performance of legacy 802.11a/b/g clients while overcoming many installation issues. When coupled with Aruba's ultra-high-performance mobility controller and our hardware-accelerated encryption and identity-based security, you have the makings of a completely wireless network that offers better security, lower installation and operating costs, and greater scalability than a wired network." Carnegie Mellon's WirelessAndrew 2.0 project includes Aruba'smobility controllers as well as thecompany's access points.
Patrick McLaughlin, chief editor, compiled industry reports for this article. Other materials provided by Fanny Mlinarsky, president and principal consultant at octoScope (www.octoscope.com).